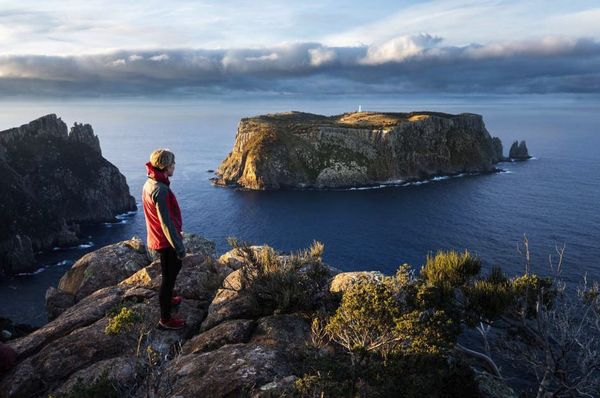 Whether you're interested in snapping pictures of wildlife, or just walking in one of the most remote and unexplored places on earth, Tasmania is one of the world's best places to experience hiking.
New, fully guided hikes including the soon to be launched Three Capes Lodge Walk give visitors up-close encounters with all kinds of wildlife including Tasmanian devils, wombats, kangaroos and sea birds, all in their natural habitats.
The Three Capes Walk along Tasmania's dramatic Tasman Peninsula is by the Tasmanian Walking Company, the only official guided walk operator appointed to the Three Capes Track (www.threecapestrack.com.au). The Track is of Australia's most intriguing bushwalks that edges along the tops of cliffs, more than 300m above the Southern Ocean.
Early bookings for Three Capes Lodge walk, that will launch September 1, 2018 have been strong according to the operator.
The four-day, 28-mile walk takes guests to the edge of the world on the southern tip of Tasmania. From Port Arthur, the walk starts with a boat transfer, and incredible views of Tassie's famed rock spires, then it is on to Crescent Bay. Walkers also get to climb Arthurs Peak, for a sweeping ocean vista and seabirds including albatross, petrels and gannets.
On the most adventurous day, walkers head through a silver gum forest, the tallest flowering plants in the world, and out to the highest sea cliffs in the Southern Hemisphere at Cape Pillar.
Each evening, walkers settle into architecturally-designed lodges, the only private accommodation allowed within the Tasman National Park. The purpose-built advanced off-grid lodges are discreetly positioned off the trail. Hot showers, generous lounge areas and comfortable beds await hikers at the end of each day.
Forward bookings are being taken now for the walk, that will operate September through May with a maximum group size of just 14 guests. The cost is A$2,790 (US$2,190) per person, all-inclusive twin share.
Tasmanian Walking Company has two other 'Great Walks of Australia Signature Collection' walks, Cradle Mountains Huts Walk and Bay of Fires Lodge Walk, and recently earned gold in the Eco-tourism category at the Qantas Australia Tourism Awards, for the third consecutive year.
The wukalina walk, in North East Tasmania is another new walk (launched January 2018) and the first of its kind in Australia, designed, owned and operated by the Aboriginal community.
The walk is a three night/four day, fully inclusive guided walk in the famed Bay of Fires region, the cultural homeland of the palawa (Tasmanian aboriginal) culture and community. It aims to deliver a cultural experience that deepens understanding of palawa, walking in the footsteps of their traditional people. Palawa guides and elders will relate first hand, palawa creation stories and guests participate in cultural practices including traditional food sources, medicines and native animals, that have been passed down for hundreds of generations.
Guests are likely see wombats, wallabies and kangaroos as well as possums.
The Walk departs from Launceston weekly, on a Sunday, from 7 January 2018 to the end
of April 2018, and from October/November to April each year. Additional
departures, generally on a Friday, will be regularly scheduled depending on demand.
Another walk offering a diversity of native wildlife is Maria Island, an active, but pampered walk with gourmet food and wine and comfortable beds at night. Walkers will likely see devils and wombats on a fully guided three night, four-day experience in one of Australia's most spectacular destinations with pristine beaches, rainforests and mountains.
Maria Island is a member of Australian Wildlife Journeys and is recognized as one of Australia's best walks, having completed more than 1,000 walks over 13 seasons, and has received 7 National Tourism Awards. Premier Travel Australia is another member of Australian Wildlife Journeys where guests can see rare birds, wallabies and wombats in their natural habitat on tours from half day, to 8 days.