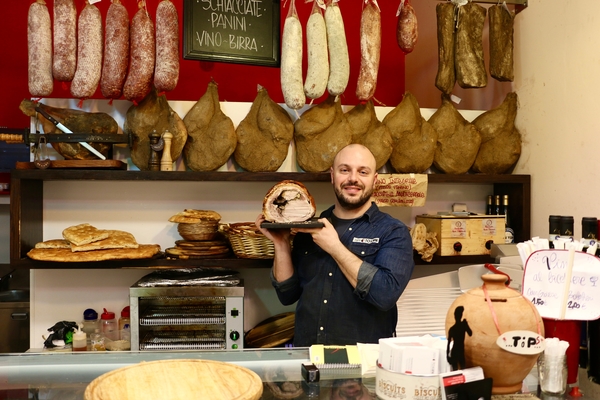 Taste the Best of Italy's Regions with The Roman Guy's newly launched Local Food Tours in Florence and Venice.
There is no such thing as 'Italian food' in Italy. The iconic cuisine centers around selected 'regional' dishes, each with their own local taste and varied use of ingredients.
Rome is home to cacio e pepe pasta. Florence is home to the beef steak. This is why The Roman Guy has launched local food tours in Italy's popular cities, to give visitors a real taste of Italy's regions.
Rome, Italy – 24 July, 2017: The Roman Guy, an Italy tour operator, has just launched new food tours in Florence and Venice. Lead by local food guides, these new experiences aim to introduce travelers to regional Italian cuisine and everyday customs.
With the success of their Rome "Local Foodie Tour in Trastevere", creating local Florence and Venice food tours was the natural next step. Just as in Rome, the new Florence & Venice food tours are focused on immersing clients in the culinary culture of that city. With local English-speaking food guides, participants stroll through food districts where they taste traditional local dishes, meet shop owners and learn the customs and histories behind each delicacy they try.
"Food and wine in Italy is as important as the churches and monuments; an integral part of the culture and of any visitor's experience." – Giuliano Carraro, Venice Food Guide, The Roman Guy
At the average cost of dining out, the new food tours include six stops of food and wine tastings, as well as a sit-down meal. Participants also benefit from local insights given by their local foodie guides to help them continue eating well in the city throughout their trip, and minimizing the risk of falling into tourist traps.
"We're welcoming more and more Gastronauts to Italy each year! Our visitors need to eat, but nobody wants to go to the tourist traps and eat sub-par food. Italy is famous for it's food, so we have a duty to help our visitors really experience the regional cuisines in Italy. That's why we have created our local food tours." – Brandon Shaw, Co-Owner, The Roman Guy
In Venice, participants taste traditional "Cicchetti", visit "Bacari", enjoy a prosecco breakfast, sip on "Ombra" and enjoy a short gondola ride.
In Florence, local Florentine flavors like "porchetta", "coccoli" and "trippa" are washed down with quality Tuscan wine, before dining in the Sant'Ambrogio Market.
More information: Local Venice Food Tour, Local Florence Food Tour. All three Local Food Tours are now available to book online.
The Roman Guy is an Italy tour operator, offering individual City Tours and fully customized Italy Trip Planning Services. Their top priority is to make all their customers feel like a VIP, regardless of budget or occasion.
Contact: lorna@theromanguy.com