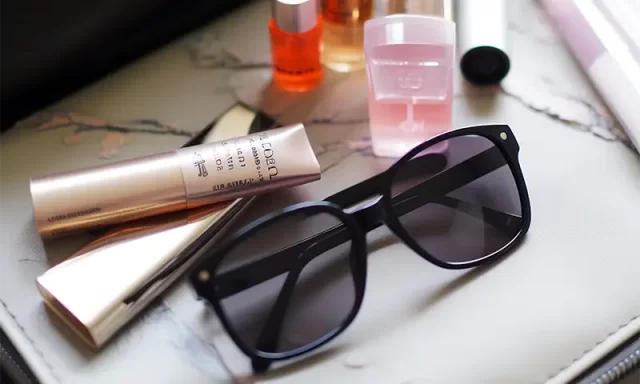 From ensuring you arrive well-rested to enhancing your in-country experiences, niche travel accessories have the power to transform your trip. Discover the best luxury travel accessories that are well-worth investing in ahead of your next holiday.
Packing Process
First things first: finding the right bag for your trip is essential.
Whether you need the convenience of a compartmentalised backpack or the protection of a hard suitcase, quality is key when it comes to luggage. Prada duffle bags are a popular choice, perfectly sized for a long weekend away or those who pack light. This is thanks to their unique blend of traditional materials and innovative recycled fibres that perfectly balance functionality and style.
Packing cubes are another essential travel accessory that help to transform the interior of your luggage. Separate your towels, laundry, and specific outfits to keep your clothing clean and co-ordinated throughout your trip.
Getting There
Most travel accessories are designed to help improve your journey to and from your destination. Who wouldn't want to start their holiday completely fresh and relaxed?
For long flights or overnight journeys, a sleep mask is a must. These help to promote deeper sleep, especially in bright environments like the interior of an aeroplane. The right sleep mask for you will depend on your size requirements and sensitivity, but for a luxurious look and feel you can't beat silk.
You should also take a toiletries kit when you travel so that you can freshen up during the journey. Leading skincare brands like Temple Spa offer sets to suit all skin types and situations. Options include relaxing aromatherapy that will aid sleep and products designed to hydrate and invigorate.
Adventure Holidays
Are you planning outdoor adventures during your trip? Elevate your experience with these luxury travel accessories.
Spending long periods of time outside is hard on the skin, so make sure to protect yourself against the sun and irritating insects. High-end department stores like Harrods offer a range of luxury products suited to several different scenarios, including insect-repelling cologne that smells divine.
For underwater adventures, it pays to invest in the latest waterproof gear. Scuba divers will find the perfect companion in specially designed timepieces like the Seamaster watches by OMEGA which are water resistant even at great depths and have unique features to improve underwater visibility. It is also worth carrying a quality waterproof camera to capture every detail of your subaqueous experience.
Climate Clothing
Whether you are heading into heat or preparing for snow, it is vital to have the right clothing for the climate.
Lightweight, loose fabrics are the real deal for sunny climes. Designer beach kaftans can take you from the sand to a restaurant in style, especially when paired with a statement sunhat. Well-fitting sunglasses are also a must – make sure to choose a pair that offers proper UV Protection like the enduringly popular brand Ray-Ban.
For cold weather, specialist sportswear brands are the best bet for warmth with breathability. Canada Goose jackets are praised by skiers and snowboarders for comfortable protection against extreme low temperatures. Gloves are an essential travel accessory for any sub-zero climate – choose between quilted, elegant sheepskin, and sports gloves with enhanced grip technology.