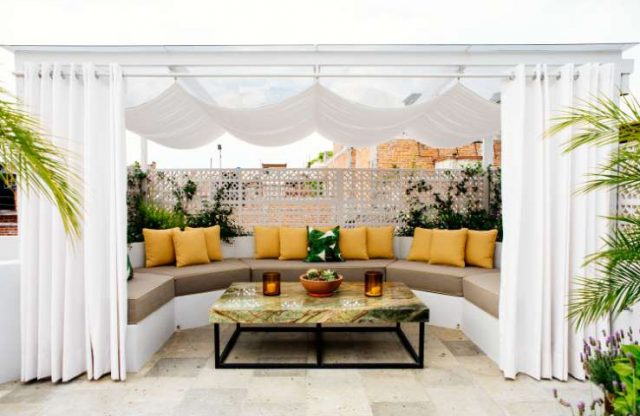 After  two  and  a  half  years  of construction, The Brooklane Hotel has opened its doors to the public. The Brooklane has remained a secret throughout the stages of construction due to being nestled in one of the most beautifully hidden alley-ways in San Miguel. The property is located in el Callejon de Volanteros, just a five minute walk from the Jardin Principal (the main square of the city). Unlike many of the small hotels in San Miguel the roads leading to The Brooklane have a gentle slope which make it an easy commute to and from all the main city attractions. The five guest-room home was designed by American architect Harold Forster Van Dine, who aside from building many residential properties in San Miguel and in the U.S also took part of the design of the first World Trade Center under Minoru Yamasaki.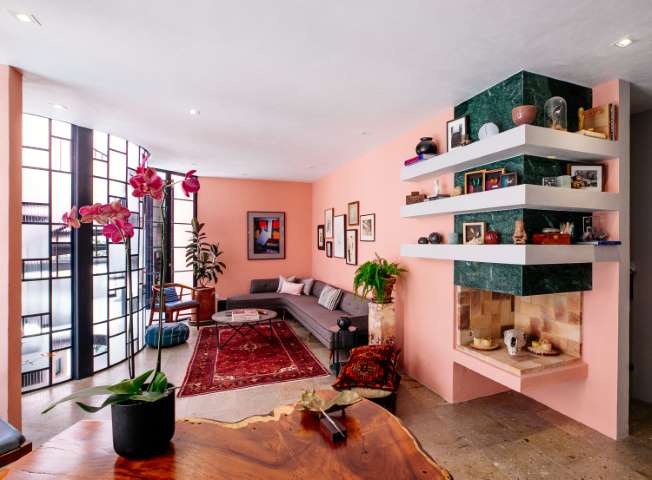 The interior design, which included custom built furnishings, was orchestrated by estudiobtr. The designer, who is a native of Miami, FL, wanted to bring a bit of that seaside city to a town that's  nestled in the heartland of Mexico. Much like an   oasis, you will find plants that you wouldn't necessarily associate with the arid climate of San Miguel. The space itself does not conform to the traditional colonial style associated with the city, instead the architecture and the interior design salutes Mexico's most prolific modernist architects, Luis Barragán.
Designed as an inviting retreat and an immersive getaway, The Brooklane offers a crafted experience drawn from the culture of Miami, New York and San Miguel. Immediately upon arrival, guests are welcomed by the sophisticated design which blends the three different cities in which the hotel owners have lived in. An eclectic collection of art and design-pieces make one feel as if though you were entering a museum. The Brooklane is spearheading a new art initiative, by bringing artists from various corners of the globe to take up residency at the hotel. Guests will have the opportunity to be around the artist as they create one-of-a-kind pieces later to be displayed in the artist-niche (a rotating art wall-space).
The culinary offerings includes a chef inspired menu by world traveling executive chef Marina Mellino (The Spice Chica). Mediterranean, Latin American, and French flavors combine to create an eclectic menu. Hotel highlights include; daily  breakfast, afternoon-tea and coffee served with our signature biscotti, a dipping pool to cool off from the San Miguel heat, a koi-pond,  and  a  nightly complimentary cocktail.
HOTEL MISSION
With twenty years of combined experience in the hospitality industry, our brand encapsulates the best elements of world renowned hotels like; SoHo House, W Hotels and SLS under one roof. Although we are a small scale hotel, our heart is huge. Our love for hospitality and design transcends the boundaries imposed by cultural differences. Mexico is our home, but The Brooklane is a showcase of our multi-cultural background.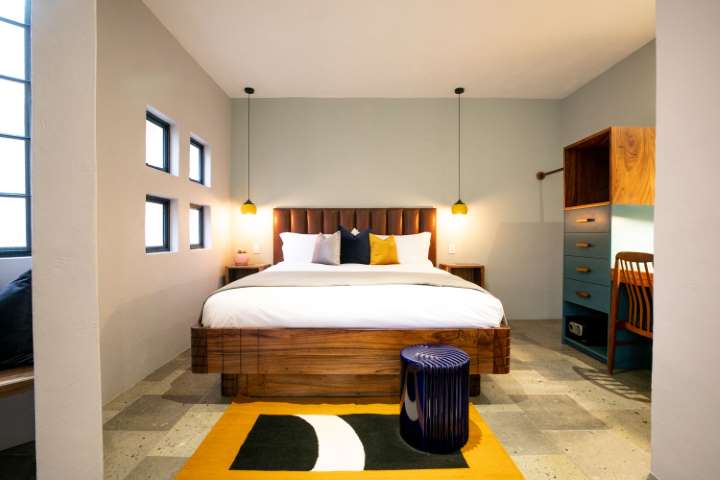 We endeavor to create an ambiance that fosters creativity and memorability, and that's why a majority of our guests are artists looking for a different way of travel. For us our guests are not just strangers looking for a place to rest, they are people who arrive as visitors and leave as friends… sometimes even as family. Thanks to the intimate spaces that make up our home, our guests will have the opportunity to meet and gather with people from all around the world who share similar visions.
We hope that our guest-house becomes more than just your home away from home. Our intention is that it will become an incubator for new ideas, new memories and friendships that will last a lifetime. Because at the end of it all it's in the small moments that life takes place. Through our meticulous attention to detail we aim to provide the ideal place for your next visit to San Miguel de Allende. A crossroad where culture, design, food, and that insatiable "joie de vivre" converge. We love the world we live in and we love what we do, and that's why you'll love staying at The Brooklane.