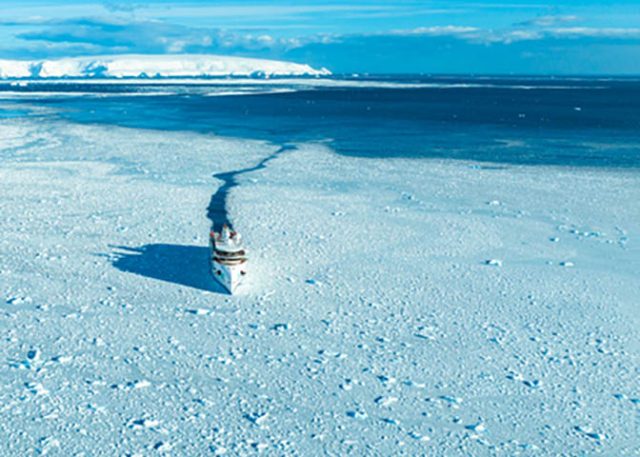 Today, Aurora Expeditions, has announced fantastic last chance deals for its upcoming Antarctica 2022/23 season, beginning in three months' time with the South Georgia & Antarctic Odyssey on Oct. 21, 2022. 
After a hugely successful resumption of operations to the region earlier this year, Aurora Expeditions will be returning to Antarctica and operating two ships for the first time – its purpose-built vessels, the Greg Mortimer and the brand-new Sylvia Earle. Voyages will be operating from the ports of Ushuaia, Argentina and Punta Arenas, Chile.
"We are incredibly excited for the start of the upcoming season, where we will be operating two ships in Antarctica for the first time," said Hayley Peacock-Gower, chief marketing officer of Aurora Expeditions. "In anticipation of this season, we wanted to give travelers looking for a life-changing experience the opportunity for some extraordinary savings for the trip of a lifetime. There is so much variety on offer throughout our October to March season, including our industry leading activity program and our authentic expedition experiences encouraging passengers off the ship as much as possible."
"Adventurous travelers may want to try specific activities, like camping or alpine trekking early in the season, take advantage of fly/sail itineraries from January, or have their hearts set on visiting more intrepid destinations, such as the Weddell Sea on one of our February or March voyages," added Peacock-Gower.  
Highlight voyages include:
The inaugural voyage of the brand-new Sylvia Earle, this itinerary is a must for wildlife lovers and history buffs alike. Steeped in history, the Falklands~Malvinas is also a beacon for bird lovers. Discover an incredible diversity of charismatic penguin species including King, Macaroni, Rockhopper, Magellanic and Gentoo. Watch as black-browed albatross wheel overhead, with approximately 85% of their global population returning to the precipitous, craggy bluffs of the Falklands~Malvinas to breed. In South Georgia, jagged peaks and glaciers create a breathtaking backdrop for beaches crowded with elephant and fur seals, and countless penguins.
Available Activities: Shackleton's Crossing on Foot, Sea kayaking, snorkeling
Embrace the spirit of polar exploration on this classic expedition to the coveted white continent. Sail across the famed Drake Passage, admiring spectacular seabirds and approaching the ice as the explorers of old did: by sea. With a chance to Zodiac-cruise through pack ice, set foot on the continent, choose from a range of adventure options and even perhaps camp under pastel polar skies, this is the quintessential Antarctic voyage for adventure-lovers.
Available activities: Camping, Snowshoeing, Ski/snowboard touring, Sea Kayaking and more
Famed for its tremendous tabular icebergs, year-round sea ice, fascinating fossils and the pivotal role it played in Shackleton's Endurance expedition, the Weddell Sea offers unsurpassed opportunities for exploration. Embark on a true Antarctic expedition as we not only explore the west Antarctic Peninsula, but also attempt to venture east towards the icy perimeter of the Weddell Sea, often guarded by impenetrable pack ice and home to awe-inspiring tabular icebergs.
Available activities: Sea Kayaking, Snorkeling
Experience the awe-inspiring immensity of Antarctica yourself, reducing your time on the high seas by flying across the Drake in at least one direction. Immerse yourself in the unimaginable beauty of the Antarctic Peninsula, where vast glaciers tumble into the sea, penguins are dwarfed by soaring peaks and humpback and minke whales feast on abundant krill.
Available activities: Sea kayaking, Snorkeling 
For more information visit https://www.auroraexpeditions.com.au/