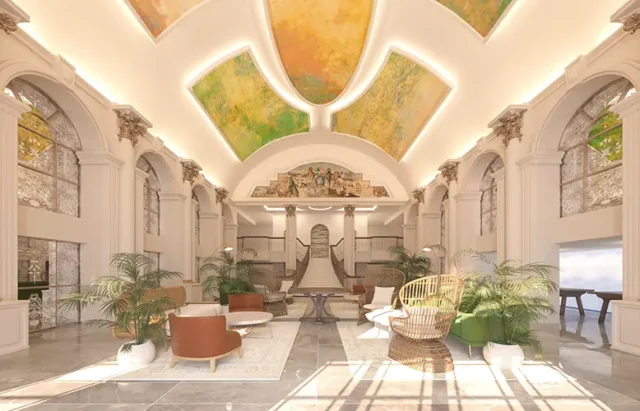 British Colonial, an iconic Nassau hotel steeped in more than 100 years of local history, will reopen this winter, showcasing a highly anticipated redesign inclusive of its guest rooms, public spaces, amenities, and onsite programs.
A Rich History
The 288-key property has roots dating back to the late 19th century when Henry Flagler, a wealthy oil magnate, hotel developer and pioneer of Florida's east coast railway, negotiated a contract with Bahamian Governor William Haynes Smith to build a hotel on the site of the old Fort Nassau, overlooking the harbor. The original wood-constructed Hotel Colonial opened its doors in 1900, joining Flagler's growing collection of luxurious resort properties, including the famous Breakers Hotel in Palm Beach. With 400 opulent suites, the property was a fitting addition to Flagler's portfolio, designed for affluent tourists who could afford to spend winters in the Caribbean. As a result of the absence of reliable transportation to The Bahamas and wartime restrictions, the hotel never flourished. It was destroyed by fire on March 31, 1922.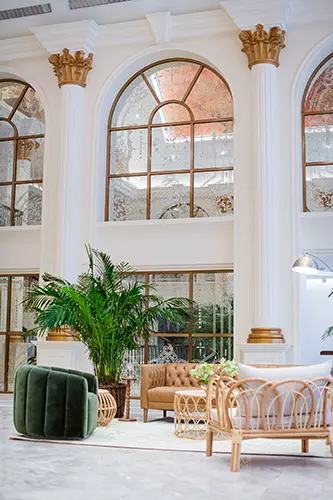 The Bahamas Government purchased the property from Flagler and contracted Munson Steamship Line to build 'The New Colonial Hotel' reopening the property in 1923 with instant success. In the 1930's it was sold to Sir Harry Oakes, a wealthy Canadian businessman and developer who built the first airport and golf course in Nassau. Over the course of the more than four decades to follow, the hotel operated under several different major hospitality brands including Sheraton, Best Western, and most recently, Hilton Hotels. In 2014, it was purchased by the China State Construction Engineering Corporation, which has invested more than $50 million in its modernization. After a 22-month closure, the property will reopen as an independently operated boutique hotel. Aimbridge Hospitality, a leading, global hospitality management company and the world's largest third-party operator, will oversee the hotel's reopening. The reinvented British Colonial will showcase a charming and sophisticated revival deeply rooted in Caribbean culture where travelers can experience Nassau authentically and in style.
Location & Accessibility
A relaxed, yet upscale enclave interwoven with captivating cultural elements, British Colonial is reinvigorating downtown Nassau, putting its guests right at the center of the action with an unparalleled level of service and hospitality. The hotel's premier oceanfront location is marked by lush grounds and tropical gardens dotted with swaying palms. Situated on Bay Street, downtown Nassau's most central and lively shopping and dining district, it's a prime spot for people-watching and experiencing traditional events such as The Bahamas' annual Junkanoo parade. The property's proximity to major island landmarks and attractions such as the Nassau Cruise Port, famed straw market, and beaches makes it an idyllic home base for business and leisure travelers alike.
Design & Decor
Transporting travelers to a bygone era, vibrant examples of Colonial Revival architecture and decor can be spotted throughout the hotel; towering chandeliers, original crown moldings, and colorful murals depicting scenes from Bahamian history complement its rich jewel-tone color palette, intricate tile work, and palatial touches. Airy, whitewashed public spaces with vaulted ceilings designed to envelop guests in ocean breezes are complemented by elaborate woodwork, bold geometric patterns, and vivid botanical prints that bring a sense of richness. Tall potted plants and lush landscaping highlight the surrounding nature while rattan accents juxtaposed with dark mahogany furnishings pay tribute to The Bahamas past and present for a truly elegant and timeless aesthetic.
Rooms & Suites
288 newly redesigned rooms include 25 signature suites occupying seven floors of the building featuring luxurious marble bathrooms, 50" flat-screen televisions, and desks designed for corporate and business travelers looking to work remotely with ease. Highlights include the spacious Prime Minister Suite and One-Bedroom Suites with adjoining parlors. Additional options include City View, Garden View, Oceanview, and Premium Oceanview rooms – though with 21 different layouts due to the building's unique design, there are very few rooms alike. Detailed wallpaper designs rotate between tropical palms, opaque gardenscapes, and historical renderings. Dark wood cabinetry and bold, geometric tiling that offer a nod to the roaring twenties are softly juxtaposed by tropical prints and deep garden green, ocean blue, and coral hues emblematic of The Bahamas' nature.
Food & Beverage
British Colonial will feature seven food & beverage outlets that include The Mahogany Club, the hotel's flagship fine dining restaurant, which is a nod to the regal supper clubs of the early 20th century; Woodes Rogers Tavern, a signature martini bar featuring live music and entertainment; Sakana Noodle & Sushi Bar, featuring fresh local seafood with Pan-Asian influences; The Red Pearle Grille poolside bar & grill; Burn Cigar Bar with outdoor patio seating; British Colonial Trading Company, a cafe that serves fresh coffee and lighter fare; and the Tamarind Marketplace, which offers a full buffet breakfast.
Amenities & Services
The property's tranquil beachfront location lends itself to laidback poolside afternoons; two beach-facing freshwater outdoor swimming pools mirror each other and overlook a 300-foot private white-sand beach, offering a shallow area with floating loungers and private cabanas in addition to a deeper plunge pool. Guests can also browse the Heritage Shoppe, which features locally curated sundries and souvenirs, and relax with perks like valet parking and concierge service.