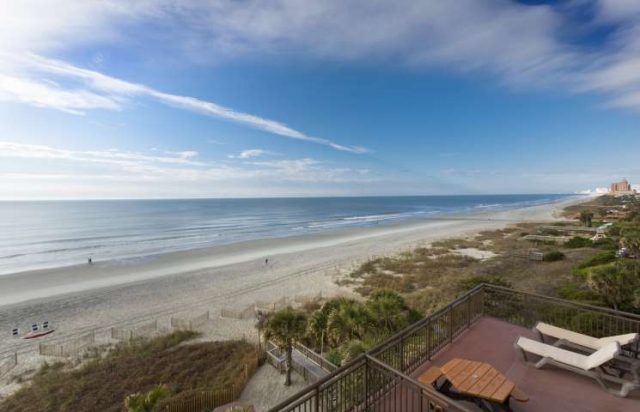 With warm weather, cool ocean breezes, and lots of beach and water activities waiting to be enjoyed, now's the time to start planning for a family vacation to Myrtle Beach, South Carolina.  

And, Vacation Myrtle Beach has the perfect solution for your vacation needs with the opportunity to win a beautiful oceanfront condo in Myrtle Beach, SC.  Enter for a chance to win the grand prize of an oceanfront escape worth nearly $100,000 (for those preferring not to take possession of the condo, there's an alternative $50,000 cash option).  Here's how you can participate:

Vacation Myrtle Beach, one of the largest providers of family vacation accommodations in Myrtle Beach, SC, is offering The Great Myrtle Beach Condo Giveaway, which features the grand prize of a furnished oceanfront condo at The Caravelle Resort located in Myrtle Beach, SC, valued at nearly $100,000. One winner will win the grand prize.  And, other lucky winners will receive a 7-night stay or a 3-night stay at one of Vacation Myrtle Beach's oceanfront properties.

The recently updated, oceanfront efficiency condo offers room for up to four guests and includes a fully-equipped kitchen. In addition to its prime Myrtle Beach location, the resort provides convenient access to all of the area's major attractions, restaurants, and things to do. Families and couples enjoy a wide variety of on-site amenities including an indoor pool, a block-long poolscape complete with a large pool, whirlpool, lazy river, kiddie lazy river, kids' pool, seasonal poolside bar, and plenty of relaxing deck options. In addition to everything you need for fun in the sun, the resort offers an array of dining options as well as an opportunity for rejuvenation and relaxation at its on-site spa.

Take the opportunity to transform your life forever by entering for a chance to win The Great Myrtle Beach Condo Giveaway, where you could win and own an oceanfront condominium located on the sunny shores of Myrtle Beach.  Just imagine the memories that you'll be able to create by joining family and friends as often as you'd like at your privately-owned condo in Myrtle Beach, South Carolina. Click here for Official Rules and complete details including free method of entry.