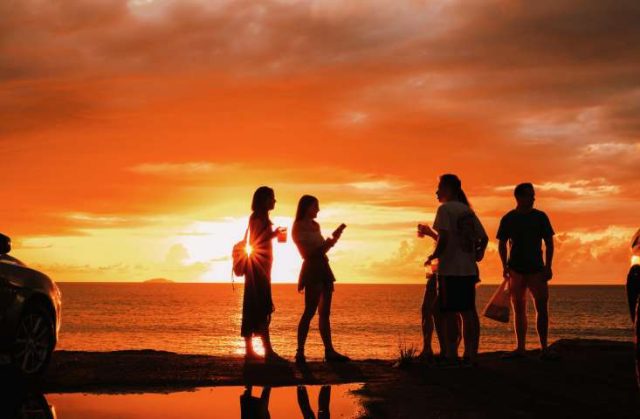 One of the latest trends to emerge in the travel industry is set-jetting, where travellers visit the filming locations of their favourite films and TV shows.
This is hugely beneficial for the local economy, with popular movies increasing local tourism by an average of 31%.
And, with a whole host of highly anticipated films and TV shows set to be released in 2023, the travel experts at Planet Cruise predict that set-jetting is only going to become even more popular over the next 12 months.
With that in mind, the experts analysed the most hyped films and shows for the year ahead to predict the hottest travel hotspots for 2023, according to TikTok. The only question is: which destinations will you be jetting off to?
The top 15 jet-setting locations from around the globe
| | | | |
| --- | --- | --- | --- |
| Rank | Location | Film | Number of hashtags |
| 1. | Venice Beach, California | Barbie | 1 B |
| 2. | Scotland, UK | Indiana Jones and the Dial of Destiny | 537.7 M |
| 3. | New Jersey, USA | The Marvels | 461.5 M |
| 4. | London, UK | You, The Marvels, Fast X and Aquaman and the Lost Kingdom | 388 M |
| 5. | Tropea, Italy | The Marvels | 272.3 M |
| 6. | Wadi Rum, Jordan | Dune: Part 2 | 201.5 M |
| 7. | Venice, Italy | Mission Impossible: Dead reckoning part one | 171 M |
| 8. | Abu Dhabi, UAE | Dune: Part 2 | 50,7 M |
| 9. | Iceland | Dungeons and Dragons | 32.2 M |
| 10. | Mid Town Manhattan, USA | Spider-Man: Across the Spider-Verse | 29 M |
| 11. | Rome, Italy | Fast X | 264 M |
| 12. | Belfast, Northern Ireland | Dungeons and Dragons | 18.9 M |
| 13. | Hawaii, USA | Aquaman 2 | 18.4 M |
| 14. | Atlanta, Georgia, USA | Shazam! Fury of the Gods | 16.7 M |
| 15. | Budapest, Hungary | Dune: Part 2 | 12.4 M |
1. Venice Beach, California – Barbie
The Barbie film has had everyone at the edge of their seats, with teasers released of Margot Robbie and Ryan Gosling starring as Barbie and Ken, with some extremely iconic outfits (remember the neon biker shorts, roller skates, and knee and elbow pads worn by Barbie?!).
So, it comes as no surprise that Venice Beach is expected to be the number one set-jetting destination for 2023, with a huge 1,000,000,000 views on TikTok of #VeniceBeach related content.
Venice Beach skatepark and the boardwalk are just two of the places where Robbie and Gosling were spotted shooting their scenes – so make sure you head there first.
2. Scotland, UK – Indiana Jones and the Dial of Destiny
With an impressive 537,700,000 views on TikTok, Scotland comes in at a respectable second place, thanks to the newest Indiana Jones film, The Dial of Destiny.
Whilst the film was shot in multiple locations, including Northumberland and Sicily in Italy, it's Scotland that comes out on top. If you want to discover some of the filming locations, then start on St. Vincent Street in Glasgow, which is featured on the trailer – although you'd never know they were in Scotland, with the street decorated with hundreds of American flags.
3. New Jersey, USA – The Marvels
The Marvels' many filming locations feature heavily throughout our list, but it's New Jersey that's the most popular set-jetting location, with 461,500,000 views on TikTok.
Whilst location details for this specific movie haven't been released, there are plenty of opportunities to visit other sets within The Marvel Cinematic Universe.
For example, the iconic 'Make love, not war!' line shouted by Stan Lee in Avengers: Endgame was shot on a scenic road in New Jersey, while Journal Square, Liberty State Park, and Coles Academic High School all featured in scenes filmed for Ms. Marvel, a TV series released in the summer of 2022.
4. London, UK – You, The Marvels, Fast X, and Aquaman and the Lost Kingdom
With 388,000,000 TikTok views, the UK's capital comes in fourth place, with London the home to so many of 2023's filming locations, including the iconic series, You, and big blockbusters including Aquaman and the Lost Kingdom, Fast X, and The Marvels.
If you can't get enough of Joe Goldberg's murderous ways in You, then (spoiler alert!) you'll know that despite the end of season three resulting in Joe following Marienne to Paris, it turns out that he actually started a new life in London.
A lot of filming has taken place at the Royal Holloway University, where he's been posing as a professor; and whilst we're unclear if there are any other London location hotspots, we do know that some scenes were shot at Knebworth House, which is just an hour away from the capital, in Hertfordshire.
5. Tropea, Italy – The Marvels
The third filming location for The Marvels has made it into our top five, and this time, it's in the beautiful southern Italian village of Tropea.
With 272,300,000 views on TikTok, Tropea isn't just the ideal destination for set-jetters, with its gorgeous beaches and delicious cuisine just waiting to be explored.
Shooting for the film took place from 27th August, through to 3rd September, when the crew flew to LA, and, while there's no word on whereabouts in Tropea the film was shot, it does have a claim to fame as being voted "The most beautiful village in Italy" in 2021.
Set-jetting destinations you'll want to explore
Other set-jetting locations that have made it onto our list can be found in Europe, including Venice, Italy (Mission: Impossible – Dead Reckoning Part One), Iceland, for the Dungeons & Dragons movie, that's due to come out on 31st March 2023, and Lisbon, with Fast X.
However, there are plenty of US filming locations flying the flag too, including Manhattan, Hawaii and Atlanta – for Spider-Man: Across the Spider-Verse, and Shazam! Fury of the Gods.