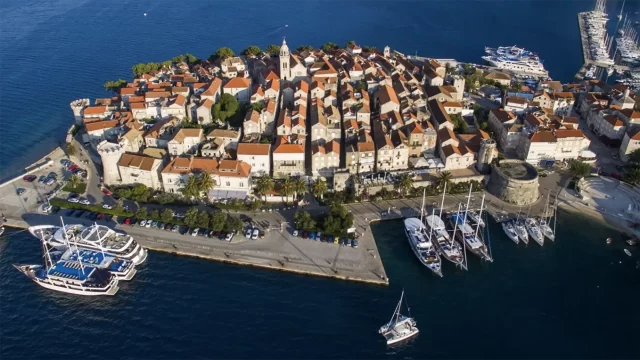 This fall, boating enthusiasts can embark on a special event with premium yacht charter company, The Moorings. The 2023 inaugural Croatia Rendezvous Event, takes place this October 14-21, 2023. 
A Croatia yacht charter features a wonderful blend of the historic and the natural, with ancient cities and towns situated in beautiful harbors fronting islands with pebble beaches and lush vegetation. Serene anchorages far from the crowds or bustling towns with boutiques, restaurants, and bars are all attractions of the central Dalmatian Coast, where wildlife abounds, the snorkeling is excellent, and history is ever present.
The Moorings Croatia Rendezvous Event Itinerary:
Saturday, October 14th: Arrival to Marina Agana

Start the journey at The Moorings base at marina Agana, part of small and reticent town Marina. The peaceful waterfront is filled with simple sea-side restaurants and local bars, while the northern side of the bay is the marina itself. Cheers to the beginning of the Croatia charter with welcome drinks.

Sunday, October 15th: Milna Brac – Wine and Cheese savouring

Venture over to Milna Brac, a historic fishing town and safe harbour boasting three marinas for a Wine and Cheese savouring experience. The Take in the Venetian architecture in the town, typical of Dalmatia. Closer to Marina Vlaška is a pebble beach for swimming and a cafe on the veranda overlooking the bay.

Monday, October 16th: Stari Grad, Hvar

Visit Stari Grad on island Hvar, a town with mythical storylines and a present day harbor home to 100 yachts. View the UNESCO-protected fields, the archeological museum and Petar Hektorović's house with a fish pond . Join The Moorings for PEKA meals and take off on your own to enjoy the lavender fields.

Tuesday, October 17th: Vinogradisce, Hvar

Vinogradišće bay, is located on the south side of St. Clement island, the biggest one of Pakleni archipelago that is just across the channel of Hvar town, known as the "St. Tropez" of Croatia. The bay has a small sandy beach and is filled with high-end restaurants and plenty to explore.

Wednesday, October 18th: Vis Town, Vis

Check out Vis, an old military island with a rich history. There are many military structures still standing on the island, and military tours run from Vis town and Komiža. Today, Vis is also well known for its wine production. Join The Moorings for a unique wine tasting experience inside of a bunker, quad rides and beach hopping.

Thursday, October 19th: Maslinica, Solta – Free sailing day

Take off on your own adventure and explore Solta and sail by Šešula bay, surrounded with lush vegetation and hardly any structures with Croatian restaurants. On the other side of the hill you can find Maslinica town, filled with charming clay-clad rooftops.

Friday, October 20th: Marina Agana

Back to beautiful Marina Agana for a picturesque last day on the charter.