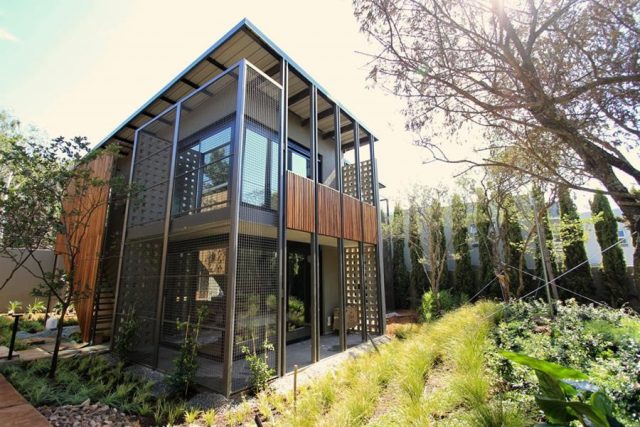 THE PEECH BOUTIQUE HOTEL in Melrose, Johannesburg, has doubled in size, with the recent addition of 16 new Luxury Rooms, increasing its capacity to a total of 32 eco-chic rooms, including a two-bedroom Luxury Villa.
Three years ago, owner James Peech was able to acquire a property adjacent to the existing hotel, which allowed him to realise his vision of expanding the offering of Johannesburg's best boutique hotel. He opened The Peech in 2004 with just six rooms in a 1950s heritage residence in a beautiful treed garden.
"The owners sold the house to us on condition that we didn't demolish it and kept the magnificent oak tree in the garden," says Peech. Since then, The Peech has maintained its homely feel and owner-run and -operated ethos, expanding in 2008 with the addition of four annexes housing 10 garden rooms and suites. Through it all, The Peech has championed excellent, discreet service and elegant eco chic style in a setting distinguished by is lush garden surrounds and laid-back, restrained sense of luxury.
The Peech has always been a pioneer of progressive hotel-keeping, not only from the point of view of its residential-inspired guest experience, but also for its elegant eco chic style, forward-looking approach to the environment, and commitment to ethical, responsible tourism. The Peech has been Fair Trade Tourism Certified since 2010.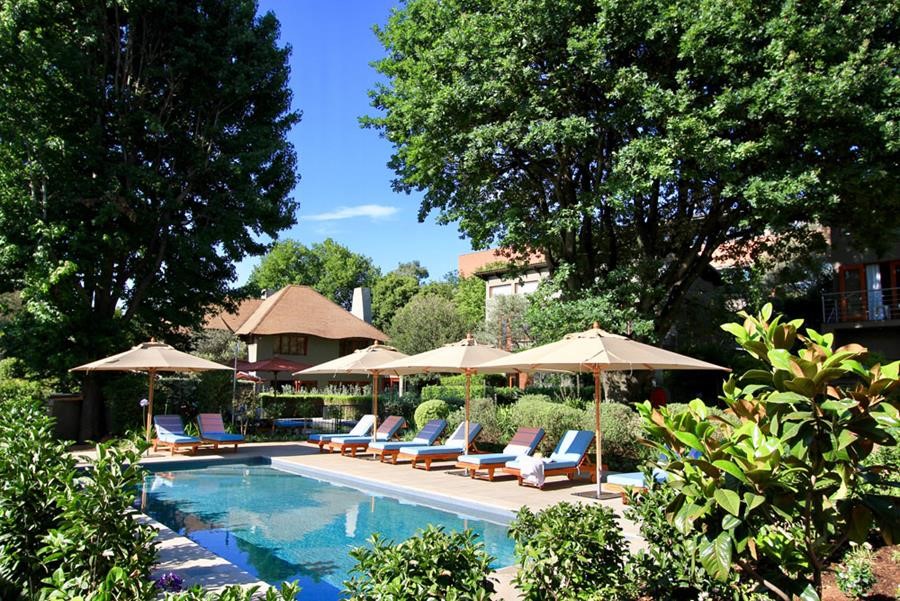 In keeping with this ethos, Peech says he went to great lengths to assemble a dream team of architects, landscapers and interior designers to work with him to realise his vision of a "grown up" Peech, while retaining its unique atmosphere as a residence. He says, "A great hotel should be a place that feels like home, only 10 times better!"
Architect Catherine de Souza of Meshworks, interior designers Aparna Ramani and Taryn Kallie of Design Republic and landscapers Deirdre Canston of Inspirations Garden Design worked closely with Peech to develop the next evolutionary phase of The Peech's uniquely Johannesburg-inflected hospitality offering.
Of course, the 16 new luxury rooms offer all the comforts and functional considerations that travellers seeking a home-from-home and springboard to the city might desire. "We placed a lot of emphasis on elements such as natural light and fresh air, considering how guests like to recover and recharge after they've been travelling," says Peech.  At the same time, he also pushed the envelope with the intention of advancing the very concept of what a boutique hotel in Johannesburg could and should offer.
De Souza explains that, in keeping with the residential feel of The Peech and its gardens, the additional rooms were conceived along lines that reject outdated notions of traditional hospitality, with its bulky structures and sterile corridors. Instead, Meshworks designed the new rooms as pavilions "floating in the garden", sensitively integrated with extensive landscaping to make them feel as if they've always been there.
She points out that because of the openness and lightness of the arrangement, the master plan has been conceived of almost as a miniature urban design – a garden-path-meets-village-high-street that guides guests to their rooms punctuated by a series of moments of discovery.
De Souza says the new pavilions are envisioned as a "contextual response" not only to the original residence and gardens, but also to Johannesburg's unique identity as at once a large African city, and the world's largest man-made forest. She calls the concept "garden urbanity", and the aesthetics and materials of the pavilions reflect the steel concrete and wood of urban infrastructure, while the sculpted landscaping brings the largely indigenous vegetation right up to the rooms.
Each of the pavilions, with upstairs and downstairs rooms, has been designed as a flexible space with stackable glass doors that open onto private patios or terraces, allowing each room to connect with its surroundings while offering guests the opportunity to customise the degree of privacy or openness they prefer.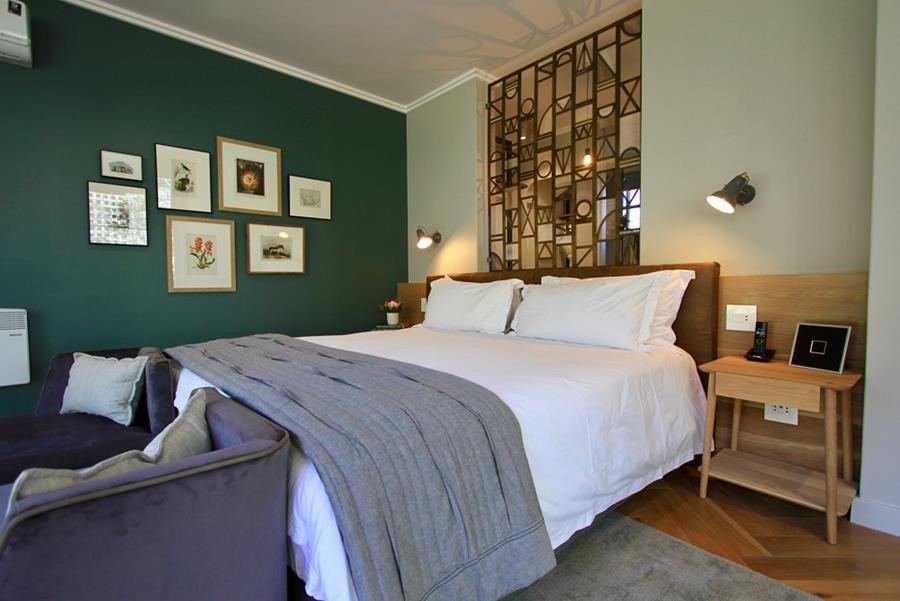 The rooms themselves have been designed with simplicity and restraint, their sense of luxury hinging on an in-depth understanding of how to design for the ultimate in comfort with "nothing superfluous". Ramani points out that, while she drew detailing from the architecture into the interiors with timber and customised steel fittings, the interiors soften the urban-inspired aesthetics with a thoughtfully restrained layering of soft elements, including tactile comforts such as eco-friendly Oggie oak flooring and beautifully distressed leather headboards.
Many details were bespoke or meticulously customised and crafted. Ramani says that her approach privileged multifunctional furnishings and spaces to makes for the highly efficient and flexible use of space. While the toned-down palette and soft layering is partly inspired by the gardens in which the rooms nestle, riffing on Johannesburg's "manmade forest", the rooms also feature carefully curated selections of furnishings and designs by local designers including the likes of Houtlander and W Squared, paying homage to Jo'burg's talented designers and artists.
"The beautiful screens between the beds and desks were hand woven by the talented women at Bethany House here in Joburg, a shelter for abused women," adds Peech. "Through a special programme, they are being taught crafting skills such as sewing, weaving and beading to develop skills that empower them to do what they love and proudly support themselves."
Peech's love of Johannesburg and his desire to embrace the city in the hotel's design is also reflected in the "custom curated groupings of artworks" in each room. Typically, they combine archival images, drawing on maps and early drawings and prints with playful historical references to local plant life and fauna. Contemporary references to the city, such as Shaun Gaylard's detailed sketches of architectural landmarks, weave in a contemporary element of the city's narrative.
Peech says the ultimate satisfaction of working closely with his "dream team" has been that his vision was uncompromised, and the new chapter of The Peech Boutique Hotel has been opened in its most authentic, forward-looking incarnation. "We feel like we've created the perfect hotel room," says Peech.
The new rooms at The Peech Hotel officially open for guest occupancy on 15th December 2018. The Peech is planning to complement its new "grown up" offering with a second restaurant and wine bar opening next year.
The hotel is located in Melrose, a popular and upmarket suburb within 10 minutes of the business and shopping nodes of the city. Sandton is ten minutes away, whilst Rosebank and Melrose Arch are only five minutes away by Gautrain and Johannesburg International airport is 45 minutes by car.  The Peech is also situated opposite the James Gray Park and adjacent to the Wanderers International Cricket Stadium.
For reservations and more information contact The Peech hotel on (011) 537 9797, email reservations@thepeech.co.za or visit www.thepeech.co.za