The Runnymede on Thames, is delighted to unveil an array of new experiences – both on and off the river – to welcome guests back when the hotel re-opens on 17th May. Set on the banks of the River Thames, and conveniently located just 10 minutes from Windsor, the family-owned hotel promises an ideal setting for leisure and business travellers alike, seeking a central base to explore some of the area's best local parks and attractions, such as Windsor Great Park and Legoland.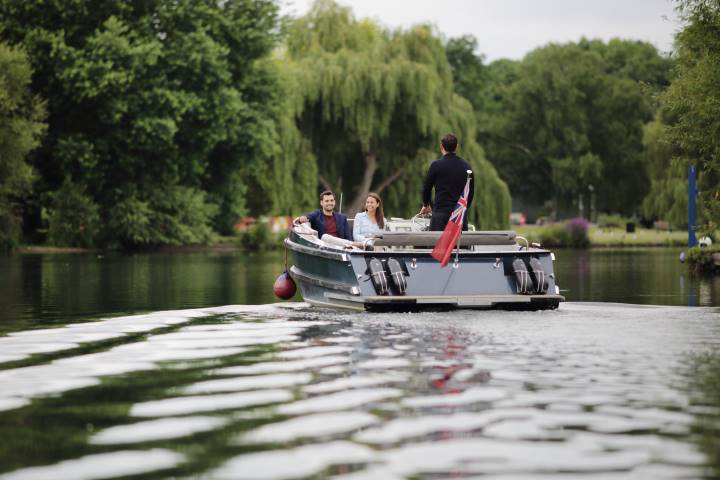 River Activities
Perfect for those seeking a fun excursion, The Runnymede on Thames' fleet of boats will return to their riverside mooring this summer. For a leisurely afternoon trip, guests can hire their own electric-powered riverboat and take in the beautiful riverside views en-route to neighbouring Windsor, before indulging in one of the hotel's picnic hampers. Alternatively, those looking to sail further afield can hire the diesel-powdered Antaris Sixty6 launch, complete with collapsible roof, drinks cooler and even a Bluetooth stereo!
Water lovers can also delight in The Runnymede on Thames' alternative river offerings with a fun paddle boarding session along the Thames or, opt for an early morning or sunset fishing session on the jetty. After a day filled with exhilarating water activities, guests can wind down with a relaxing dip in the outdoor whirlpool, overlooking the river.
As the need for corporate meeting space resumes, The Runnymede on Thames promises the perfect alternative to a standard business event, with activities such as dragon boat racing and even geese herding!
Outdoor Pursuits
The Runnymede on Thames' location offers an ideal base for all ages and group types who are looking for a summer staycation; families can spend the day enjoying the rides at Legoland and Thorpe Park; nature lovers can admire the abundance of flora and fauna at Windsor Great Park, Savill Gardens and RHS Wisley; history fanatics can visit The RAF Memorial, explore the historical site of Magna Carta and take a wander round Hampton Court Palace.
While local attractions are just minutes away, The Runnymede on Thames' extensive outdoor activities are sure to keep guests entertained upon their return. Archery sessions will see guests channel their inner Robin Hood, whilst laser clay pigeon shooting offers the opportunity to improve hand-eye coordination skills as guests take aim with impressive state-of-the-art, laser-adapted rifles. Sports fanatics can also rejoice, with on-site tennis, football and basketball.
Spa
For those who enjoy a little less by way of activity, The Runnymede on Thames' award-winning spa facilities are a haven of tranquillity. The spectacular, seasonally-heated outdoor swimming pool is an idyllic spot for balmy summer days. After a refreshing dip, guests can bask in the sun on luxurious loungers with a drink in hand or take part in a relaxing al-fresco yoga class in the orchard.
Dining
The Runnymede on Thames' beautiful outdoor terrace means guests can delight in a relaxed lunch under the midday sun, a sunset dinner or a refreshing gin and tonic.
New for 2021, the outdoor River Hideout will allow guests to sample a mouth-watering array of summer specials, including BBQ favourites from the Robata grill, homemade pizzas and Hawaiian poke bowls. Located beside the river, under a canopy, The Runnymede's outdoor dining experience offers a relaxed environment to enjoy food with family and friends. Meanwhile, the neighbouring airstream trailer serves cold refreshments and ice-cream, which can be enjoyed from the comfort of a beanbag or deckchair with beautiful river views.