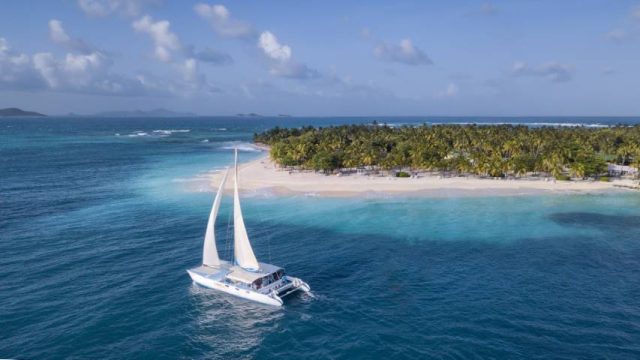 Originally known as Prune Island, the white-sand fringed oasis in The Grenadines was leased in 1966 for 99 years by Americans, John and Mary Caldwell, from the government of St. Vincent and the Grenadines for $1 USD per year. The caveat was that they built a hotel to provide employment for local people. At that time, the island was uninhabitable with a swampy, low-lying interior, but with its iconic, stunningly white sand-beaches framing its shoreline.
The Caldwells planted coconut palms to reclaim the land, a practice Johnny had learnt from previous projects, giving him the nickname "Johnny Coconuts." And so, Palm Island evolved and by leasing a few select building plots for private homes the funds were raised to construct a 10-room hotel, The Palm Island Beach Club, which they ran for the following 30 years.
In 1999, the hotel was purchased by the current owners, James Lane, an Englishman, and Rob Barrett (the now founder of Elite Islands Resorts), an American. Extensive renovations followed to create 41 rooms and suites, a spa and other amenities for hotel guests. Two of the private residences were also purchased to create villas, and a plant nursery was crafted to cultivate fresh produce and herbs for hotel's restaurants. A new villa will be available later this year.
Although the geography of this area can sometimes be challenging, the ethos here is always to come back stronger. And so the story of Palm Island is ever moving forward and it is in this element that James Lane Jr., the resort's managing director, hopes that its visitors will love and appreciate and want to be part of it, as much as he does. James and his entire team are passionate about preserving the natural beauty, the flora and fauna, and of course the very important jobs for the local community, that he has inherited.