The top 5 summer destinations in Germany
As Der Frühlingsanfang (early spring in German) brings so many places back to life after winter, so too does the desire to dust off your suitcase for a holiday. And with Germany's blossom-filled cities and bucolic rural landscapes in full bloom at this time of year, what could be better to get away from your day-to-day than a unique German immersion? Read on for the five best places within Germany to frolic in spring and summer weather.
Bonn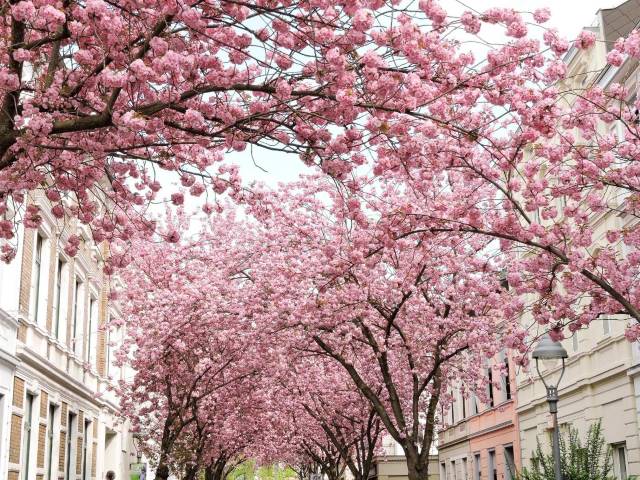 Being the birthplace of the famous composer Beethoven isn't Bonn's only claim to fame. As winter thaws, this west German city's springtime cherry blossom spectacle is heavenly enough to rival the same season in the trees' native Japan. In the 1980s, thousands of ornamental cherry trees were planted all over the city's Altstadt (Old Town). And now, a whimsical floral display unfolds every year, as carpets of delicate pink petals shed and gather on the cobblestones – typically within the first two weeks of April. If you can excuse the use of Instagrammable as an adjective, then one particular street is just that – the Heerstraße (aka Cherry Blossom Avenue) on the fringes of the Old Town. Between Gründerzeit buildings and old-fashioned street lamps, the boughs of the trees become laden with flowers and transform the street into a fragrant tunnel of pink. Spend the night at Blues & Chutney Bonn, a characterful B&B with high ceilings and antique furniture, just a short walk from Heerstraße.
Munich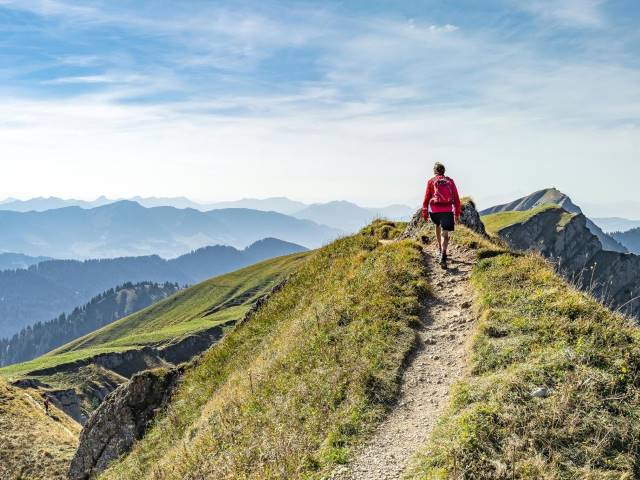 When the warm weather arrives in Munich, the city really comes into its own. As the capital of Bavaria, it's a gateway to the region's natural splendour and there are ample hiking, cycling and other outdoorsey adventures available (including skiing if you're not too close to summer). But summer is also a brilliant time to revel in the city itself. Recent Booking.com research found that almost three quarters (73%) of global travellers want to have authentic experiences that are representative of the local culture when they travel and 76% want to ensure the economic impact of the travel iindustry returning is spread equally in all levels of society. Attractions like the Englischer Garten burst into bloom, flea markets open up again after the winter and events like Springfest (Frühlingsfest), which is expected to return in 2022, bringing with it a whole lot of singing, dancing and beer, not to mention are excellent ways to help support local businesses during your syay. Stay at the Aloft München design hotel in the Old Town, directly next to Munich Central Train Station.
Hamburg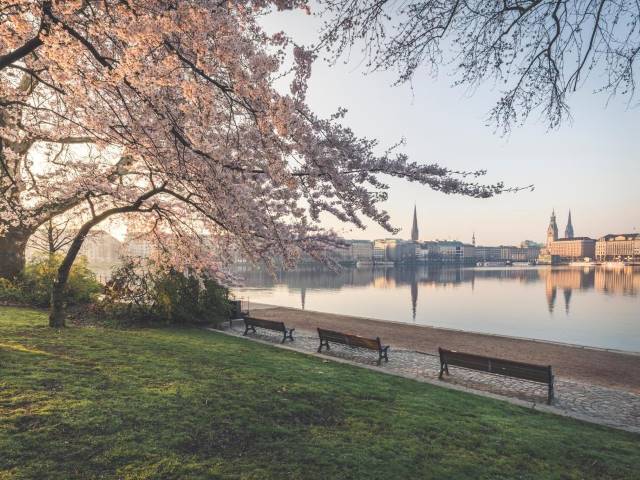 Bonn isn't the only city with strong cherry blossom credentials; Hamburg has long had ties with Japan based on international trade and so in the 1960s, thousands of these graceful trees were donated to the city by its own emerging Japanese community. Every May since 1968, Hamburg has celebrated this special Japanese connection with a Cherry Blossom Festival (Kirschblütenfest), involving music, film, art, food and fireworks over the Alster lake. Festivities are centred around the water (with most of the cherry blossom trees found on the shores) and in the Altonaer Balkon park, where you can have an authentic Japanese 'hanami' picnic (hanami being the Japanese tradition of welcoming spring) beneath the sakura (cherry blossom). Base yourself at the Henri Hotel Hamburg Downtown, with suave suites, a sauna and city views.
Stuttgart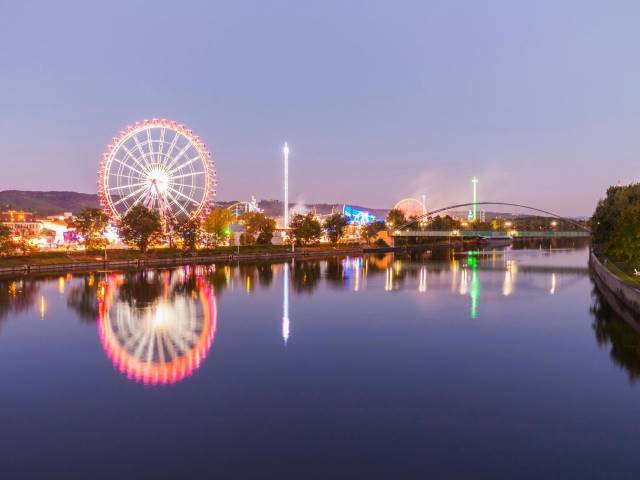 Stuttgart hosts what is Germany and Europe's biggest spring festival (Frühlingsfest, which, as mentioned above, is expected to return in 2022), attracting around 1.5 million people to the city's Cannstatter Wasen fairground between mid April and the beginning of May. The event kicks off with the ceremonious opening of a beer barrel by the Stuttgart mayor, before the rest of the attractions swing into action. Expect a nearly 60-metre-high Ferris wheel, a rollercoaster and oddities like The Fruit Column, a tall wooden decorative structure covered with fruit. There are also beer tents (and a keg tapping ceremony on the opening Saturday), markets, balloon shows, fireworks displays and special family days. Spend the night at Stuttgart's centrally located and highly rated Kronenhotel.
Münster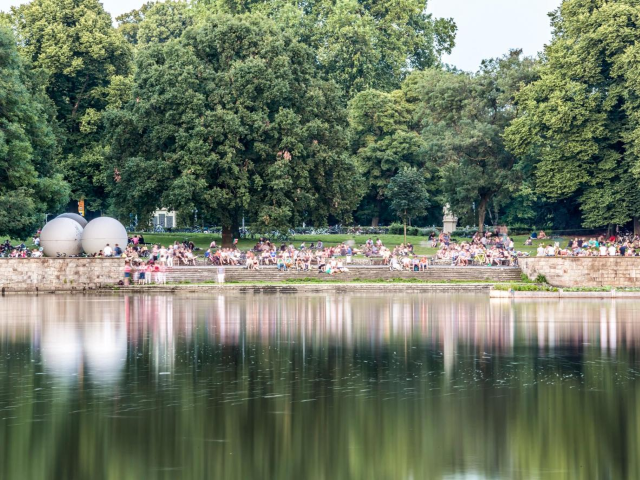 Münster sits on the Aasee – a lake with plenty of fun outdoor activities during the warmer months – making it an excellent choice for a summer city break. There's boat rental available, a sailing school, a number of coffeehouses and the opportunity to cycle and walk through the surrounding sprawling park. Following the paths that weave through the greenery will be especially enjoyable for art lovers, since you'll come across a multitude of sculptures by internationally renowned artists created for the city's famous once-in-a-decade sculpture exhibition (Skulptur Projekte Münster). Summer is also a delightful time to explore the city's Hafen (harbor) district, revamped in recent years to house hip restaurants, bars and beer gardens overlooking the Dortmund-Ems Canal. Either splash out on a suite with parquet floors and mauve velvet upholstery at Mauritzhof Hotel Münster, or stay within budget in a contemporary dorm with polished concrete floors at the H.ostel Münster.
Booking.com has introduced a Minimal Cleanliness Score Commitment to support unique accommodation partners as they commit and work to improve and maintain their cleanliness score, as determined by verified guest reviews from travellers who have booked and stayed at each property. Based on ongoing guest feedback, only properties which live up to this cleanliness quality over time will remain available for guests to book, ensuring peace of mind for travellers looking to travel safely and confidently.
With a mission to make it easier for everyone to experience the world (as it becomes safe to travel again), Booking.com has property stays for all types of travellers with discounts starting at 15% on the Getaway Deals page.