The Yacht Week has opened bookings for 2022 with the announcement of three routes to stunning island destinations in the Bahamas, Tahiti, and Martinique & St Lucia. Young, adventurous travellers can pick their paradise destination and join a small flotilla of yachts headed for the trip of a lifetime. With flexible ticket terms and a proven safe environment, groups of friends can now book a yacht with confidence. 'The Islands' routes rediscover the sense of awe and excitement that only travelling to far-flung paradise destinations can bring. Guests can charter a yacht of their choice, equip it with a skipper and a host and enjoy seven life-changing days with like-minded explorers. With resident DJs flown in from around the world for parties at amazing locations, The Yacht Week always delivers the fun, alongside carefully curated activities, and once-in-a-lifetime cultural experiences. The Yacht Week will make dreams a reality with the best yachts at the best prices available. Check www.theyachtweek.com for full pricing on all routes and more info.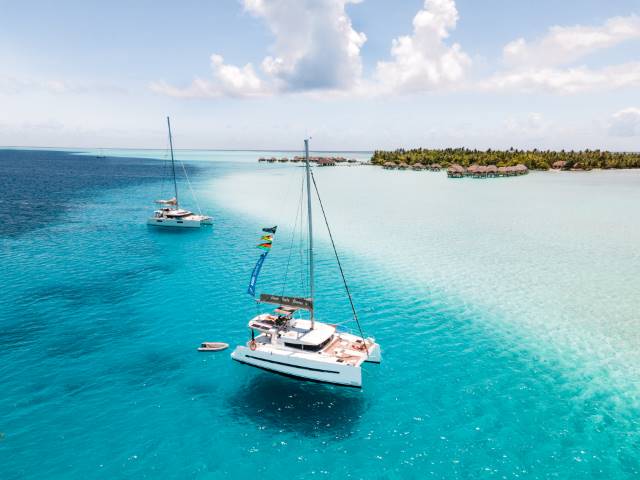 It's definitely time we all got some adventure back in our lives and The Yacht Week has delivered it with 'The Islands'. With routes already set to Croatia (Original / Ultra Festival / Hideout Festival routes), Greece, Montenegro and Sardinia Emerald Coast, 'The Islands' adds a new page to the bucket list.
The Treasured Islands – the Bahamas were once considered the pirate islands and as part of a flotilla of 10 – 15 yachts sailing from 26th March to 2nd April, swashbuckling travellers can dive to sunken shipwrecks, sail clear waters and walk deserted white sand beaches. Activities include feeding and swimming with wild pigs, snorkelling with turtles, beach parties, shoreside yoga and of course, a sampling of local culture with delicious food and rum cocktails. As the sun goes down, there is treasure to be found in the stunning skies at Sunset Beach.
The Lost Islands – Tahiti and the Polynesian islands are unique. Set alone in the middle of the vast South Pacific Ocean these islands are like entering another world. Each one is different to the last, but all with turquoise waters and coral teeming with spectacular underwater life. From 9th – 16th April and 16th – 23rd April, The Yacht Week takes 20 – 25 yachts to lose themselves in the natural beauty and ancient traditions of Tahiti. Explorers can hike Mount Temehani, visit sacred temples and pearl farms or enjoy sunrise yoga and surfing. With gourmet Polynesian food and parties including a New Moon Bora Bora beach party, this is a pure bucket list adventure.
The Carnival Islands – explore two of the Caribbean's most vibrant cultures. From the French chic of Martinique to the carnival vibes of St Lucia. There's no better way to see in the New Year than on a yacht with friends on the open Caribbean Sea. From 27th December to 3rd January, and 3rd – 10th January, The Yacht Week celebrates the arrival of 2022 with calypso beats, cocktails and a next-level adventure. Guests can enjoy the thrills of treetop zip-lining, kayaking, water sports, climbing The Pitons, an eco ATV tour, diving in crystal clear waters and more.
A new generation of explorers have missed out on a year of adventure. The Yacht Week Spring programme is giving them the opportunity they've been waiting for to really leave the world behind. Pick any paradise location from 'the islands' and guests can enjoy an action holiday, a wellness break, a cultural experience, a party trip, a chance to explore new places – and that's before considering the unrivalled feeling of sailing the open seas with friends.
The Yacht Week will also be drawing on their years of experience as the original 'floating festival' to host a series of exclusive themed parties on each route. As always guests can enjoy the iconic 'circle raft' parties out at sea, dancing in crystal blue waters, as well as live international DJs performing at incredible venues. These events will be an unmissable part of an unforgettable week.
Now with bookings open, and safe, flexible tickets for 2022, The Yacht Week Islands are likely to sell out fast, but those lucky enough to rally the crew and secure a place should prepare to disconnect from everyday life and reconnect with their sense of adventure.