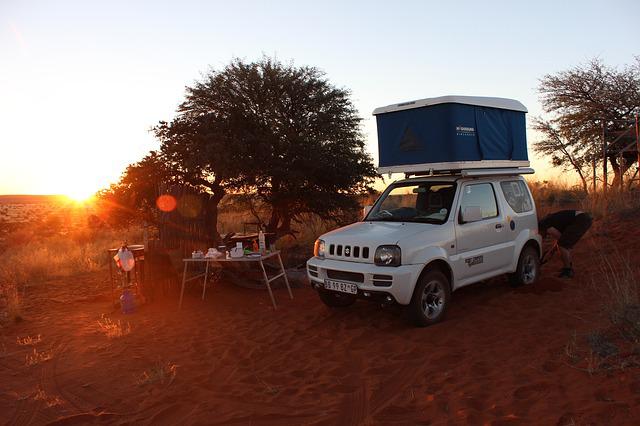 Roof top tent is a tent that you can mount to your car's roof top for using it while going to overlanding. There are a lot of variations of it and you can change the way you use it to your comfort according to how many people you want to use it with and other factors also. If you want to enjoy your camping with a car one of the most important thing is to choose the best roof top tent on top of your car to enjoy your stay and sleep.
Buying a roof top tent is a long-term investment and let's dive into the things that you should take into account while buying a roof top tent for your car.
Size and Fitting
One of the most important things is the fitting of the roof top tent and you should know your car sizes to buy a right size one. You can find your car size in owner's manual or find it the internet and then choose the right size of the tent.
Besides, you can find some size guides in the manual of the roof top tent and get some recommendations from the seller. Choosing the best possible size for your car will ensure easy lock of the tent to your car and your security.
Installation of the Roof Top Tent
Make sure you know how to install the roof top tent to not get some difficulties while camping. It is not a doubt that installing your second house in your car is not an easy task and if you know exactly how to do it you can easily set up it. You can try to install the roof top tent while you buy it before going off-grid and solve all the issues while installing the first time to get familiar with it and easily set it up during camping.
Hard Shelled vs. Soft Shelled
Hard Shelled Roof Top Tents
There are two types of roof top tents that are hard shelled and soft shelled ones. Hard shelled ones have rigid outer parts and they can be made from different materials such as fiber, alluminum, plastic, etc. Hard shelled tents are durable and usable during different weather conditions. If you know the location and where you like to go to camping you can do your research of the weather and choose your tent according to it. Hard shelled roof top tents are easy to set up as they have fixed parts.
Hard shelled roof top tents are also long lasting as they are made from hard materials and you don't have to worry about being very careful with it as damaging is hard with hard shelled ones compared to soft shelled tents. You have to be careful with soft shelled tents as they are very light and made of fabric and you can damage it if while using it reckless.
Soft shelled tents
Soft shelled tents are made from fabrics or other soft materials as mentioned before and they have their pros and cons also! One of the benefits of soft shelled tents is that because it is made from a durable fabrics or soft materials it is very useful. While setting it up on your car you do not need worry about your car's roof as it is not heavy compared to hard shelled tents. One of the cons of the soft shelled tents is that it takes a bit longer to set it up compared to hard ones.
Besides the mentioned benefits soft shelled tents are also cheaper than hard shelled tents and you can buy them for if you are a beginner in camping and you want to try if that is something interesting for you or not.
Ventilation
One of the things that you need to take into account is the ventilation while buying a roof top tent. You can choose roof top tents with at least one window as most of them are coming with that. This will allow you breathe comfortably and feel the fresh outside air.
Those were some of the main things to consider while buying a roof top tent if you are interested in buying a camping accessory for your vehicle. There are other variations of tents alos that you can consider there is no difference for you it is on your car or near it. Camping tents are broad, user-friendly, and useful and they can be bigger and more comfortable compared to roof top tents.