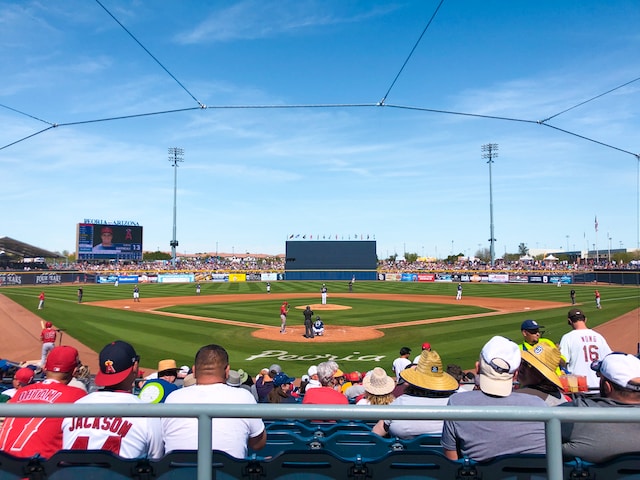 Are you looking for an exciting destination to explore? Look no further than Peoria, AZ! Located in the heart of the Sonoran Desert, offers a wide array of things to do in Peoria for visitors of all ages. From outdoor adventures to cultural experiences, this vibrant city has something for everyone. Whether you're a nature enthusiast, history buff, or thrill-seeker, Peoria will captivate your senses with its natural beauty, rich heritage, and thrilling activities. So if you want to move to Peoria you should consider Method Moving and Storage of Peoria, AZ! Instead of adding more stress to your already overwhelming to-do list, seek their assistance in packing up your belongings. They offer quick packing services using materials of high quality throughout the industry.
When it comes to things to do in Peoria, AZ, the possibilities are endless. Nature lovers can immerse themselves in the breathtaking landscapes by embarking on hikes through picturesque trails at Sunrise Mountain Preserve or enjoying the recreational activities at Lake Pleasant Regional Park. If you're interested in the arts and culture, Peoria has you covered with its cultural institutions like the Challenger Space Center and the Peoria Center for the Performing Arts. These attractions offer interactive exhibits, educational programs, and live performances that showcase the wonders of space and the talents of local and international artists.
Explore the Natural Beauty of Peoria
Enjoy Outdoor Activities in Peoria
When it comes to things to do in Peoria, it has plenty to offer. The city is surrounded by stunning natural landscapes, providing endless opportunities for outdoor enthusiasts.
Hike the Trails at Sunrise Mountain Preserve
Begin your outdoor exploration by embarking on a hike at the Sunrise Mountain Preserve. This scenic desert park boasts numerous trails of varying difficulty levels, allowing hikers to immerse themselves in the beauty of the Sonoran Desert. From breathtaking panoramic views to unique desert flora and fauna, the Sunrise Mountain Preserve offers an unforgettable hiking experience.
Visit Lake Pleasant Regional Park
For water lovers, a visit to Lake Pleasant Regional Park is a must. This expansive reservoir offers a plethora of recreational activities, including boating, fishing, kayaking, and paddleboarding. Enjoy a day on the water, soak up the Arizona sun, and revel in the natural beauty surrounding Lake Pleasant.
Discover Peoria's Cultural Scene
Beyond its natural beauty, Peoria is also home to a vibrant cultural scene that celebrates art, science, and performing arts.
Visit the Challenger Space Center
Unleash your inner astronaut and visit the Challenger Space Center. This unique facility offers interactive exhibits, simulators, and educational programs that allow visitors to learn about space exploration. Discover the wonders of the universe and get a taste of what it's like to be an astronaut.
Experience Thrilling Adventures
Go on an Off-Road Adventure
For those seeking thrilling adventures, Peoria offers exciting off-road experiences that will get your adrenaline pumping.
Take a Desert Jeep Tour
Hop aboard a rugged Jeep and embark on a thrilling desert jeep tour. Traverse rugged terrains, navigate through sandy washes, and witness the awe-inspiring beauty of the desert landscape. Knowledgeable guides will share interesting facts about the flora, fauna, and history of the region, making your off-road adventure both exhilarating and educational.
Try ATV Riding in the Sonoran Desert
If you prefer a more hands-on approach, rent an ATV and set off on an adrenaline-fueled adventure through the Sonoran Desert. Feel the rush as you zoom across sandy trails, conquer challenging dunes, and soak in the breathtaking desert vistas. ATV riding in Peoria is an experience that will leave you with memories to last a lifetime.
Take to the Skies
For a unique perspective of Peoria's beauty, take to the skies and indulge in exhilarating aerial activities.
Go Hot Air Ballooning over Peoria
Drift gently above the picturesque landscapes of Peoria as you embark on a hot air balloon ride. Watch the sunrise or sunset paint the sky with vibrant colors as you float peacefully in the air. Enjoy panoramic views of the city, desert, and mountains, creating a truly enchanting experience that will take your breath away.
Try Tandem Skydiving
A fun thing to do in Peoria is tandem skydiving! If you're a thrill-seeker, why not take the leap and experience the ultimate adrenaline rush with tandem skydiving? Feel the exhilaration as you freefall through the sky, enjoying breathtaking views of the desert below. With an experienced skydiving instructor by your side, you'll feel safe and secure as you embark on this unforgettable adventure.
Delve into Peoria's History and Heritage
Peoria's rich history and heritage are waiting to be discovered. Immerse yourself in the stories of the past as you explore the city's historical sites and landmarks.
Visit the Peoria Arizona Historical Society Museum
A thing to do in Peoria this weekend may be the Peoria Arizona Historical Society Museum. This museum showcases the history and culture of Peoria and its surrounding areas. Discover fascinating artifacts, photographs, and exhibits that bring the city's heritage to life. Gain insights into the early settlers, indigenous tribes, and the growth of Peoria over the years.
Indulge in Shopping and Dining
Some things to do in Peoria include shopping and dining experiences catering to all tastes and preferences.
Shop at Park West
Indulge in a shopping spree at Park West, a premier outdoor shopping destination in Peoria. This upscale mall features a wide range of stores, from high-end fashion boutiques to popular brands. Explore the shops, discover the latest trends, and find the perfect items to complement your style.
Discover Local Cuisine
A family thing to do in Peoria, Arizona, is Peoria's dining scene is a melting pot of flavors, offering a variety of cuisines to tantalize your taste buds. From Southwestern delicacies to international fare, you'll find a plethora of options to satisfy your cravings. Sample traditional Mexican dishes, savor mouthwatering BBQ, or enjoy a gourmet dining experience at one of Peoria's renowned restaurants.
Enjoy Family-Friendly Activities
Peoria is a fantastic destination for families, offering a range of activities that are sure to entertain both children and adults alike.
Visit the Wildlife World Zoo, Aquarium & Safari Park
Embark on a wild adventure at the Wildlife World Zoo, Aquarium & Safari Park. This expansive wildlife park is home to a diverse collection of animals from around the world. Marvel at the majestic lions, observe playful dolphins, and encounter exotic creatures up close. With interactive exhibits, animal encounters, and thrilling shows, the Wildlife World Zoo is a must-visit for animal lovers of all ages.
Conclusion
Peoria, AZ, offers a myriad of experiences for visitors looking to immerse themselves in natural beauty, thrilling adventures, rich history, delicious cuisine, and family-friendly activities. From hiking the trails at Sunrise Mountain Preserve to exploring the city's cultural scene, there is something for everyone in Peoria. Whether you're seeking outdoor thrills, cultural enrichment, or simply a relaxing getaway, Peoria will not disappoint. So pack your bags, embrace the desert charm, and embark on an unforgettable journey through the vibrant city of Peoria, AZ.