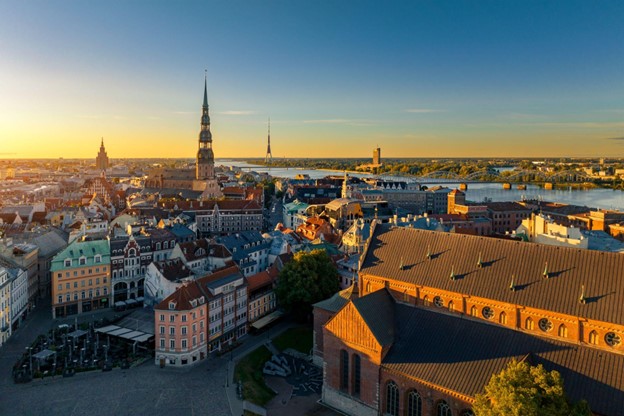 Ever fancied a trip to Latvia's capital, the thriving cultural city of Riga?
This wonderful European destination on the Baltic sea remains off the beaten path by mainstream tourism and can offer a unique cultural experience to those looking for a trip with a difference.
Whether you fancy soaking up hundreds of years of history, broadening your culinary horizons, getting active and adventurous or keeping the kids happy with some hands-on activities, Riga has something for visitors of all ages.
Book your flight, sort your hotel then read through our guide to what you can do in Riga.
Riga's Old Town
By far, one of the most jaw-dropping cultural things you can do in Riga is simply taking a walk through the city's Old Town.
A globally-renowned UNESCO World Heritage site, this boasts Insta-perfect travel experiences such as the 13th-century Riga cathedral, the Three Brothers, the Freedom Monument and as UNESCO puts it, 'the finest concentration of Art Nouveau architecture in the world'.
Discover Latvian cuisine
Do you know that Latvian food is intriguing, varied and utterly delicious?
That's why, when you're planning what to do in Riga, make sure you visit the Central Market for crunchy sauerkraut and pickles, dark rye bread, hemp butter and honey still in the honeycomb.
For something more substantial, treat yourself to dinner at the family-friendly
Melnā Bite for a modern take on the traditional or go upmarket at The Three Chefs restaurant for mouth-watering international cuisine.
Get active in the Baltics
If you're looking for more of an adventurous, outdoorsy trip, Riga is the city for you.
Why not consider hiring a paddleboard or kayak and viewing the city at sunset? Or enjoy a horse-riding experience across the pure white sandy beaches? Perhaps a husky sled ride or hiking in the stunning Gauja National Park is more your thing?
Just slip on your activewear and head out for the most unique Baltic travel experience you can find.
Keep the kids entertained
Wondering what you can do with kids in Riga? Prepare to be surprised.
Riga is a city that offers everything for kids (and big kids too!) from hands-on museums, educational experiences, a Natural History Museum, a zoo, a waterpark, outdoor playgrounds and many more activities for the kids.
Whether you want to broaden their horizons with a cultural experience, help them burn off some energy or simply soak up some fun, a family trip to Riga will be one to remember.
Summary
With almost endless things to do in Riga, you'll be absolutely spoilt for choice. Will you soak up the culture? Treat your tastebuds to a unique culinary experience? Get active with some adventure sports? Keep the kids busy? Whatever kind of trip you're looking for, Riga has it all.