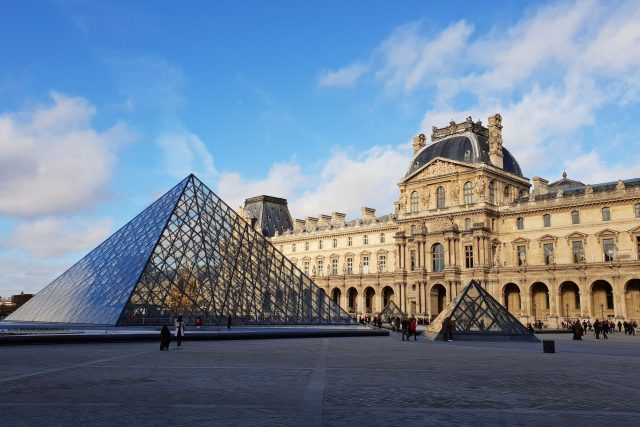 With almost 10 million visitors every year (9,6 million in 2019, before the inevitable contraction of the pandemic two-year period, and waiting for the expected bounce in 2022), the Louvre Museum in Paris is by far the most attended cultural space in the world. In addition to that, it's the most iconic museum, captured and immortalized in dozens of famous films (just think about Funny Face by Stanley Donen, Bande à part by Jean-Luc Godard, The Dreamers by Bernardo Bertolucci or Le Louvre sous l'Occupation by Aleksandr Sokurov): it contains not only the most renowned and iconic painting of all time (Leonardo Da Vinci's Monna Lisa), but also thousands of other masterpieces of every era and pictorial school.
Despite its prestige, the Louvre Museum is anything but an "elite venue". Quite the opposite, it is very popular, and the museum's policy aims specifically to open its galleries to the largest possible amount of people. The prices are extremely affordable, and a large number of exemptions are provided (for example all the visitors under the age of 25 coming from the EU and all the visitors under the age of 18 coming from other countries, art and art history teachers, people with disabilities and their carers). Moreover, if someone has troubles buying directly from the central box office, it is possible to book Louvre museum tickets from other qualified online sources. That said, like any other public venue, the Louvre Museum has its own access policy that everyone is required to comply with. Below you'll find the most important points of that policy.
Anti-Covid protocol. Every public place in the world is subject to measures to prevent the virus spread. To be more specific, all the visitors who are over the age of 12 years and two months must show a Health Pass, in order to prove that they have finished their vaccination course. Moreover, everyone must wear a mask.
Photos and videos. You must take all the photos and video you want, unless otherwise specified. But you can't use any selfie stick or other camera supports.
Complete tour. The Louvre Museum has a total area of 60.600 square meters (more than 652.000 square feet). It hosts more than 380.000 artworks (not only paintings) and art objects, 35.000 of which are permanently exposed in its above 400 rooms. It has been estimated that visiting the entire museum could take something like five hours or more, but the museum's direction states that a proper complete tour is impossible to accomplish in just one day.
Drawing. Do you prefer drawing instead of taking pictures? You are allowed to do that, using pencils, paper and/or light cardboard, whose measures don't have to exceed 50 x 40 centimeters.
Children-friendly (or better, parents-friendly) policy. Children are admitted in the museum for free (they don't have to pay any ticket fee). Toddlers who need to be carried by their parents are admitted too, but the museum's policy allows only prams whose measures allow them to fit into the museum's elevators. If the prams are too big, the museum has a prams and front baby carriers loan service.