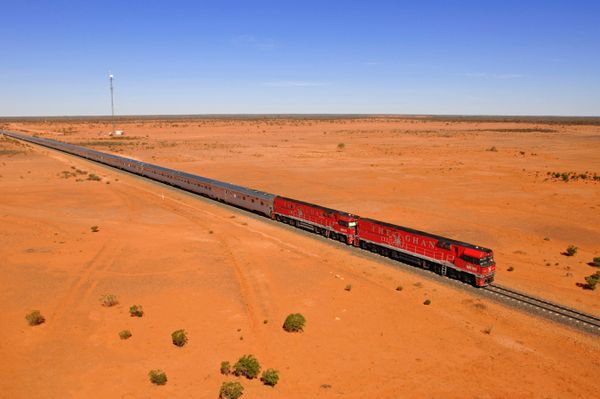 Take a cue from Hollywood movie star Margot Robbie and pair your 'Rock' with your 'Rail' for the ultimate Australian adventure.
Margot enjoyed the best of two Outback icons this month, choosing a 24-hour luxury journey aboard The Ghan before heading to Uluru for a spectacular Red Centre experience.
Here's how to do your own Rock & Rail:
1. Follow in Margot's footsteps and board The Ghan in Adelaide, leaving the train in Alice Springs to explore the spectacular Red Centre at leisure.
The Ghan departs Adelaide on Sundays year-round, with an additional Wednesday departure between June and August.
2. Kick off your adventure at Uluru, then board The Ghan in Alice Springs to make your way up to the Top End in unparalleled style.
The Ghan departs Alice Springs on Mondays year-round with an additional Thursday departure between June and August.    
3. Book The Ghan Expedition – the quintessential way to explore Australia from top to bottom. An optional upgrade includes a flight to Uluru and a full day's tour, getting you back in time to the train to continue your amazing transcontinental journey across four magical days.
The Ghan Expedition (Darwin to Adelaide) departs every Wednesday between April and October, with an additional Saturday departure between June and August.
For more information visit https://journeybeyondrail.com.au/packages/journey/the-ghan/