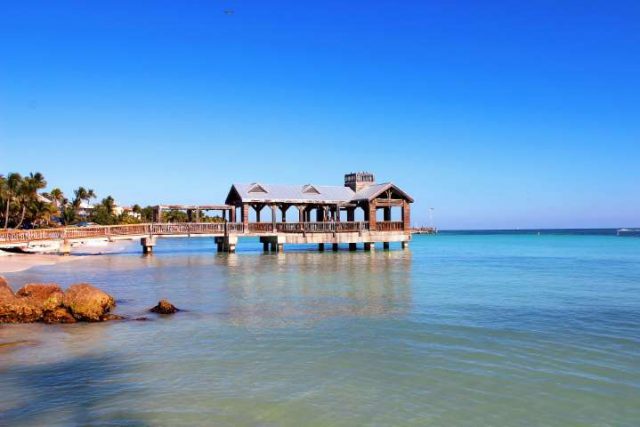 Even if you don't love the idea of a road trip, you might still want to take advantage of the opportunity to do one legendary road trip: Miami to the Florida Keys. When you start out in Miami, you can enjoy all the culture the city has to offer, and you may be able to get a direct flight into the city from wherever you live.
Then, you can pick up a rental car and hit the road. Driving in many of Florida's cities can be challenging, including Miami, because of traffic, but once you get out of Miami, there are open roads ahead of you and stunning scenery.
Are you convinced that a Miami-to-the-Keys road trip might be on your travel bucket list? If so, consider the following tips as you're making plans.
An Overview of the Overseas Highway
The Overseas Highway is the southernmost part of U.S. 1, and the trail was originally forged by Henry Flagler when he extended the Florida East Coast Railroad from Miami to Key West.
Following the collapse of the railroad, the construction of the highway began. The Overseas Highway consists of 113 miles of road and 42 overseas bridges. Each bridge jumps from key-to-key.
As you're driving on the Overseas Highway, you'll see the stunning water, pine and palm trees, and mangroves.
If you were going to go directly from Miami to Key West, you could make the trip in around four hours, but most people decide to stop along the way.
The Overseas Highway was named as an All-American Road by the National Scenic Byways program in 2009, and it's the only one to earn that distinction in Florida.
If Key West is your stopping point, it's only 90 miles away from Cuba.
If you don't want to fly into Miami, you can also opt to start your trip from Fort Lauderdale, and it may be less expensive.
The best time to take the trip is often between March and May. You're likely to encounter nice weather, and the winter crowds will have died down a bit. To avoid the rain, you might not want to make the trip in September.
The time you'll need for your road trip depends on what you're interested in. You might plan around six nights or so if you want to pick a few Keys and stay there for one or two nights.
Renting a Car
Plan to pick up a car at the airport, and while you can opt for anything you like, a Jeep or convertible is going to give you the ability to feel the wind in your hair. You'll breathe in the sea air and get the most of your road trip from the Miami area to the keys.
Key Largo
Key Largo is the key that's closest to the mainland of Florida, and it's naturally beautiful and peaceful. Key Largo is much quieter and calmer than Key West, and you can snorkel, dive, or paddleboard while you're there.
It will only take you around an hour-and-a-half to get from Miami to Key Largo.
John Pennekamp State Park is in Key Largo, and that's worth a stop in and of itself. You can take a boat trip from the park to the only living coral reef in the U.S.
Islamorada
Islamorada is very close to Key Largo, and it's a place known primarily for fishing, and a very uncommercialized atmosphere. You'll find amazing fresh seafood and friendly locals in Islamorada. Islamorada is actually a village made up of six islands, and there are stunning beaches, three state parks, and all types of accommodations, including luxury resorts.
Islamorada is known as the sportfishing capital of the world, and as a result, many of the restaurants will also let you choose to bring your fresh catch in and they'll cook it however you prefer.
Marathon
One of the main reasons you might stop in Marathon is to visit Bahia Honda State Park. There are truly wonderful white sand beaches, and it's only $8 to enter the park. Bahia Honda State Park is often ranked as being home to the best beach in America.
Nearby is also Big Pine Key, where the National Key Deer Refuge is located.
Marathon has the feel of a small, charming town, and it goes from Long Key to Seven Mile Bridge.
The Thunderbolt Wreck might appeal to you if you're a diver—it's an artificial reef that draws in divers from around the world.
Key West
Your trip will end at Key West, and whether you like nightlife, nature, restaurants, or pretty much anything else, you're going to find something that appeals to you in Key West.
Key West is home to the historic Dry Tortugas National Park, for example. You can take a boat tour to the beaches of the park, located off the coast of Key West. Dry Tortugas is remote, around 70 miles off of Key West.
It's a 100-square mile park with seven small islands and primarily open water. You can only access it by boat or seaplane, and it's home to Fort Jefferson.
Key West has fun, quirky bars that are open all day long, and the world's third-largest barrier reef is just a few miles offshore, so there is an abundance of watersports to choose from. As soon as the sun starts to set, boats from all around the island depart on a Key West sunset cruise. It is one of the most popular activities in the Florida Keys that you wouldn't want to seize.
Since Key West is the southernmost point in the U.S. reachable by car, you're going to find great weather here year-round, and you'll have to make time for key lime pie and conch fritters.
There's a lot of history in Key West too. For example, visit Ernest Hemingway's home.
You may be tired from driving along your route, so once you get to Key West, you can ditch the car keys and walk everywhere.
Of course, there are plenty of other things along the way from Miami to Key West that may grab your attention, so give yourself time to pick what appeals to you and savor it all.