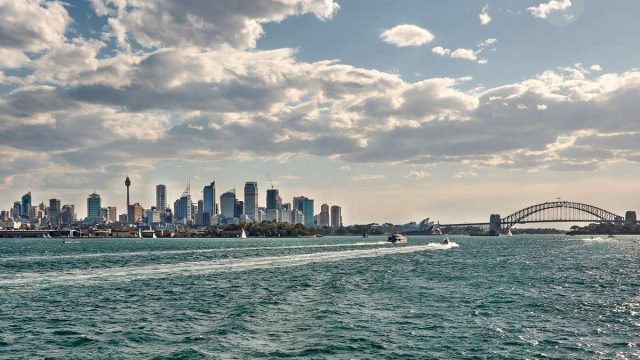 Once international travel is back on the cards for Australia, you can finally make a start on your long-overdue trip to this unmissable destination. The Australia visa application is easy to complete, so there'll be no delays once you get planning.
As the largest country in Oceania, Australia has everything you could possibly want. Whether you're after sprawling golden-sand beaches, the buzz of thrilling metropolises, or vast landscapes, the cities here have got you covered.
It's impossible to explore the entire country in one trip, so we've put together our top 10 must-see cities to make sure you don't miss out. There's a city for every type of traveler, so choose your favorites and jump straight in!
1. Sydney: Chilled Beaches in a Thrilling Metropolis
It goes without saying that no trip to Australia is complete without experiencing New South Wales' infamous capital city. Explore Sydney's dreamy surf beaches, scenic harbor, and endless list of impressive entertainment spots.
Whatever your chosen itinerary, it simply must include a visit to some of Sydney's most well-known sights: the Sydney Opera House and Harbor Bridge.
2. Melbourne: A Culture and Sports Hit
Known as the home of Australian cricket, Melbourne is the second-largest city in the country and is another must-see city for any trip down under.
It's more cosmopolitan than other Australian cities due to its international inhabitants, and its architecture has a very European feel about it.
Get lost in its diverse and unique neighborhoods, exploring the city's rich culture and never-ending sights. Be sure not to miss famous landmarks such as Parliament House, Federation Square, City Museum, and Docklands, before stopping off for some gourmet treats at Queen Victoria Market.
3. Perth – Buzzing City Life Nestled in Nature
Sitting right in the middle of Western Australia's vast nature, Perth is an up-and-coming metropolis that appeals to both city dwellers and nature lovers.
Stroll along its pristine white sand beaches, indulge in its many wineries, and wander through its historic streets and urban villages. Must-sees include Kings Park, Cottesloe Beach, the Art Gallery of Western Australia, and the historic seaside Port of Fremantle.
4. Brisbane – Idyllic for Water Lovers
The Brisbane River that curls its way through the urban landscape makes this one of Australia's most unique cities.
Take an electric picnic boat out on the river, cuddle a koala at the Lone Pine Koala Sanctuary, and eat your way through the stalls at Eat Street Market.
The city's coastline is also dotted with idyllic islands, so once you've had your city fix you can take a break with some island hopping.
5. Gold Coast – Golden Beaches Galore
South of Brisbane you've got the Gold Coast, which you're sure to have heard of. Here you've got it all – golden sandy beaches, dense rainforests, and a bustling cultural scene.
If sun, sea, and surf is what you're craving, here you've got it in excess with a host of beaches to choose from – Main Beach, Surfers Paradise, Miami Beach, and Kurrawa Beach. You simply can't visit Australia without a visit to the Gold Coast.
6. Cairns – A Trip to Nature's Wonders
Cairns is Australia's main gateway to explore one of the world's greatest natural wonders: The Great Barrier Reef.
It's the world's largest coral reef system and is so big that it can even be seen from outer space! Swim, dive, snorkel, or sail your way through this ecological marvel. You can bask in even more spectacular nature at the Cairns Botanical Gardens and take a trip on the Kuranda Scenic Railway.
7. Hobart – Sydney's Rival Steeped in History
Tasmania's capital city is Australia's second-largest city after Sydney. It's also the second-oldest, so it's full of rich heritage and captivating history to uncover.
Nestled at the entrance to the Derwent River and within the foothills of the mountains, it's a city of extraordinary beauty.
Be sure to stroll down Hobart's renowned waterfront, and if you love a challenge, climb up the 4,265-feet-high summit of Mount Wellington for unparalleled views of the city.
8. Adelaide – Take a Break in the Lush Wine Lands
If you're in a need of a break from the huge metropolises of Sydney and Melbourne, Adelaide gives you small-town coastal vibes to decompress from your city breaks.
Set in stunning green lands, Adelaide is well known for its premium wine regions – perfect for any wine enthusiast.
Take a trip to Kangaroo Island, one of South Australia's most adored attractions, to see rare and endangered animals roaming around freely in the wild.
9. Darwin – A Tropical Wonder 
This tropical capital city is full of diversity and is the most culturally diverse city in the whole of Australia.
Explore the incredible national parks, Kakadu and Litchfield, which are a short distance from the city, then come back in time to bask in its infamous sunsets. Darwin even boasts a harbor that's five times the size of Sydney's!
10. Canberra – Take a Trip Back in Time
If you're a history buff, then Canberra is the city for you, with a host of heritage buildings, grand government institutions, and captivating galleries and museums.
If you want to get some nature in too, Tidbinbilla Nature Reserve is only a 40-minute drive away from Canberra and is full of impressive wildlife.