By Jim and Judy Brown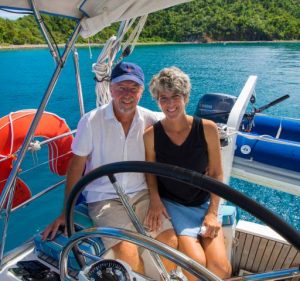 Thinking of chartering a yacht but have no idea what to look for? Here are some tips from experienced charter hosts Jim and Judy Brown of Sail Dauntless, to ensure your first taste of the cruising life is a memorable one for all the right reasons.
1. The Crew
The most important aspect of picking a charter yacht is crew selection. Your crew are, at all times, responsible for your safety while onboard and will provide you and your party the best experience possible while catering to your every need. They will maintain the numerous onboard systems along with keeping the yacht in ship-shape while navigating to those exotic destinations. When booking a charter yacht, ask for the captain and crew's professional credentials on the specific yacht you are interested in. Ask questions regarding their marine qualifications and culinary skills, and request and read testimonials from prior guests. Do not assume because the yacht photographs look clean, safe and inviting in the advertisement, that the crew will be too.
2 Sea Comfort and Speed
Sea comfort for your guests is one of the most important qualities in charter yacht selection. It's important to remember that a lot of your time will be spent traveling to those incredible anchorages, so how your chosen vessel handles is important. When it comes to monohulls, a longer yacht design provides a smoother ride and more speed. When sailing upwind, the boat will heel over a little, so you will have to get used to 'life on the lean'. Sailing downwind is more pleasant and offers a flatter ride. A catamaran has two hulls, so it doesn't heel over like a monohull, however this comes at a greater expense. They are often faster and provide great views as they sit on top of the water. Motorboats are faster again and can cruise at 20 knots; however, this comes with the added drone of the engines and a potentially rolly ride.
3. Culinary & Beverage Skills
The crew of your charter should have experience cooking for more than two people. Although they will not necessarily be sous chefs, they should possess the skills to provide quality meals for the guests onboard. The chef should provide preference sheets to the guests prior to boarding, so the crew can provision for what guests prefer. Provision sheets should also include non-alcoholic and alcoholic beverage choices. Most charter yachts stock a ship's bar with a variety of premium liquor, wine and beer. Specialty cocktails, such as pina coladas, bloody marys, and martinis, should accompany any sunset.
4. Aesthetic Appeal & Accommodations' Layout
Your chosen vessel should have adequate cabins for your guests, as well as ample toilets and showers. Up on deck, sheltered areas with views of the water and uncluttered decks with wide entertainment zones will allow guests to enjoy their sailing adventure.
5. Entertainment / Activity Space
Depending on the size of your party, entertaining and activity areas are an important feature when selecting your yacht. For maximum guest comfort, locations throughout the vessel should feel spacious and allow guests a variety of areas to lounge about, sunbathe or enjoy one another's company in privacy. A cockpit where guests can share meals, have easy access to the water when swimming, and a safe and comfortable ride while sailing, will ensure a memorable cruise.
6. Toys
Upon arrival at your chosen anchorage, the best yachts will have all the water toys out and ready for you to enjoy. A quality charter service should provide paddleboards, snorkelling gear and floats. Top shelf charters may provide extreme toys, including electronic Efoils, kitesurfing gear or underwater sea scooters.
7. Itinerary and Destinations
There are virtually endless sailing destinations the world over, however, to begin with, choose an area that is a known crowd pleaser. For those in the US, one popular charter area is Long Island's South Fork which encompasses The Hamptons, which, like its neighbor to the North, Newport, RI, is a beautiful playground for the rich and famous. With stunning scenery, magnificent houses (The Vanderbilt's summer cottage for example), hotels, restaurants and great sailing, it is a destination sure to impress. These locations are within driving distance for millions of people within the US and with Airlines' quick & inexpensive flights, are accessible to millions more. You may choose a day trip, a sunset sail, or a 2-7night charter for 2-12 guests, depending on yacht size.
8. Marine Hygiene
Covid-19 has impacted the charter industry in the same manner as any other. Look for a charter company that provides a level of cleanliness that allows you to relax and enjoy your time on the water. When arriving at the boat, it should feel clean, fresh and airy with no mould or evidence of previous guests.
9. Onboard Safety
A well-appointed yacht should have all the required safety gear to keep her passengers safe. This includes life jackets, fire control systems, man overboard equipment and life rafts, to name a few. Certified crew training, including the ability to resolve medical emergencies, and review of safety protocols with guests upon boarding, should be a minimum standard of any charter yacht you choose.
10. Quality Onboard Systems
Your charter yacht should have adequate onboard systems to ensure you have the best experience possible. A generator able to provide electrical power is a must. The ability to charge multiple devices, run cabin and deck lights at night and keep the tunes playing is not unreasonable. Multi-zone air conditioning is a luxury that will reduce humidity and keep your stateroom cool and fresh. An onboard watermaker that converts seawater to drinking water will avoid the hassle of having to dock for water.
If you are looking for a relaxing and unique vacation experience, now is the perfect time to charter a yacht. Traveling by boat is not only exciting but it is the perfect socially distanced vacation option, offering freedom and luxury without the need for international travel. Jim and Judy speak from experience when they say not all charter yachts are created equally. Do your homework and use this list to ask the right questions next time you are considering a chartered yacht experience. By choosing the right yacht, you are sure to have simply your best vacation ever.