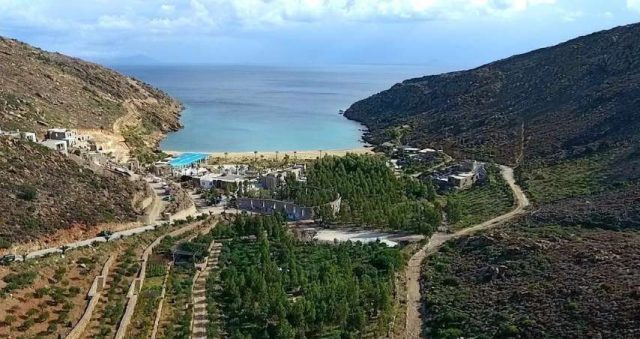 With the start of a new year and a new decade, it's the perfect time to plan a dream trip to a place that will redefine the meaning of luxury in hospitality. Located on the beautiful Greek island of Ios, LuxurIos is a family-owned sustainable hospitality company that operates a boutique collection of hotels, and restaurant/beach clubs designed within and about nature itself. Here are the top 20 reasons to resolve to visit in summer 2020. 
Escape the crowds – No discerning traveler really wants to go where everyone else has been. Instead, they can discover a relatively unknown island with no commercial airport that can exclusively be reached by a brief boat or helicopter ride from neighboring Mykonos or Santorini.
Experience an unspoiled Greek island destination – 50 years ago, Ios was known as a hippie hangout and many believe it was that reputation that kept Ios from the mass tourism that became the fate of many nearby islands. Today, you can still find uncrowded beaches and vast tracts of pristine natural landscape. In Ios you can have the joy of discovering the Greek islands as they used to be – but with all the conveniences of modern luxury living.
Indulge in time with loved ones in privacy – LuxurIos is about what the owners call the five pillars of a great vacation – privacy, luxury, culture, environment and fun. It's about letting guests experience the ultimate luxury: to be alone or with loved ones in a vast private area where they can swim, enjoy water sports, walk along seaside or island trails, or simply take in the amazing views and relax in one of the numerous cabanas or natural baths overlooking one of the best beaches in the Mediterranean. No matter activity a guest chooses, the idea is to let go and just have fun!
Bask in the ethos of love – In today's always-on, uber-competitive society where too often its "dog eats dog," sometimes a simple hug is all you need. One of LuxurIos' two anchoring luxury boutique hotels is named Agalia, which literally means "hug" in Greek. It is the owners' way of saying all (including kids and dogs!) are loved and welcomed here.
Visit a place where sustainability is at the core of everything – Believing that we do not have to damage the earth to accomplish our dreams, LuxurIos aims to offer current and future generations a state-of-the-art tourism-conservation project that will only develop 1% of its land in order to preserve Ios' inherent beauty and protect it from the inevitable environmental and cultural impact that follows over-tourism.
Embrace a living piece of history – As part of LuxurIos' Saving Eternity "Elektra" olive tree project, some 550 ancient olive trees which were about to be cut and sold for firewood in the Peloponnese, were transported from the mainland, by boat, to LuxurIos. As most of them are more than 300-years-old, to hug or simply touch one provides a connection to the energy and aura of their unique life forces. Those trees that didn't survive transportation are still honored, "living" again as sculptures placed throughout the LuxurIos properties.
Adopt and name a tree – Guests at Agalia and Calilo have the opportunity to embrace and join the energy and ageless continuity of the olive trees by becoming a godparent, adopting a tree and giving it an ancient Greek name.As an honor bestowed only upon guests, you must be present to adopt a tree, although the adoption can be made by a guest in honor of a loved one or relative.
Stay at Calilo, LuxurIos' newly opened luxury boutique hotel – Offering elegant 5-star accommodations in the middle of a 1000-acre plot of land with 6 miles of coastline, a stay at Calilo all but guaranties absolute privacy. Brilliantly situated on the beautiful Papas beach, Calilo offers a haven of serenity and relaxation amidst dramatic natural surroundings.
Experience a hotel built of stone right from its natural site -All facilities at Calilo are built out of materials extracted from the ground of the actual building site and cut and carved by local craftsmen, providing social sustainability to island residents. Plus, all materials used in the construction process except for wood, iron, glass and cement are produced locally.
Find the meaning in a name – The name of Calilo comes from an acronym, Create A LIfe you can fall in LOve with, while the name of Erego means Each of us is a REvolution of GOod. When guests visit the properties, it is the owners' hope is that guests explore the meaning in their own names and their own lives.
Become immersed in the sublime – Imagine sitting down and relaxing at a beach club/restaurant that times the setting of the sun to Pavarotti singing his famous aria from Turandot, Nessun Dorma which ends at the exact moment when the sun slips below the horizon. The sunsets here are among the best in all of Greece and the result is a harmony of music and nature at one of the most exceptional lounge bars in all of the Cyclades, Pathos Sunset Lounge.
Get lost (and found) at Erego Beach Club – Enjoy a bite to eat and refreshing beverage while you revel in stunning 270-degree views from two seas. Erego is located at the crossroads of, at the north, the open and wild Aegean Sea, and at the west, the totally protected and calm bay of Koumbara. Like all of LuxurIos properties, sustainable practices are utilized at Erego, and here, a former fishing boat has a second life as a bar.
Take in the food scene at Taste of Joy Restaurant – Foodies will delight in the elegant open-air dining ambience at Agalia Luxury Suites. With its magnificent view overlooking the scenic port of Ios, it is the perfect setting for guests to relax and indulge in the restaurant's unique gastronomic creations of mouth-watering flavors made from local Greek produce and herbs matched with sophisticated wine lists.
Focus on health with the Organic Garden – Guests can enjoy the rare opportunity to walk through a lovingly-tended organic garden at Calilo, exploring and collecting ripe produce for the chef to include in their very own lunch or dinner. They can have fun picking from a variety of fruits, vegetables and herbs and fill a basket at their own will to suit their own health needs. As in ancient Greek times, maintaining a strong mind and body today still requires a healthy diet.
Visit resorts where the furniture is artwork designed by the owner and made on island – Blending seamlessly with the surrounding landscape, the properties of LuxurIos delight guests with their unique features from individually-tiled swimming pools to spacious outdoor sanctuaries created in harmony with nature. The artwork of the owner can be found literally everywhere, from paintings and mosaics to sculptures dotted throughout each of LuxurIos' venues. The books at your bedside are written by the owner and intended to inspire creativity and to help each person live their best life.
Indulge in personal pampering – If guests prefer a wine tour, private boat excursion or yoga class, everything can be arranged through the signature concierge services at Agalia and Calilo. There's even 24-hour room service and an amenity menu available to allow for the personal choices of individual guests. Personal transfers by helicopter or boat can also be arranged.
Discover the island's only town of Chora – When guests have had enough privacy and decide to seek a livelier scene, they can head to the island's sole town of Chora for some good times! Located in the western part of the island, it is a twenty-minute walk up from the port with magnificent views over the glistening Aegean Sea. In addition to winding cobbled streets and numerous churches, it is known for its vibrant nightlife while also being home to LuxurIos' Steps Bar, a fun, popular gathering place for locals and tourists alike.
Get lost in history – The island of Ios offers a wealth of historical attractions to explore including: Skarkos Prehistoric Settlement, created approximately 5,000 years ago; Paleokastro, a Venetian Castle dated back to the 10th Century; Homer's Tomb; traditional windmills and more than 300 churches.
Bask in myriad beautiful beaches – Unlike neighboring islands where the beaches are packed full of people, the 32 beaches of Ios offer unrivalled natural beauty. Many are situated in scenic coves and all offer soft golden sand and cerulean waters, making the beautiful island of Ios one of the top 10 islands with the best beaches in all of the Mediterranean. On the exquisite Mylapotas beach, Free Beach Bar and Restaurant is one of the most popular beach bars on all of Ios with its vibrant island feel and pure luxury.
Get fit and have fun – The hilly landscape of Ios lends itself naturally to hiking and trekking, with great trails and walks at every turn from seaside to inland that quietly beckon to be explored. There are also yoga classes and fitness facilities at both Aglaia and Calilo, while Ios' robust calendar of sporting events includes the annual Ios Fit & Fun Masters, marathons, soccer and basketball camps, beach volleyball tournaments on national and international levels and more provide plentiful opportunities to participate for those who resolve to meet fitness goals in 2020 while having fun and connecting with others who want to do the same.