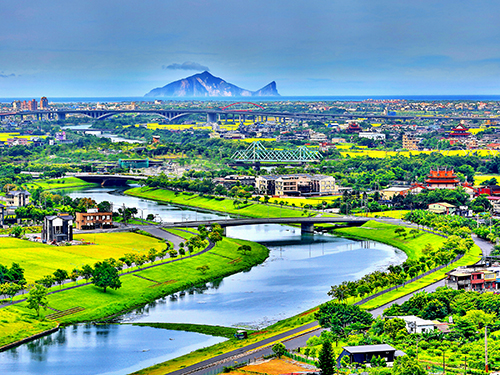 Enjoy the ideal season to experience an active holiday exploring Taiwan's top bicycling routes. While cycling is a year-round joy, festive traditions and welcoming weather invite travelers to experience diverse regions like a local. Discover three classic biking routes wending through Taiwan's rich natural splendors and cultural wonders.
As one of the most popular biking trails for Taipei locals, the Bali Left Bank Bicycle Trail is the perfect first stop on a cycling tour of Taiwan. Located in the Bali district, this smooth path travels down the waterfront on the wharf side of the river and traverses various city attractions. Riders of all ages and skill levels meander past restaurants, shops, museums, and public art installations — taking in spectacular views with plenty of photo ops along the route.
The Jiji Bike Trail in Nantou is a more adventurous ride deep in the heart of Taiwan. Cyclers weave through the mountainous countryside, up and down hills passing by historic temples and buildings. The most stunning experience along this trail is cycling 4.5 kilometers under the Green Tunnel, a lush canopy created by over 1,000 Cinnamomum Camphora trees that were planted back in 1933.
Located in Nantou, a few hours from the city of Taichuing, Sun Moon Lake is a beloved vacation getaway for Taiwanese locals. Named one of world's top 10 most breathtaking cycling routes by CNN, this path encircles Taiwan's largest body of water at the base of a mountain range. Smooth and well-maintained, this path is welcoming to riders of all levels and ages, yet it challenges with steep hills and climbs. Dedicated riders will be rewarded with stunning vistas of the lake, the Ci En Pagoda and Xuan Zang Temple, as well as quaint cafés along the way.
ABOUT TAIWAN TOURISM BUREAU
The Taiwan Tourism Bureau is the official government agency responsible for domestic and international tourism policy development and execution. There are three North American Tourism Offices located in New York, Los Angeles, and San Francisco.