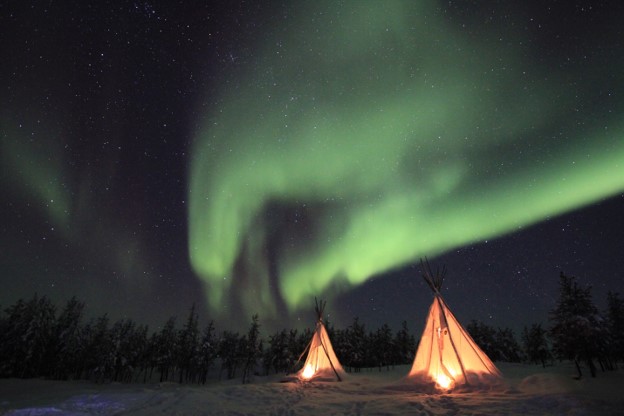 The Aurora Borealis, or Northern Lights, can be seen spinning through the earth's atmosphere when charged particles fall from the sun onto our magnetic field. If you're lucky, you can spot this colourful night show at polar latitudes on dark, moonless nights or waltzing through the sky at northern light reserves during equinox season.
From a feather bed in a glass, Scandinavian igloo to the foot of a Teepee in Northern Canada, we've got the best seats to the celestial party:
Yellowknife, Northwest Territories
Probably one of the best places in the world to view the Northern Lights is right here in Canada. Yellowknife is home to Aurora Village, a small resort at the foot of the Ingrahim Trail—a path famous for its Aurora Borealis viewing. The Aurora Village is entirely Aboriginal-owned and is rich with the heritage, culture, and traditions of the Dene and Métis people who call Great Slave Lake their home. The village is sheltered from the subarctic wind by a thick Canadian forest and offers Teepees and fire pits at the end of the hike.
Lapland, Finland
Although most visitors tend to head to Rovaniemi to view the Aurora Borealis, the visibility is often limited due to the light pollution from the city. We suggest heading further north to Kakslauttanen, a small resort village situated deep within Finland's boreal forest. Book a glass igloo at the Kakslauttanen Arctic Resort to peer up at the night sky from your bed and, while you're there, be sure to spend some time sweating in their electric sauna—a necessary Finnish experience.

Grótta Island Lighthouse, Iceland
Only a few kilometers west of downtown, Grótta is a grizzly, Nordic nature reserve nuzzled deep within the pocket of the North Atlantic coastline. Excellent for sea and star watchers alike, it's no wonder Grótta is Iceland's favourite viewing spot for the Aurora Borealis. When the cosmic scene settles and you're ready to pack your bags, you can be back in Reykjavík within the hour to check out the nightlife, with an early night out in Reykjavik usually starting around 1am!
Tromsø, Norway
Known for their centuries-old wooden houses and Arctic Cathedral, Tromso is a city to abundant in history. Located on a small, heritage island 300km north of the Arctic Circle, there are very few nights when the Aurora Borealis is not visible. Although often visible from town, your best bet is to take the cable car up the neighbouring Storsteinen mountain. From here, you'll be able to view one of Norway's most photographed panoramas.
Fairbanks, Alaska
Filled with log cabins and a campy, rustic feel—think decorative antlers and wooden signs with yellow paint—Fairbanks is a quintessential northern city. For Aurora Borealis viewing, head east to the North Pole and take a stroll down one of the many winter trails that line Chena Lake. (Just be sure to pack a headlamp!)