Star Wars mania is at an all-time high with Star Wars: Galaxy's Edge set to open at Walt Disney World Resort on August 29th. This new immersive land will allow fans to fly the Millennium Falcon and escape The First Order all in one day but the fun doesn't need to stop at the park! If you want to bring the action back to your room, look no further than Kissimmee.
For those who dream of sleeping on a TIE fighter, playing video games in Tatooine, and watching a movie on the Death Star, we've found the homes you're looking for. Kissimmee, Florida is the vacation home capital of the world known for its over the top rentals. Ranging from two-bedroom apartments to 15-bedroom mansions, these homes can sleep up to 22 guests. So, for all the Star Wars fans about to descend on Central Florida, we've rounded up the top 5 galaxy themed-rooms which are just minutes away from Walt Disney World in Kissimmee:
Battle Pod Bunk Beds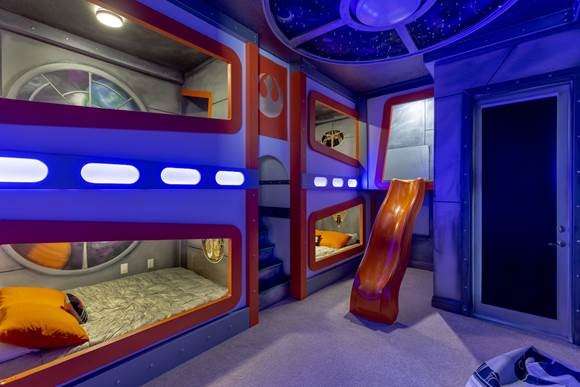 Jump into your battle pods, the Star Destroyer is coming! Experience a room that glows in the dark with wonders around each corner. With four battle pods, one TV and a slide you can live out your own Star Wars adventure in this Magical Vacation Home property. Even if you're not part of the Star Wars fandom, this home has you covered with a separate Princess themed bedroom and a super heroes movie-theatre.
The Storm Trooper Home Theatre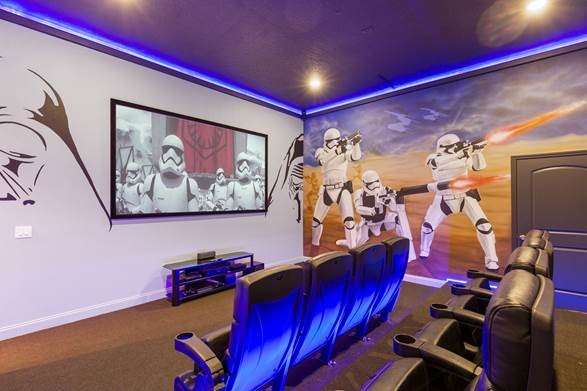 Sit back and relax in the storm trooper room within this mega-mansion. Watch the whole Star Wars series from beginning to end in this luxury home theater with eight seats and over 4,000 sq ft of accommodation room. After the movie marathon, soak up the Florida sun out by the homes pool area that's fully equipped with summer kitchen, outdoor dining table and six sun loungers.
The Classic Quote Twin Room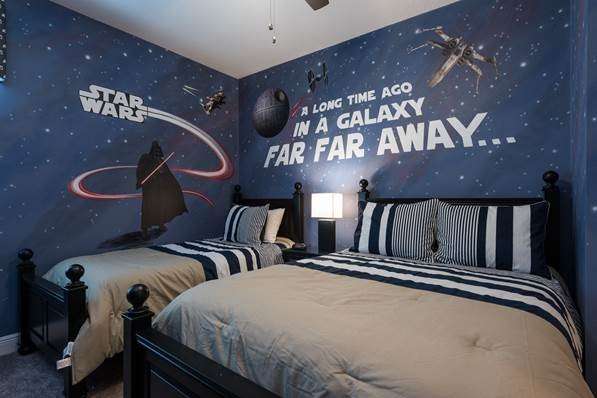 The universe is your bedroom in this high-end villa less than 10 minutes from Walt Disney World located at the Encore Club, where guest have access to exclusive amenities right on property including a clubhouse and waterpark. Overthrow the TIE fighter and watch as light sabers wave in the air right above your face and experience Star Wars like you've never done before, by living in it.
The Millennium Falcon Suite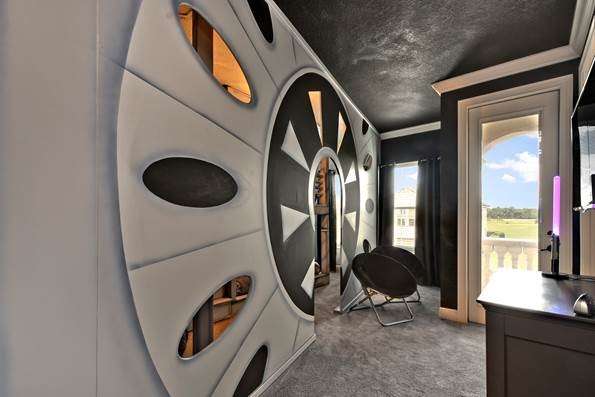 Picture this: your very room is the entrance to the Millennium Falcon and storm troopers have just boarded the ship, you can hear them marching! Well, imagine no more, beyond the entrance is your luxury, 5 star, Star Wars themed room with two bunk beds and a flat screen TV. Fight off the troopers with Hans Solo and Chewbacca using your trusty ray guns and almost Jedi like reflexes.
The Dark Side Arcade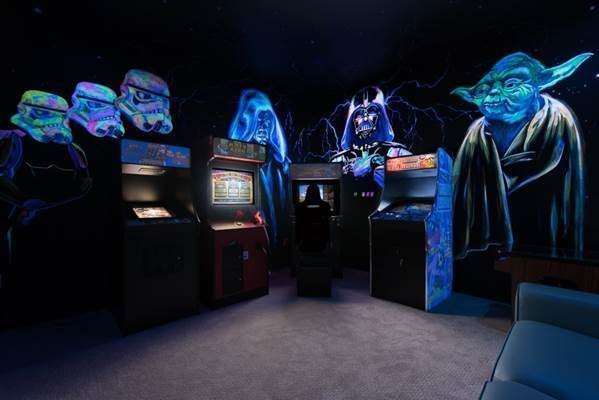 With Over 7,500 sq ft, this villa is an action packed thrill ride. Play classic arcade games alongside Darth Vader, Darth Sidious and the great and powerful Yoda. The best part? With over four machines, you'll never have to wait your turn. This home is large enough to accommodate 4 to 5 families and with multiple living spaces, a luxury infinity pool, summer kitchen and more, your whole group will be able to join in on the fun!