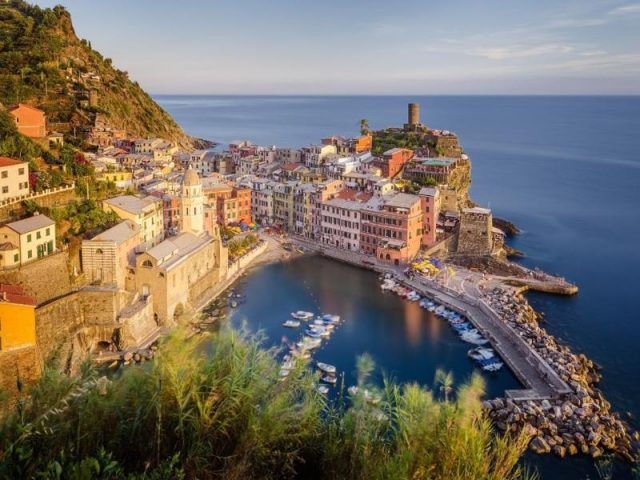 Tourissimo, known for its cycling and culinary tours of Italy, has announced a new hiking tour of Cinque Terre and Portofino. Cinque Terre is a string of centuries-old seaside villages on the rugged Italian Riviera coastline linked by hiking paths. In each of the five towns, colorful houses and vineyards cling to steep terraces, harbors are filled with fishing boats, and trattorias turn out seafood specialties. Portofino is a fishing village southeast of Genoa city with pastel-colored houses, high-end boutiques and a harbor lined with super-yachts. Guests will spend their days hiking above pristine waters, wandering down cobblestone alleyways, consuming local specialties such as fresh seafood and pesto, and drinking Italian wine. For more info, visit https://www.tourissimo.travel/cinque-terre-hiking.
"Despite its popularity, Cinque Terre has managed to maintain its authenticity," said Tourissimo Co-Founder Beppe Salerno. "Don't expect large crowds and souvenir shops, as we will take you behind the scenes and off-the-beaten-path."
A high point of the tour is trekking through the Parco Naturale Regionale di Portofino, which offers views of quaint fishing harbors on quiet trails with few people. Another highlight is hiking to the cliff-side village of Vernazza. The final descent takes guests right into the center of this charming and colorful village with its lively streets and characteristic harbor. 
Cinque Terre boasts not only breathtaking views, but also quality food products linked to local farmers. Ligurian cuisine inherits a millenarian tradition which is tied to the history of the coastal life. Fish is very important: anchovies, bream, bass, cuttlefish, octopus and calamari are among the main ingredients in many dishes. Recipes are refined in a very healthy and simple way by adding aromatic herbs like oregano, thyme, and marjoram, which grow wild in the region, and by dressing dishes with local olive oil, considered some of the best of Italy.

Tour Highlights:
Hiking Portofino Natural Park
Touring the Abbey of San Fruttuoso
Having a panoramic lunch in Vernazza (fresh olive oil, pesto and more)
Taking a private boat ride with snorkeling stops
Participating in a pesto making class
Climbing a stairway of 2,000 steps to Campiglia