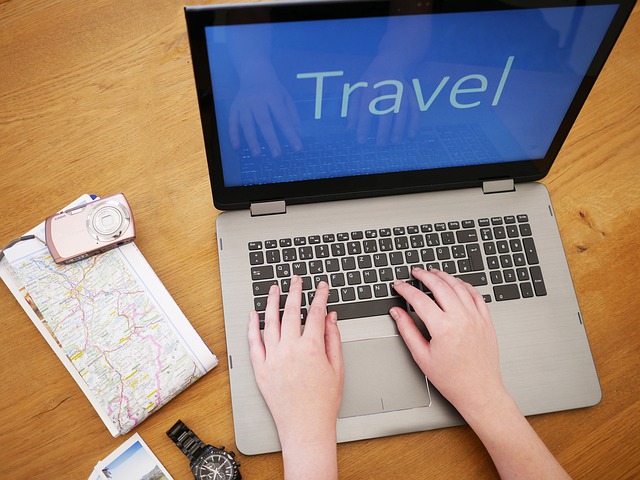 Should You Book Online or Use a Travel Agent?
Are you planning a big trip soon? Before you start packing your bags, you need to figure out how to book your airfares and accommodation. Thanks to the internet and online booking technology, you no longer have to hire a travel agent, but does that mean you should always book online? In this article, we will look at the pros and cons of both options!
Differences Between Booking Online and Travel Agents
Travel agents are brokers who help travelers find the best accommodation, airfares, transport, and activities. Travel agents can book everything for you, from flights and hotels to concert tickets and more! These travel experts can also advise on where to go, where to stay, sights you need to see, and more. They can use their skills and relationships with hotels and airlines to plan an incredible trip for you.
In contrast to letting a travel agent handle all the logistics, you can hop online and book everything yourself. You can now go to a hotel or airline's site and book directly with them, or you can use an online travel agent such as Booking.com or Expedia. Thanks to the internet and online booking technology, you can play the role of your agent, but before you start booking flights and hotels, check out the pros and cons of both options below!
Pros Of Using Travel Agent
Before you book that around-the-world trip all by yourself, consider using a travel agent. Here are the top reasons why millions of people prefer using travel agents!
Exclusive deals – Travel agents can often get you deals that you can't find on the internet. They are especially skilled at finding you all-inclusive package options where your flights, hotels, and entertainment are combined for an amazing below-market price. Hiring travel agents can leverage their relationship with airlines and hotels to put together packages with unbeatable prices.
Save efforts – It can be a massive headache jumping from one airline to another looking for a good flight. And then trying to book hotels can also be a nightmare; it is easy to lose hours of your life scrolling through Booking.com! Luckily, you can tell your travel agent exactly what you want; for example, you want to go to Rome and Paris on these dates, you want a mid-range hotel in the center of the city, and here is your budget. Then your agent will handle everything!
Provide expert advice – Travel agents don't just help you book your dream trip; they can also offer advice and tips. They know where the best locations are, what the best hotels are, and which airlines to avoid. With a travel agent's expert advice, you can discover places you never thought of visiting, stay at incredible hotels and have a once-in-a-lifetime trip!
Cons Of Using Travel Agent
While travel agents do offer some unique advantages over booking online, they also have a few cons; check them out below:
Not in complete control – While using a travel agent service may save you time, it also involves entrusting a 3rd party to book your trip. Using a travel agent may not be suitable if you like to be hands-on and are very particular about things.
Finding a trustworthy company is not always easy – While there are a lot of travel agents out there, many cannot provide significantly better deals than booking directly with hotels and airlines. Also, it is not uncommon for travel agents to make mistakes, such as booking the incorrect date or choosing the wrong hotel.
Not suitable for quick trips – If you wake up one day and decide you want to go to London next week, then you are betting off booking online. Travel agents are often unable to accommodate spontaneous trips and need some time to sort out your travel logistics.
Pros Of Booking Online
Now you know the pros and cons of using a travel agent, it is time to check out the advantages of booking online:
Faster – If you know exactly where you want to go and when it is typically faster to book online. You can hop an airline's site and book your flight in a couple of minutes, and then do the same for a hotel. You don't need to waste your time calling up travel agents, visiting physical offices, and chatting about different offers. Save time by just booking online!
Lower cost – Sometimes, it is much cheaper to book online than use a travel agent. Travel agents usually can offer great deals on packaged holidays to touristy destinations such as the Maldives or Greece. However, if you are planning a week in New York and then a week in LA, they often can't compete, and it makes sense to book online.
Book whenever you like – The beauty of the internet is that it is limitless! If you want to book your flight and hotel at 2 am, you can! You don't have to wait for office hours from Monday to Friday to book your dream holiday.
Complete control of your trip – When booking online, you don't have to cede control of your travel logistics over to someone else. Whenever you add additional people to a task, it increases the risk of miscommunication. If you book everything yourself, you don't have to worry about your travel agent booking the wrong hotel or airline or selecting an incorrect date!
Cons Of Booking Online
Don't go booking online just yet! Make sure you consider these disadvantages prior to whipping out your credit card and booking everything yourself:
Easy to make mistakes – Booking hotels and tours in countries halfway across the world that you have never been to before is difficult. A few pictures and online reviews are often not enough to determine if a place is good or not. This is where travel agents can really shine by offering their expert advice!
Customer service can be poor – Unfortunately, online travel agents are known for their horrendous customer service. It can be almost impossible to speak to someone if something goes wrong, and getting a timely refund can be a nightmare.
You need internet – If you are a little more old school and prefer to call your travel agent or go to a physical location, online booking is not for you!
Too many options – It can be a little intimidating going online and seeing 30 different flights, hundreds of cities, and hotels. It is easy to develop decision paralysis and conclude it is all too difficult. Travel agents can simplify the process by coming up with 3 to 5 amazing options for you.
Final Thoughts
After cruising through this article, you should now have a pretty good understanding of the advantages and disadvantages of using travel agents to book online. We recommend you contact several travel agents and see what offers they have and then compare them with the online booking prices and choose the best!