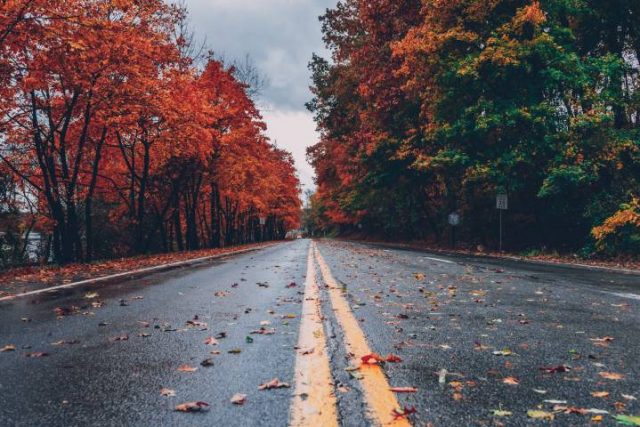 Sweater season is back. If you're planning a getaway that involves cooler weather, colorful leaves, and all things flavored pumpkin spice, you need to know the Best States to Visit This Fall.

LawnStarter ranked the 50 states based on 15 fall factors. Among those we looked at are the number of national and state parks, corn mazes, and wineries. We even considered the projected number of weeks each state will produce fall foliage for your postcard-perfect snaps.

Check out the top five fall destinations (and the ones to skip this year) below, followed by some highlights and lowlights from our report.
2021's Best States to Visit This
Fall
State
Vermont
New Hampshire
Maine
California
Wyoming
Northeastern Domination: Fall foliage is New England's specialty. No wonder the region monopolizes the top of our ranking. Vermont, New Hampshire, and Maine claim the top three spots, respectively, while Connecticut rustles its way to 10th place. 

Each of these states promises a projected 10 to 11 weeks of colorful leaves — not to mention the abundance of trails and big yards to maximize your leaf peeping pleasure. 

These four states also towered above the rest in the Entertainment category. Vermont is tops, followed by New Hampshire at No. 2, Maine at No. 4, and Connecticut in 11th place. So when you throw in all the apple orchards, corn mazes, and pumpkin patches — while balancing a glass of vino in your other hand — you get the-perfect autumn getaway. 
Western Contention: The West promises its own falltastic escape. California leads the region at No. 4, followed by Wyoming, Alaska, Oregon, Montana, and Washington State, in that order. 

Unlike the Northeast, these states don't just bring colorful leaves but all of nature, including some of the continent's most impressive natural wonders. 

Check out Wyoming's Yellowstone, Montana's Glacier National Park, and Alaska's Denali, the tallest mountain in North America, where fall foliage starts showing in late August.

The West helps you see it all, too, boasting the highest number of scenic drives in the U.S. Take a ride through the Golden States's 31-mile Avenue of the Giants, for example, and marvel at some of the oldest Redwoods flanking the road. 
Our full ranking and analysis can be found here: https://www.lawnstarter.com/blog/studies/best-worst-states-to-visit-in-fall/