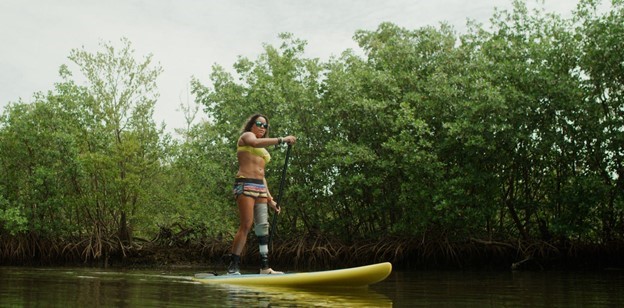 Florida is known for its world-class beaches, thrilling theme parks  and outdoor adventures, but what travelers may not know is that these opportunities are accessible for all abilities. VISIT FLORIDA is highlighting locations and innovations across the state that are celebrating accessibility through a new video series featuring locals. It's just the latest in Florida's commitment to accessibility for locals and travelers alike.
Testimonials Tell the Story: It's easy to say Florida boasts ADA-compliant attractions, but it's better to hear it directly from those who live and breathe these places every day. VISIT FLORIDA's new video collection of locals – entitled 'Limitless Florida' – showcases the unexpected ways they are embracing Florida's best features, from paddle boarding and scuba diving to biking and fishing.
Follow the series here to explore how Florida's accessibility efforts allow a wheelchair-bound man to explore Myakka State Park, or how scuba diving in St. Andrew's pass has revived a paralyzed local. These stories show how Florida's unique mix of flat terrain, favorable weather, and innovative accessible features opens the entire state, no matter how remote of a corner, to anyone of any ability.
The video series will be featured on VISIT FLORIDA's accessible travel hub on VISITFLORIDA.com, shared on VISIT FLORIDA's social media channels and distributed through a paid media plan. In addition to showcasing the video series, VISIT FLORIDA's travel hub features additional resources to help visitors find a variety of accessible attractions, beaches, parks, events and activities for their vacation in the Sunshine State.
One of Florida's newest accessible attractions brings nature to life for color blind visitors. Among the 560 refuges in the National Wildlife Refuge System, the J.N. "Ding" Darling National Wildlife Refuge on Sanibel Island will be the first to expand its accessibility initiatives to include a spotting scope for color blind visitors. The scope, specially engineered by SeeCoast Manufacturing with EnChroma's patented lens technology for color blindness, opened last month at the Wildlife Drive observation tower. 
Florida is ensuring accessibility to all with Mobimats on the beaches at Amelia Island, Fort Lauderdale, Franklin County, Pensacola, and many others. By offering accessible pathways to beaches, Florida reduces hurdles to those in wheelchairs. Martin County recently replaced its wheelchair rentals with a collection of brand new lightweight all-terrain beach wheelchairs, which are now housed at each of the guarded public beaches. Crabby's Beach Wheels is the Space Coast's largest beach wheelchair rental service with six different chairs to rent and free delivery throughout the entire county.
In Jacksonville, 7 Creeks Recreation Area features ADA compliant facilities for visitors, including ADA compliant fishing platforms. All trails within 7 Creeks have been expanded and feature new signage to offer easier navigation for hikers, bikers, and horseback riders. A new 7-mile route, the 7 Creeks Trail, was also created to highlight the recreation area's most scenic spots.
Silver Springs State Park recently added a brand new, accessible boat to their fleet of glass bottom boats. The boat is named Chief Potackee Betty Mae Tiger Jumper, after the only female Seminole Chief. The benches on this new boat lift up and down, making it accessible for wheelchairs. Meanwhile, Franklin County's parks, including Lighthouse Park and Carrabelle Riverwalk, Wharf and Beach Park provide accessible beaches, picnic pavilions, and fishing facilities.
For more information on Florida's commitment to accessibility, visit VISITFLORIDA.com/Accessible.