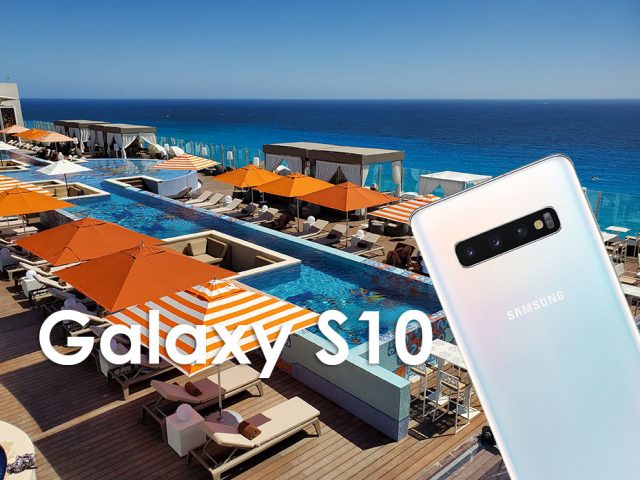 Celebrating 10 years of great Galaxy phones, Samsung releases what may be the best cell phone ever, the Galaxy S10. Nineteen options to choose from, Galaxy S10 is the device that delivers choice without compromise. Ultrasonic Fingerprint unlock – So no more fumbles to unlock Galaxy S10. The Cinematic Infinity Display is uninterrupted, super bright and vibrant. If that wasn't enough, Galaxy S10 can also wirelessly charge other devices.
If you're like me, the camera may be a phone's most important feature. If so then you're going to fall in love with the S10's multiple cameras. Telephoto, Wide-angle and Ultra Wide cameras, available with just a touch. It's like a full kit of lens in your pocket.
DRIFT Travel took the new S10 to Cancun, check the photos – no re-touching – no filter. The S10 camera deliver well saturated colors, well balance exposure with awesome shadow detail. samsung.com
Update…
The Samsung Galaxy S10+ takes the top spot in Consumer Reports' smartphones rating.
The Galaxy S10+ earned top marks for its five cameras, super-sharp 6.4-inch OLED display, plus its clever software features. It also received high praise for the way it performs the basics including having the longest battery life, excellent camera quality, and durability to withstand the rough and tumbles of everyday life.
Samsung also received high praise and a boost in score for its strong performance for brand predicted liability and owner satisfaction.
Other highlights from the study include:
Bigger Displays – The Galaxy S10+'s design allows for a bigger display on a body not much larger than that of the S9+, meaning more screen but still allows for comfort-ability in the hand.
Embedded Fingerprint Scanner – The fingerprint scanner has been relocated to the front of the Galaxy S10 family as opposed to the backside seen in previous generations. This allows for smoother usability.
Wireless Power Sharing – In need of some battery juice ASAP? The Galaxy S10+ allows for power sharing between devices by simply placing them back-to-back.