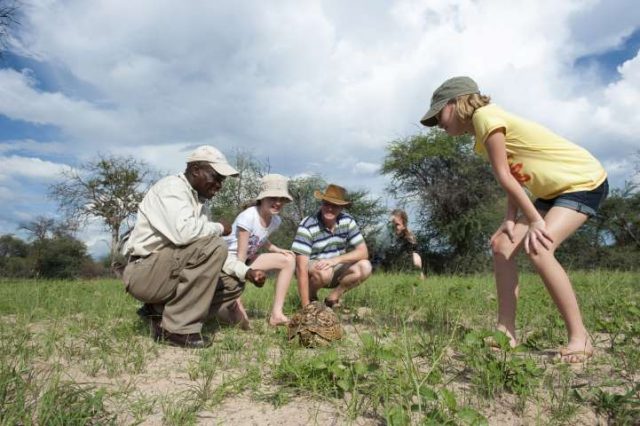 By Zoey Goto
I was recently asked to name the best place to take kids on holiday, and without missing a beat I knew the answer – on an African safari! Whilst this may not be an obvious choice for many families, a safari trip with children is well worth putting on to the table for consideration. The close proximity to wild animals and exposure to different cultures, combined with a crop of new eco-luxe camps, set against the striking beauty of the African bush, creates a memorable experience that can enrich the whole family.
Having recently returned from an epic three-camp safari tour of Botswana, with my seven-year old daughter in tow, here are my tips for how to prepare and get the most out of this once in a lifetime family trip.
Before You Go
If vaccinations are needed or not will depend on where you are up to with your boosters and your chosen destination. Aim to speak to a travel healthcare practitioner 6-8 weeks in advance of travel.
Malaria tablets may be required, depending on the region and the season, but note that smaller, easier to swallow tablets are now available for kids. If it transpires that you and your family need to have vaccinations, don't let this deter you! For our Botswana trip, my daughter and I had to have a booster injection each and take malaria tablets, but this paled in significance compared to what we gained from our amazing safari experience.
What to Pack for a Safari
If you are planning on staying at a more remote safari camp, this may involve getting there in a light aircraft. Generally, the small charter planes will have a weight limit on the luggage, so packing light is essential. Thankfully, all of the camps that we stayed at offered a complimentary, same-day laundry service, so we only needed a handful of outfits. However, although daytime temperatures in the bush can soar, the morning game drives can be surprisingly chilly, so make sure you include warm layers.
Safari essentials include a camera for all those amazing wildlife photos (Vtech have a decent camera for kids), a sunhat and sunblock, insect spray, jeans, a pair of shorts, a few t-shirts, a fleece, closed shoes, swimwear, binoculars and a good book. Born Free by Joy Adamson and The No. 1 Ladies' Detective Agency by Alexander McCall Smith, both make good safari reading. Read more about how to choose binoculars from Worldbirds.
Where to Stay
For a stress-free safari with kids, make sure you book with an operator who is experienced in family tours. We chose to stay at three camps run by Wilderness Safaris, who have camps throughout Africa and a reputation for being the best in the business for safaris with kids, with larger family lodges, kid's menus, most importantly, safari activities specifically tailored for children.
Families visiting the Wilderness Safaris camps also get their own Bush Buddy – a dedicated mentor who is on-hand to enhance the kid's safari experience and help out with childcare. Amazingly, this service is complimentary for families and was one of the highlights of the trip for my daughter, who learnt to make beaded African jewelery and to play the traditional game of Morabaraba with marbles, which she has since taught her classmates back at home!
If you're looking for a region teaming with wildlife, then Botswana's Okavango Delta a great option. It offers the variety of both land and water activities to keep things interesting, and is home to some of the most diverse wildlife on the planet. Expect to see lions hunting just feet away, hippos wallowing in lakes and curious elephants coming right up to the safari jeep.
What Does a Typical Safari Day Look Like?
Generally, your safari day will involve two separate activities, starting with an early morning game drive. For a safari with children, it is worth paying extra for private activities, so you can go at their pace and come back to the camp early if they tire.
Following lunch and some downtime back at the camp, the afternoon activity could be another game drive, a walking safari tracking the animals, visiting a local village, taking a traditional mokoro canoe down the waterways or even viewing the animals from above, in a hot air balloon. When researching and booking a family safari, it is worth ensuring that the camp offers a few different activity options, so that children don't get bored.
What Do You Do In the Evening?
Many camps also offer night time safari drives, or cultural activities. During our stay at Tubu Tree, a camp built into the treetops in the Jao Reserve, we were treated an evening of traditional African songs and dance, performed around a campfire, with a dramatic sun setting over the dusty plains.
Try to find a camp where you can sleep in a safari tent, as this is a great way to connect with nature and can be particularly entertaining at night. With just canvas between you and the wildlife, drifting off to sleep whilst listening to nature's chorus, which can include lions roaring, is a very immersive and memorable experience for children.
What is the Best Age to Take a Child on Safari?
It depends on your child's level of maturity, but eight years is generally considered a good age for a child to gain the most from a safari. Game drives can be long and the children will need to exercise some control around the wild animals, so as not to scare them. However, if you wanted to take younger children, many camps will allow babies and toddlers and some offer child-minding facilities.
What Is The Best Time Of Year for a Family Safari?
The good news is that there isn't a bad time to visit Africa on safari, as each season has its own unique charm. The wet season can offer more in terms of waterborne activities and is particularly scenic, whilst the dry season is the best time for wildlife viewing. Easter is a good time for spotting baby animals, which is always a hit with children!
Anything Else I Should Consider?
Most African safari camps will have a restricted or no Wi-Fi, so you may be signing up for a digital detox. However, with nature's classroom on your doorstep, there is so much to keep the children entertained that this can feel very beneficial after a couple of days of adjustment.
Finally, it may be worth preparing a few activities to keep the children entertained on game drives. Think animal and bird checklists, a game of spot the animal tracks or some wildlife quiz printouts, for the inevitable moments when there is a lull in the animal spotting. And a notebook and pen, for your budding conservationists to keep a record of their incredible adventure!
Africa Odyssey – Wilderness Safaris trip to Botswana – africaodyssey.com