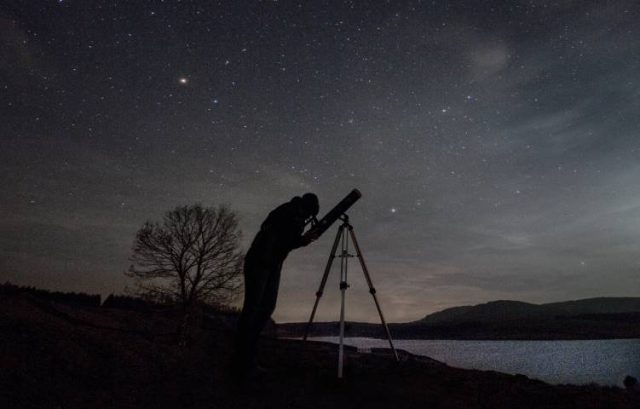 As the nights close in, thoughts drift to staying home and keeping cosy. However, there are still many opportunities to extend the holiday season with a unique trip to Scotland in 2021.
From winter festivals to experiencing the world's first Dark Sky Park (and perhaps even seeing the Northern Lights); to outdoor theatre, brand-new restaurants, as well as campfires under the stars, there is certainly something unique to a trip to Scotland.
Scotland has some of the largest expanses of dark sky in Europe and while the country is famous for its beauty during day, the twilight hours create a new air of mystery not to be missed. The autumn and winter months in Scotland offer the perfect conditions to watch the night sky so there is no better time to enjoy a stargazing holiday.
Read on to feel inspired by the season and make those darker nights memorable.
Dark skies and Northern Lights
From Dark Sky Parks to purpose-built public observatories, visitors will find plenty of perfect stargazing spots. And with over 7,000 stars and planets visible each night, every visit is a different experience:
Galloway Forest Park, Dumfries and Galloway
Not only Britain's largest park, Galloway Forest Park was also the UK's first Dark Sky Park. Stretching across the southwest of Scotland, it is home to glens, lochs, hills and only a few buildings which means it has very little light pollution. On clear nights it is possible to observe thousands of stars, making it one of the best places to stargaze in Europe. Located on a hilltop within the Galloway Forest Dark Sky Park, the Scottish Dark Sky Observatory is home to high-powered telescopes which allow you to enjoy views of constellations and planets. In addition, Moffat – the historic spa town in the Annandale Valley – is Europe's very first Dark Sky Town, having adopted special street lighting to keep light pollution to a minimum in order to preserve the wonders of the night sky. The town is also well-known for its excellent walking routes.
Where to stay: Knockinaam Lodge in Portpatrick – book an explorer break for 5 or 7 nights.  Alternatively, the Selkirk Arms Hotel in Kirkcudbright offers stargazing breaks in the autumn and winter.
Outer Hebrides
With little light pollution, the Outer Hebrides are one of the best places to catch the Northern Lights. Visitors can take their pick from Lewis, Harris, Uist or Barra. With the right weather conditions, each island can provide a mesmerising dancing display of the Aurora Borealis at the right time. Many astronomical sights can be seen through the naked eye including the Orion Nebula, the Milky Way and the Great Andromeda galaxy. The winter here gets dark late afternoon, giving visitors a great opportunity to not only watch out for the Northern Lights but just look up and stargaze. Each year in February, there is a Dark Skies Festival which features theatre, live music, film, visual art, food, astronomy talks, and stargazing.
Where to stay:  The Temple View Hotel on North Uist, which is perfectly located for stunning scenery.
Isle of Coll, Inner Hebrides
With no streetlights and its geographic isolation, Coll is one of the best places in the UK for stargazing. In fact, Coll is the first official Dark Sky island in Scotland, and one of only two in the UK. Budding astronomers will love the collaboration between the Coll Bunkhouse and the Cosmo Planetarium which aims to help even the newest of stargazers learn more about our solar system. Using state of the art technology visitors will be able to enjoy the wonders of the universe on Scotland's Dark Sky Island. There are three 'official' night sky viewing sites on Coll: one at Totronald RSPB Reserve, one at Cliad football pitch, which offers a large open space with few obstacles for a complete 360° view of the sky, and one overlooking Ariangour village. However, pretty much all of Coll is great for stargazing.
Where to stay: Coll Hotel, the Isle of Coll's only hotel and pub.  Alternatively, the Coll Bunkhouse offers 5-star hostel accommodation (currently offered as studio-style accommodation offered to one household due to Covid-19 regulations).