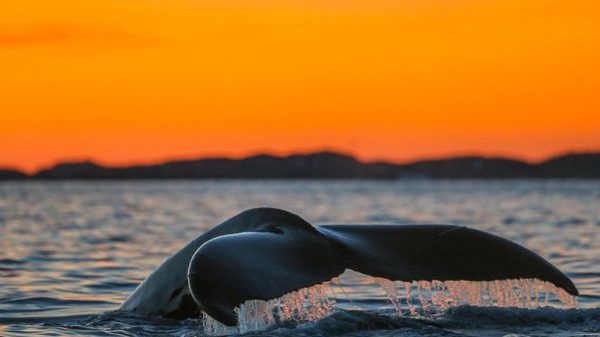 Embark on the adventure of a lifetime as you board the M/S Quest, small by cruising standards and newly refurbished to offer timeless Scandinavian design. With only 26 rooms and a maximum of 56 passengers, this makes for an intimate adventure. The ship is owned and run by the locals in Arctic Norway, making the experience truly authentic and more sustainable.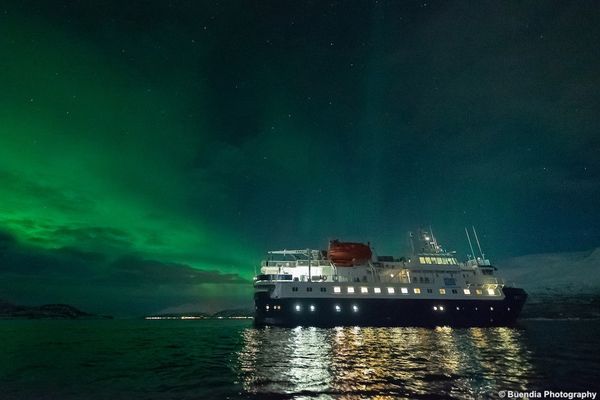 Featuring a scenic panorama lounge with a well-stocked bar and small library, the many observation decks make for spectacular sights cruising through the scenic fjords, with Arctic wildlife close-up and the mystical Northern Lights above you.
This cruise is action-packed and not at all just sailing. You will stop multiple times along the way at magnificent places such as Hamnes, a small community that clings to the mountainside right by the coast where the must-see local museum will teach you about its unique history. You will also sail to Skjervøy, a small but busy settlement due to its world-renowned salmon farming and the teeming activity from the likes of National Geographic film crews setting out to film the famous orca and humpback whales fishing for herring.
Whiskey lovers will enjoy visiting The Bivrost distillery, the most Northernmost distillery, which clings to the stones by the fjord and uses crystal clear water from the glacier above in all its products. A tour and tasting experience here is truly different, and you can even take your drink from Viking horns.
We know that sustainability in the Arctic is paramount to all our guests, so Arctic Holiday and the owners of the MS Quest aim is to give something back to the local community, the Arctic environment, and our guests: Guests and crew will endeavour to clean a beach per tour, giving something back for being able to enjoy the wilderness of the Arctic.
Your days are filled with excitement and adventure and your evenings will be packed with the wonder and beauty of the Northern Lights visibly dancing above without having to leave the comfort of the cruise…
Included – 4 Days:
Northern Lights & Whales Expedition Cruise
Activities (Hamnes, Skjervøy, Whiskey Distillery, Beach)
3 nights cabin stay on the M/S Quest expedition cruise ship (triple/twin/double rooms)
Full board & refreshments (tea/coffee/water)
English speaking guides
For our full itinerary click here
Optional – 5 Days:
Northern Lights & Whales Expedition Cruise
Activities (Hamnes, Skjervøy, Whiskey Distillery, Beach & Jøkel Glacier)
4 nights cabin stay on the M/S Quest expedition cruise ship (triple/twin/double rooms)
Full board & refreshments (tea/coffee/water)
English speaking guides
For our full itinerary click here