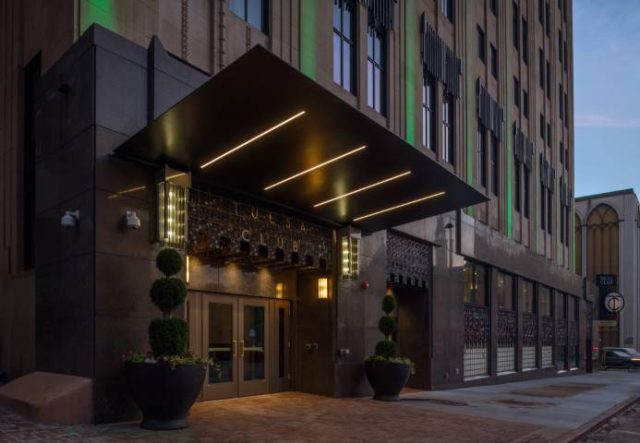 Created from the oldest Art Deco building in Tulsa, Tulsa Club Hotel, Curio Collection by Hilton has become one of the Midwest's most renowned boutique hotels. Built in 1927 by famed architect Bruce Goff as an exclusive members-only club, this architectural treasure later became home to Tulsa's Chamber of Commerce. In 2019, its grandeur was reimagined as a 96-room luxury hotel in Tulsa's famed Art Deco District welcoming discerning travelers who enjoy the finer side of hospitality, exploring iconic neighborhoods, and have a passion for Art Deco and upscale dining options.
"We've been able to revive the sophistication of the 1920s in every way possible: our décor, dining, drinks, and personalized service," said Paul van Raamsdonk, General Manager for Tulsa Club Hotel. "It's a grand experience that is fitting for this historic space in Tulsa's Art Deco District."
Hilton's Curio Collection is known for offering local discovery and authentic experiences. Tulsa Club is walkable to the city's most intriguing stops.  Named one of the best parks in the world by National Geographic, TIME, and USA Today; Gathering Place is a 66-acre park centered on the east bank of the Arkansas River aside downtown with a boathouse, splash playground, great lawn, outdoor sports courts, a skate park, a wetland pond and garden, numerous trails, event space, and a magical playground. Just down the road surrounded by numerous shops and restaurants, The Tulsa Performing Arts Center where six performance venues stage more than 500 events each year including children's performances, the symphony, opera, and Broadway Shows.
Tulsa Club immerses guests in the best of the destination. Its zig zag Art Deco structure was built with Bedford stone, emerald green marble, and terrazzo floors. The crowned jewel of the hotel is the ballroom with its grand windows, stunning ceiling details, and original chandeliers. Almost a century later, this ballroom is still home to Tulsa's most esteemed events.
Tulsa Club is also home to local chef, Demarcus Kelly, who brings his creativity to both Chamber and Commerce. The names are a playoff of the building's past life as Tulsa's Chamber of Commerce. Chamber is a modern-American tavern located in the property's swanky underground with hearty plates that offer a back-to-basics, farm-to-table concept. Commerce is the city's 1920s-era cocktail destination that features smoked cocktails along with a heavy emphasis on Tulsa's famed bourbon.
Managed by Greenwood Hospitality Management, Tulsa Club offers over 7,800 square feet of flexible meeting and event space as well as numerous amenities including a stunning rooftop terrace with panoramic views of downtown Tulsa, a state-of-the-art fitness center, pet-friendly options, free local shuttle, free Wi-Fi, a business center, and knowledgeable hotel concierge.
"We wanted to ensure that the grandeur and offerings of Tulsa Club blended seamlessly with the destination experience of Tulsa and the surrounding district's expansive parks, river views, and historic structures," added van Raamsdonk. "It's a remarkable atmosphere."