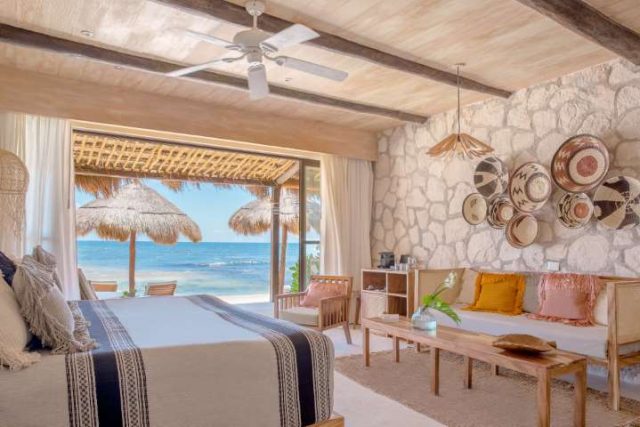 El Pez, beloved beachfront hotel in Tulum, announces the opening of two on-the-beach luxury rooms with heatable plunge pools. The new rooms are literally set on the sand, giving steps-away access and views of the Caribbean Sea along with the sounds, scents and sensations of this privileged setting. Guests staying in the new rooms also have their own private, lush jungle garden courtyard with a heatable plunge pool and an outdoor shower.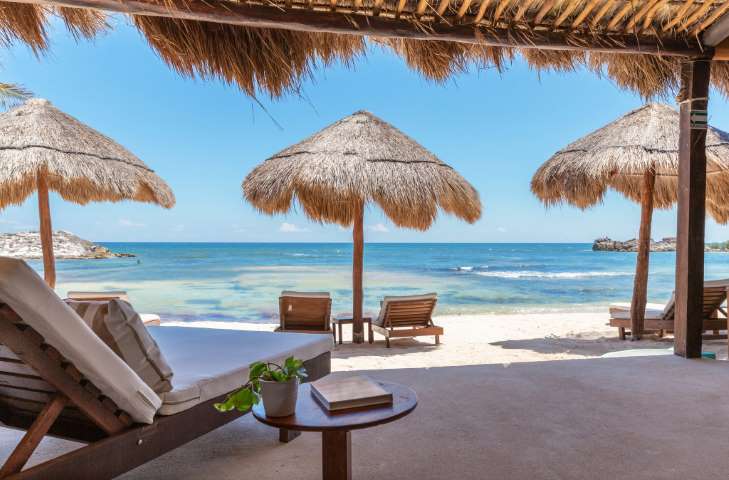 An extension of El Pez where all guest rooms overlook the sea, the new rooms offer an intimate relationship with the ocean and the beach, with a backdrop of waves lapping the shore, pelicans flying at sunset, and the turtles that nest there during season.
Comfort and luxury are paramount. Each air-conditioned room has a king bed and sofa, a lounge area and beautifully appointed bathrooms with double vanities. In one of the rooms, the king bed can be split into twin beds, perfect for guests of all ages.
Designed by Colibri Boutique Hotels' interior designer Delfina Porras, the new suites feature a tasteful and calming mix of local Mayan stone, polished cement, tropical woods, natural Mexican handwoven fabrics and textiles, and the perfect splash of nature's colors. The feeling is at the same time rustic and elegant with locally made wooden furniture and vinyl lattices effecting a retro tropical look. These TV- free rooms have large sliding glass doors with beds, lounge areas and plunge pools all situated to allow maximum views to the sea and the surrounding nature.
Daily maid service, turndown featuring artisanal chocolates and herbal teas and free WiFi are provided along with a safe and minibar stocked with local beverages and snacks. Freshly brewed coffee is delivered in thermoses to the room's outdoor terrace each morning at sunrise, and Nespresso machines allow a caffeine fix at any time.
"Staying true to our unpretentious and thoughtful approach to barefoot luxury hospitality today, while maintaining the essence and charm of the simple and rustic Tulum that we and our guests fell in love with many years ago, these rooms were designed to offer comfort and complement the natural beach environment," noted Brendon Leach, CEO of Colibri Boutique Hotels, the group of hotels to which El Pez belongs.