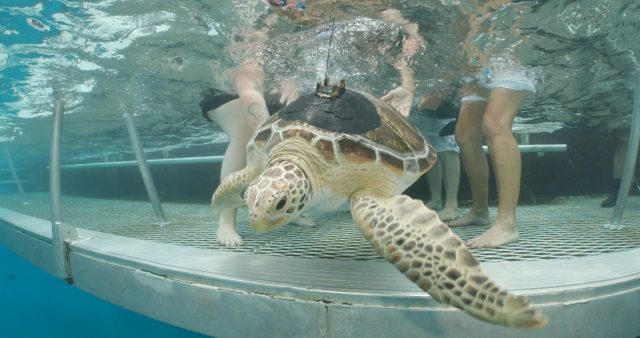 A rehabilitated green sea turtle has been returned to the Great Barrier Reef in memory of the six FV Dianne crew who were lost at sea on October 16, 2017.
Jodie and Kay Bidner, the sister and mother of crew member Adam Bidner, today helped release Dianne the turtle from the back of Sunlover Reef Cruises at Moore Reef where she was found just a month after Queensland's greatest maritime tragedy.
Sunlover Reef Cruises marine biologist Pablo Cogollos and fellow dive staff noticed the injured turtle and reported it to Cairns Turtle Rehabilitation Centre founder Jennie Gilbert.
Mr Cogollos said divers used towels to lift Dianne aboard the Sunlover vessel to ensure she would not be stressed.
"She lost a quarter of her shell and her back flipper to a hungry shark and had a small puncture wound to her intestinal tract which made her sick," Ms Gilbert said.
"When I attended the memorial for those lost when the FV Dianne capsized, I spoke with survivor Ruben McDornan and said we should call this turtle Dianne as a tribute to the crew and their families.
"She is a very special turtle who recovered really rapidly spending eight months at the Cairns Turtle Rehabilitation Centre intensive care facilities in Tingara Street and then another four months fattening up at the Cairns Aquarium.
"Adam Bidner helped build the Cairns Turtle Rehabilitation Centre's intensive care facilities on land donated by Sunlover Reef Cruises so this is a fitting tribute.
"It is really moving that we could time Dianne's release just after the first anniversary of the tragic loss of Adam Bidner, Ben Leahy, Zac Feeney, Adam Hoffman, Chris Sammut and Eli Tonks.
"Dianne will contribute to our knowledge of turtles and their activity on the Great Barrier Reef as we follow her movements in the wild through a satellite tracking device fitted to her shell."