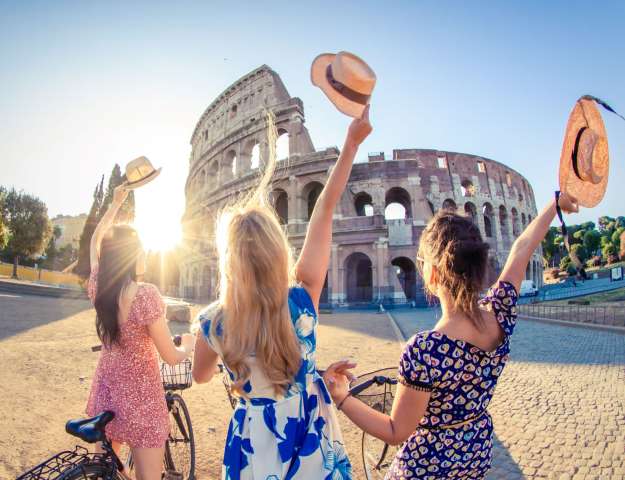 Designed with the discerning female traveler in mind, Sofitel Rome Villa Borghese's new Girls' Getaway Package offers a blend of cultural immersion, delectable culinary experiences, and creative workshops for an unforgettable reconnection trip.
The package includes an array of handpicked activities and experiences, meticulously crafted to celebrate the best of Rome's heritage, gastronomy, fashion, and art. Highlights from the new package include:
EnoWellness Experience: Embark on a delightful wine tasting journey, savoring the rich flavors and aromas of Italy's renowned vineyards, alongside art historian and certified tour guide Isabella Calidonna of ArcheoRunning. Guests will enjoy a vineyard walk with the winemaker, followed by a relaxation grape massage and  local food and wine tasting.
Aperitivo Tour: Groups will immerse themselves in the vibrant culture of Rome's aperitivo tradition as they explore the city's hidden gems with local culinary and cocktail expert Lauren Caramico of Davvero Rome. 
Handbag shopping tour: Discover the hidden treasure of Rome's  small boutiques and handmade purveyors with a handbag shopping tour, ensuring guests find the perfect statement piece to take home. Guests can take a self guided tour with tips from the hotel's concierge, or opt for the tour to be led by Italian fashion influencer Selvaggia Capizzi at an added expense.
Aperol Spritz Workshop: Unleash creativity while crafting the perfect aperol Spritz during a workshop overlooking the Eternal City at Settimo.
Sunset garden tour and prosecco tasting at Villa Medici: Delight in the picturesque beauty of Villa Medici's enchanting gardens while savoring bubbly prosecco in the promenade.
Yoga in Borghese Gardens: A serene hour-long yoga session in the tranquila surroundings of the sunning Borghese Gardens.
Franciacorta Pairing Dinner: Indulge in a gourmet dinner paired with Italy's finest Franciacorta.
Floral Decoration Class with Flavia Bruni: Unleash artists flair with a hands-on floral decoration class.
The three night Girls's Getaway Package includes the above activities along with accommodations at Sofitel Rome Villa Borghese in a Premium Luxury Room.