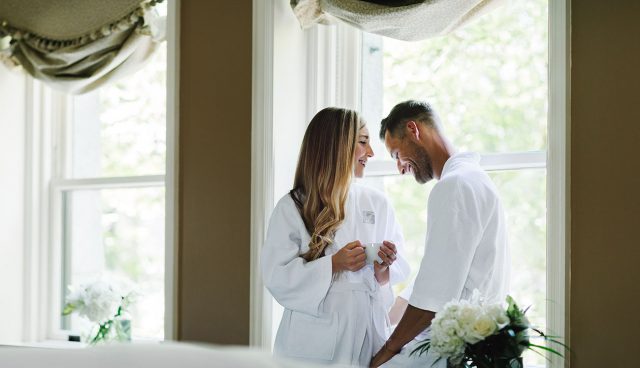 Victoria, British Columbia is certainly hooked on a feeling and that feeling is love. For the seventh consecutive year, Victoria is crowned Canada's Most Romantic City, as announced today by Amazon Canada. British Columbia's capital isn't the only city in western Canada where residents had love on the brain: North Vancouver, Courtenay, Vancouver, Langley and Port Coquitlam also claimed spots on this year's list.
The tenth annual ranking was compiled by comparing sales data from January 1, 2018 to January 1, 2019 on a per capita basis in cities with more than 20,000 residents. The data looks at purchases of romance novels (both print and Kindle editions), romantic comedies, relationship books, jewellery and sexual wellness products.
This year, the Top 20 Most Romantic Cities in Canada are:
Victoria, British Columbia
LaSalle, Quebec
Fort McMurray, Alberta
North Vancouver, British Columbia
Spruce Grove, Alberta
Whitehorse, Yukon
Kelowna, British Columbia
Sherwood Park, Alberta
Courtenay, British Columbia
Bowmanville, Ontario (new)
Grande Prairie, Alberta
Airdrie, Alberta
Waterloo, Ontario
Oakville, Ontario
Vancouver, British Columbia
Langley, British Columbia
Burlington, Ontario
North Bay, Ontario
Aurora, Ontario (new)
Port Coquitlam, British Columbia (new)
A closer look at the data revealed:
Champions of Romance: If taking the top spot seven years in a row wasn't enough, Victoria had a clean sweep, ranking number one with the most purchases across all five of the romance product categories.
Absence Makes the Heart Grow Fonder: With a stereo in hand and love in their hearts, Kelowna, Oakville, Vancouver, Langley and Burlington made triumphant returns to the list after an unsuccessful trial separation from the list in recent years.
Smiling from Ear to Ear: Victoria, LaSalle, and Fort McMurray took the top three spots with the most purchases in the jewellery category. Earrings were the most popular gift, making up 50 per cent of all jewellery purchases across Canada.
Budding Romance: Three cities took a chance on love as Bowmanville, Aurora, and Port Coquitlam made the list for the first time.
Top romantic product highlights:
To browse the Amazon.ca selection of deals and gift ideas for Valentine's Day – and help contribute to next year's romantic city rankings – visit www.amazon.ca/valentinesday.