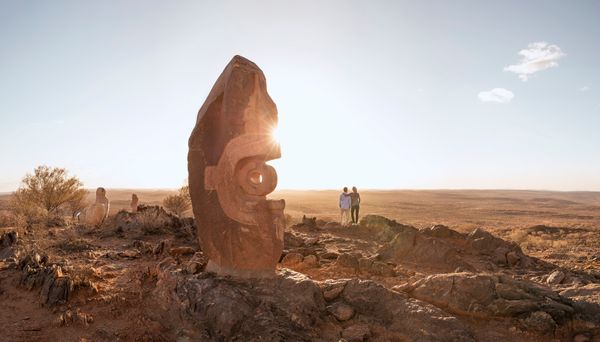 The Broken Hill and Darling Shire region is a different kind of Outback, dotted with greenery, red dirt for miles, underneath a glittering night sky. You'll receive an outsized welcome by its outgoing residents and experience a passionate art scene, strong Indigenous culture and fabulous drag performances.
Getting there:
Broken Hill is a great road trip destination – it's a 13-hour drive from Sydney, 11 from Canberra and nine from Melbourne. You can also fly into Broken Hill airport from Sydney daily and hire a car to explore.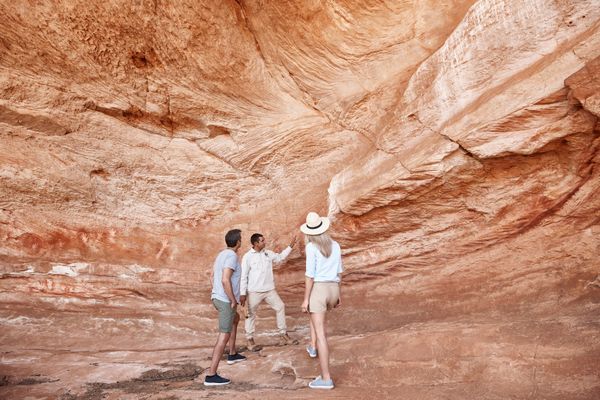 Culture lovers: drag, art and film
Broken Hill has been associated with drag since the iconic Australian film The Adventures of Priscilla, Queen of the Desert was released in 1994. Scenes were filmed in the historic Palace Hotel – you can stay in the same room that the characters stayed in, which has been renamed the Priscilla Suite and decorated flamboyantly. Take part in drag bingo on the first Tuesday of every month with Amanda Screetly and Laurie White. The Broken Heel Festival is a four-day extravaganza in September, where the best queens from around Australia descend on the town. You can see comedy, live music, social activities and a street parade, Main Drag in Drag.
There's more for film buffs – Mad Max 2 was shot around Broken Hill and released in 1972. Visit the Mad Max Museum in Silverton and wander through the large collection of photographs, costumes and memorabilia.  
The region has a long history of engendering and attracting artists, inspired by the surreal landscape. Two of the region's well known painters were Pro Hart and Jack Absalom; both popularised Outback painting and have galleries in Broken Hill. You'll find contemporary artists at Willy Nilly Art Gallery, which houses the paintings of fourth-generation resident Amanda Johnsen. Broken Hill Regional Galley has an excellent calendar of exhibitions; artists who have recently shown at the gallery include Tracey Moffatt, Susan Severino and Stewart MacFarlane. A highlight is the annual Maari Ma Indigenous Art Awards, displayed between February and May, which showcases works by artists residing in the Far West. 
In Wilcannia, the Queens Head Hotel has recently been transformed into a gallery, with exhibitions by local artists and a calendar of events. Also in town you'll find works by acclaimed Aboriginal artist Eddy Harris from the Barkandji clan, who draws on the land and its history for inspiration. He also offers tours showing local flora and fauna, bushfood and culturally significant sites.