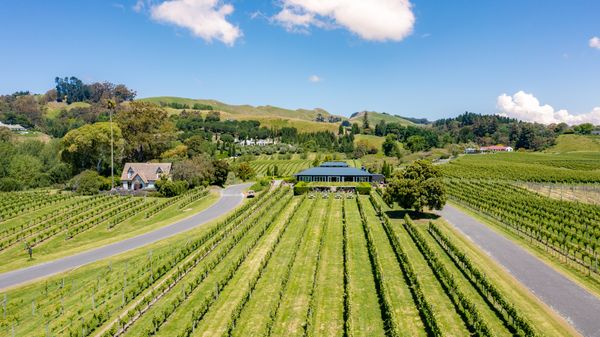 Summer in Hawke's Bay is wide open skies, usually blue. Grapes on a vine. Apples on a tree. Beach walks that go on for miles. Limestone cycle paths that go on for even more miles. Accommodation from cottages in the countryside to Art Deco luxury on the seaside. Farm gates. Farmer's Markets. Farm everything.
And did we mention the wine? Long lingering lunches on long terraces amongst vines in the sunshine. Cool cafes in the middle of nowhere. Sophisticated urban restaurants that can hold their own anywhere – after all you're heading to the heart of New Zealand's food and wine country.
So, with all this and more, how best are you to spend a week in New Zealand's Food and Wine Country?
The Land of Long Lunch
A wine or two among the vines or at an award-winning urban eatery, is not simply a recommendation, it is a rite of passage.
Impossible to go wrong with New Zealand's leading winery, Craggy Range always delivers an incredible winery dining experience. There is little better than enjoying a glass of Craggy Range's finest wine while looking up at the spectacular Te Mata Peak.
Central Fire Station Bistro co-owner and award-winning executive chef Sam Clark is on a culinary mission to create simple food using the freshest, locally grown produce. His bistro style restaurant launched in late 2019, and it is here that he showcases the very best Hawke's Bay produce, 90% of which is organic, and wine.
Clearview Estate remains an iconic coastal winery, and a firm favorite of families thanks to its relaxed atmosphere and funky playground. Showcasing the full range of Clearview Estate wines, the restaurant specializes in brunch, lunch and seasonal tasting platters, and is the perfect place for a relaxed afternoon in the sun.
Tastings with a difference
Iconic Hawke's Bay winery, Church Road Winery's two-hour premium experience is the ultimate personal tribute to founder Tom McDonald and a must-do for any oenophile.
Discover Church Road's iconic TOM range with an intimate wine tasting within the winery's underground museum. Be expertly guided through current and back vintage TOM wines and explore the philosophy and character of their flagship range as well as a selection of matched savory bites.
At Smith & Sheth's Havelock North cellar door, you will find a one-of-a-kind wine tasting experience where all the senses are engaged. Across two hours, become immersed in the culture of wine with personalized tastings and a sensory journey of visual, audio performance.
The Smith & Sheth Heretaunga Wine Studio elevates the experience of tasting fine wine above anything one might expect from tastings in even the most prestigious wine growing regions in the world.
Hawke's Bay's Twin Cities
While it is tempting to arrive in the region and head straight for the sprawling vineyards of Bridge Pa, Gimblett Gravels and Havelock North, the twin cities of Napier and Hastings offers a recipe to a fantastic urban culinary adventure.
Napier is the Art Deco jewel in Hawke's Bay's crown. Positioned spectacularly on the waterfront, overlooking the Pacific Ocean, the city's pastel architecture plays host to award-winning restaurants, vibrant wine and cocktail bars and popular eateries.
Meanwhile, Hastings is the very cool, on-the-rise sibling. The main street, particularly East Block 200, has undergone a renaissance, and is now a mecca of artisan stores, eateries, taprooms, bakeries and cellar doors, while the newly reopened, heritage-listed Municipal Building and Opera House adds immense grandeur.
Hit the Hawke's Bay Trails
One of New Zealand's Great Rides and the perfect one for the whole family. The Hawke's Bay Trails boast 200km of flat, easy-riding cycle trails across Napier City and Hastings District, connecting local delights with expansive views and landscapes.
Cycle undulating paths from pub to waterhole, beach to winery, playground to city restaurant all within a day. The Hawke's Bay Trails crisscross cities and countryside to make Hawke's Bay one of the most connected regions in New Zealand for cyclists.
It's all about events
Hawke's Bay is an events mecca, and this summer will be no different. February sees the return of the world-famous Art Deco Festival, after several covid-blighted years, with tens of thousands expected to fill the streets with plenty of glitz and glamour.
Set in pastels surrounds of the Hawke's Bay Art Deco architecture, The Art Deco Festival is a magical and immersive celebration. The whole region steps back in time to experience what life was like between 1920 and 1940 as part of the festival with prohibition parties (and raids), soap box derby races, vintage car parades and Great Gatsby parties.
New to the event calendar is Harvest Hawke's Bay. Featuring 16 wineries from across the region as well as nine eateries, Harvest Hawke's Bay will be an epic celebration of Food and Wine Country at a truly bountiful time of year, when growers, producers and winemakers are sowing the rewards from their hard work over summer.
With tickets strictly limited to 2,500, this is an intimate event for foodies and wine lovers, who are looking for a special way to celebrate the final day of Daylight Savings.
An outdoor paradise
Hawke's Bay's landscapes are varied and vast. From rich native forest in the west to bridled rivers that flow to expansive beaches in the east; every ingredient you could possibly need for a weekend spent outdoors is right here.
A journey through Hawke's Bay countryside is quintessentially Kiwi, offering both adrenaline pumping and soft adventure activities, beautiful birdlife and of course, spectacular food and wine experiences to keep you fueled.
Cape Kidnappers peninsula (also known as Te Kauwae-a-Māui) boasts both the legendary Cape Kidnappers Golf Course designed by Tom Doak, as well as the largest and most accessible, mainland gannet colony in the world.
Further afield, white-water rafting experiences takes visitors through the imposing Kaweka Ranges. Whether a half, full or multi day trip, Mohaka Rafting takes you off the grid to admire the incredible scenery, test the rapids, narrow gorges and canyons and complete exciting cliff jumps.
Or, if you are looking for something slightly less adrenaline pumping, Hawke's Bay has a wide selection of beaches stretching from Mahia Peninsula in the north to Porangahau in the south. Whether you're looking to do a spot of swimming, fishing, surfing or just building a sandcastle with the kids, with 360 kilometers of coastline, Hawke's Bay is guaranteed to offer the perfect beach for you.