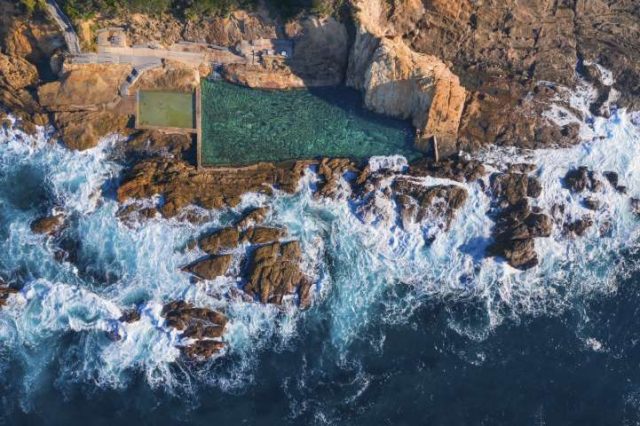 So-called for its deep-blue, sun-sparkled waters, the Sapphire Coast unravels in a spectrum of ultramarine hues from Bermagui to beyond Eden on the far South Coast of New South Wales. If the coast is a sapphire, then Bega is the inland emerald of this beautiful region with its lush, green pastures and gently undulating hills. Less than a six-hour drive south of Sydney and a little over six hours from Melbourne, this gemstone stretch is a perfect escape at the halfway point between the two cities. 
Revellers of all manner are set to adorn their hair with flowers and descend on Pambula between 22–25 September, 2022 for the Wanderer Festival. This all-ages event tucked in a beautiful, bush-bound locale has a line-up that will nourish everyone's tastes with performers and programs across diverse musical genres, comedy, art and even cultural workshops.
There are myriad ways to unearth the delights of the region, whether it's a music festival or slurping coveted local oysters plucked from pure waters, floating below the blue with local sea life, skimming across the surface on a SUP, or roaming the incredible buffet of local produce on offer.
Here's how to make the most of your visit to the state's south-eastern corner.   
What to see and do 
The Sapphire Coast is encrusted with gem-like beaches, but for an unforgettable swimming or snorkelling experience, Bermagui's Blue Pool offers an exhilarating plunge. Beckoning at the base of a dramatic rocky cliff face, this ocean-fed, rock-edged pool was expanded from its natural size in 1937. Now, at 50 metres, it offers a protected snapshot of marine life. Feel the invigorating embrace of the saltwater as you dip below the crystalline waves to observe passing fish, crabs and other sea-dwellers going about their business.
For aquatic adventures that stay (mostly) above the water, slip onto the beautiful Bega River on a serene, half-day kayaking tour or stabilise your core with a stand-up paddle board lesson with Coastlife. Merimbula's Headland Fishing Charters activates the adrenaline of reeling a big one on their game and reef fishing tours. While further south, Eden is a paradise for whale watching — get up close to bouncy cetaceans with Cat Balou Cruises, which runs regular trips during peak season from August to mid-November.  
Nature enthusiasts will relish the untouched landscapes of the Sapphire Coast, with 70 per cent of the area made up of National Parks. Bushwalking trails can be found plunging into forests, heathlands, and clifftops with great frequency. One of the most popular is the Light to Light Walk in Ben Boyd National Park. The multi-day, 30-kilometre track begins at Boyds Tower and ends at Green Cape area, taking in spectacular coastal scenery along the way. Ben Boyd National Park is to be renamed in the language of Traditional Custodians recognising the Aboriginal cultural heritage of the area.
Perhaps best known for its cheese, Bega is much more than a dairy town and also draws a culture-hungry crowd to the Bega Valley Regional Gallery. Hosting touring exhibitions of national significance along with its own exclusively curated artistic program, this gallery satisfies yearnings for cultural insight and is worthy of a morning's detour from the beach. Likewise, history lovers can't miss a trip to Eden's intriguing Killer Whale Museum, which spins almost-fictitious-sounding yarns that no good storyteller could resist relaying. 
The only remaining deep-water timber wharf on Australia's east coast, Tathra Wharf, built in the 1800s, holds a significant place in maritime history. Once a docking station for steamships carrying cargo and passengers between the Bega Valley and Sydney, the wharf is now more popular for its cafe-gallery, The Wharf Local, and the fascinating Tathra Wharf Museum.   
Tathra is also a great base for mountain biking, with the Bundadung Mountain Biking Network the place to put your pedal power to the test and ramp up your heart-rate. Before you hit the trails, stop by the hub of all things mountain biking to get kitted out, Tathra Beach and Bike.