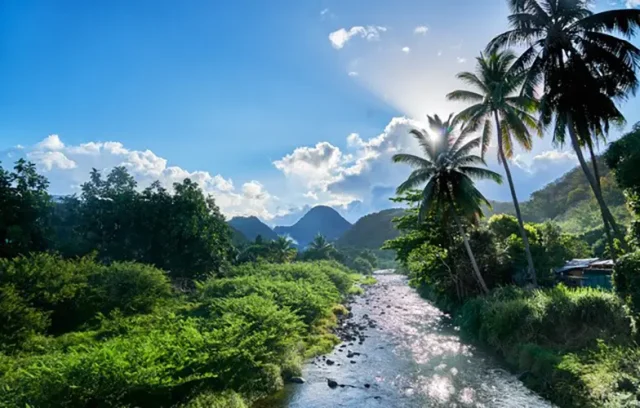 The beautiful Caribbean island of Martinique, like the rest of the Lesser Antilles island chain, rose up out of the sea millions of years ago, along the arc where the Caribbean plate crunches into the South American Plate. This fateful event produced a chain of volcanoes stretching from Puerto Rico to Trinidad. It also shaped the landscape of Martinique as we know it today: the "Isle of Flowers" is a verdant paradise of wild blooms, gentle green hills, and majestic volcanic peaks. Since September 2021, Martinique now bears the distinction of being a UNESCO-recognized Biosphere Reserve. Martinique is a preserved picture of unspoiled Caribbean beauty. Its habitats – both terrestrial and aquatic – teem with life, and its man-made landmarks (many of which have stood for centuries) provide a compelling contrast to its natural ones.
Nestled in the heart of the eastern Caribbean Sea, Martinique stands out as perhaps the most breathtaking island in the Lesser Antilles, blending the allure of a tropical paradise with a touch of French flavour. Enchanting visitors with its pristine white sandy beaches, lush rainforests, and cultural heritage, Martinique paints an irresistible tapestry of natural beauty and historical richness we believe everyone should witness.
Perhaps the single best destination for sightseeing in The Caribbean, Martinique's legendary landscape deserves to be fully explored. Below, we delve into more of the natural history of Martinique – and provide a few recommendations as to where it can be most appreciated.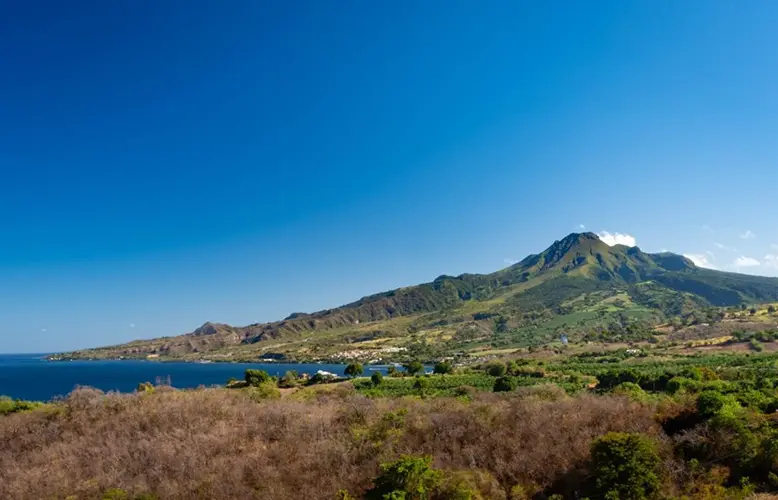 Mont Pelée: "The Great Lady of The North"
While volcanic activity is an integral part of Martinque's past, at least one active volcano continues to play a starring role in its present. Mont Pelée, affectionately known as "The Great Lady of The North", towers nearly 4,600 feet over the town of Saint-Pierre. With green volcanic plains and its base and its peak in the clouds, Mont Pelée is the island's most visually dramatic point of interest – and an incredible place to spend the day hiking.
Of course, The Great Lady was not always as placid as she is today. After an intense period ending three thousand years ago, the volcano went dormant for centuries. Minor steam emissions were seen in 1792 and 1851 as evidence the volcano was active. Then, after several days of rumbling in 1902, she erupted violently. In 1929, Mount Pelée began to erupt again, though not with as much vigour. By 1932, Mont Pelée had gone completely quiet.
In 2020, the Martinique Volcano Observatory raised Mount Pelee's alert level to Restless from Normal due to an increase in seismic activity. The volcano, though active, is safe, as it is closely monitored by the observatory. Energetic hikers can scale the mountain right to the rim. Expert guides are available and will recommend sturdy hiking boots (trainers are not good enough), rain gear (there'll probably be a shower), a sweater (it gets cool at the top), a hat or cap, plenty of water and some energy bars. The full experience takes six to seven hours and includes some very rocky trails and some slippery, muddy paths. Pick a fine morning to climb the slopes and at the top hikers will be rewarded with magnificent views. The trail starting at L'Aileron, in Le Morne-Rouge, the most commonly used, offers a four-hour hike. For a simply great view of the mountain, without the activity, visit La Maison Régionale des Volcans nearby, where an exhibit (only in French) and a one-hour film of eruptions (with English subtitles) explain the whole experience.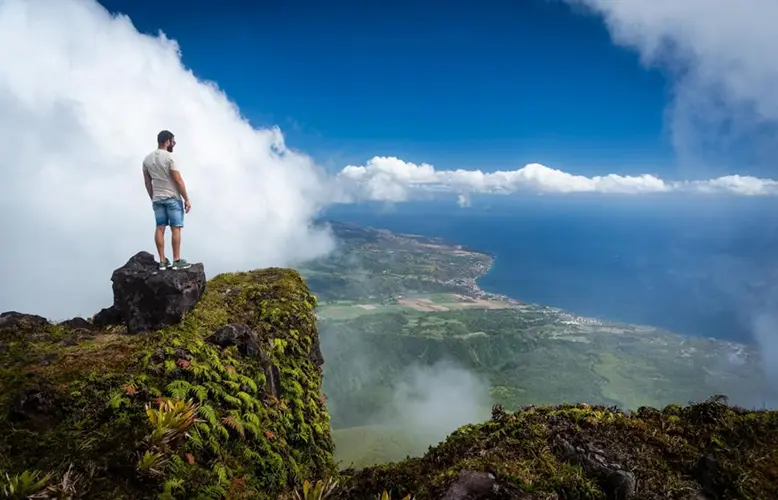 Meeting the Inhabitants of Mont Pelée
From nearby Grande Savane, there's an excellent two-hour hike up the mountain. A trail starting at Beauséjour clocks in at four and a half hours, as does a trail from Désiles. Lovers of flora, fauna, birds and scenery will be enthralled by whichever experience they choose. This is because the area is one of Martinique's most densely populated avian refuges, making each foray up the slopes an engaging exercise in birdwatching.
The trails climb through over 22 thousand acres of the largely forested nature reserve, which has been recognized as an Important Bird Area by BirdLife International. Hikers may see any number of rare species, including bridled quail doves, Lesser Antillean swifts, green and purple-throated Caribs, blue-headed and Antillean crested hummingbirds, Caribbean elaenias, Lesser Antillean flycatchers, Lesser Antillean pewees, scaly-breasted and pearly-eyed thrashers, brown and grey tremblers, rufous-throated solitaires, Antillean euphonias, Martinique orioles, Lesser Antillean saltators and Lesser Antillean bullfinches. If none of those elaborate, descriptive names sound familiar to you, don't worry: that's both the norm and part of the charm. Hiking the trails feels a bit like entering another world, one in which birdsong is the eternal tenor of life. That wildlife has now so effectively reclaimed an area that, centuries ago, was awash in magma only adds to the mystique and allure of the region.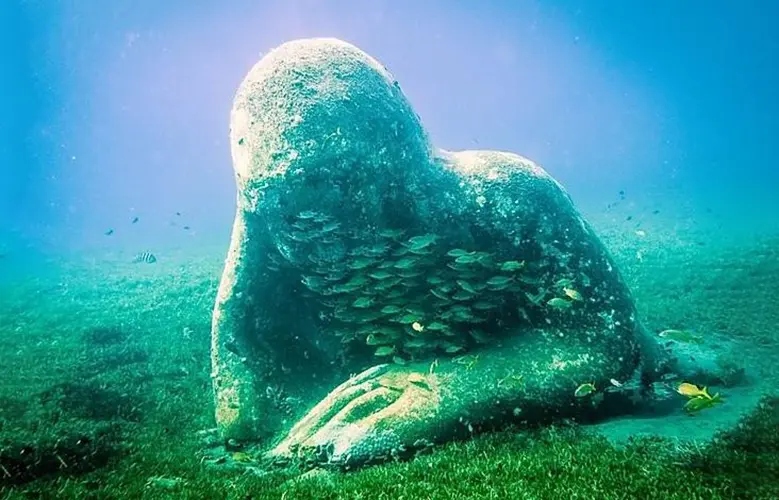 Sightseeing from Saint-Pierre
Although Saint-Pierre was never fully rebuilt following extensive damage in the 1902 eruption, there's still plenty to see and do in the quaint town of about four and a half thousand inhabitants, including Le Mémorial de la catastrophe de 1902, Le Musée Volcanologique de Franck Perret and L'Ancienne église du Fort de Saint-Pierre.
Underwater, off the harbour, snorkellers and divers have two extraordinary statues to marvel at. 
Manman Dlo is a 20-ton sculpture representing a mermaid, set upon the seabed in 2004. Since then, it has been colonized by significant numbers of small sponges, corals and fan-like sea worms. As an artificial reef, the sculpture attracts hordes of tropical fish, such as sergeant majors, dusky squirrelfish and grunts. On the surrounding seagrass beds, sea turtles and stingrays can be seen.
In 2015, the mermaid was joined by Yémaya, a massive 40-foot sculpture of a voluptuous woman, split into three segments set apart so that it appears that her body is partly buried in the sand. Both rest on the bottom at a depth of about 30 feet but can be clearly seen from the surface. The historical and ecological center of northern Martinique, Mont Pelée and its surrounding expanse are emblematic of the wild beauty of the island. See more for yourself, and start planning your own journey up the slopes, at https://us.martinique.org/.