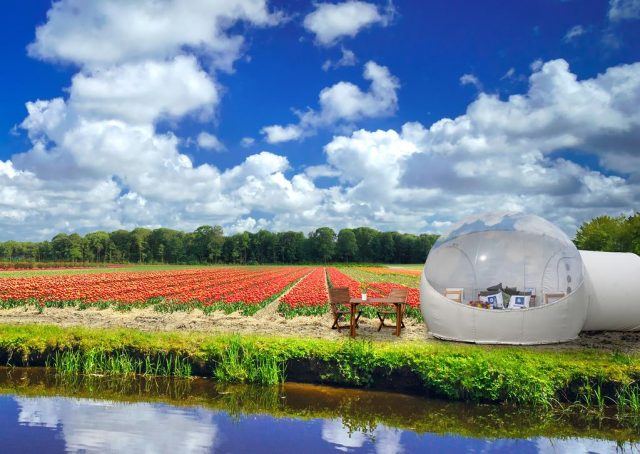 This spring, for the very first time, Booking.com is giving travellers the chance to 'wake up and smell the tulips' with an amazing overnight stay in an atmospheric Pod accommodation with translucent, panoramic views over the tulip fields of Keukenhof, Netherlands.
Located just a half an hour drive from Amsterdam, the famous Keukenhof gardens are open for only eight weeks a year, welcoming over one million visitors from around the world during that time. The gardens offer a cacophony of color as an ocean of tulips form an unforgettable vista stretching as far as the eye can see.
After checking in, guests will be led to their exclusive, translucent Pod accommodation offering panoramic views of the fields and kitted out with everything needed for a cozy and truly memorable night's stay. With all-area access, guests are then welcome to explore the gardens on their own before enjoying a complementary dinner in one of the restaurants at Keukenhof.
Every day at 10:00 a.m. CET (4:00 a.m. EST) on April 17, 18 and 19, a new night will become available for April 20, 21 and 22. This unique experience can be booked for just over $100 CAD by visiting the Booking.com listing here.
This unique initiative celebrates the incredible diversity of Booking.com's offering and is a lavish example of just one of the many unforgettable travel experiences Booking.com customers can enjoy at one of the more than 5 million reported listings in vacation, homes, apartments and other unique places to stay. It follows on the heels of other extraordinary experiences including a night in the highest bedroom in Europe, on the indoor panoramic viewing platform at The View from The Shard in London and a night in the Ultimate Nick Jonas' Tour Bus in Los Angeles, featuring a guest appearance from Nick Jonas himself.