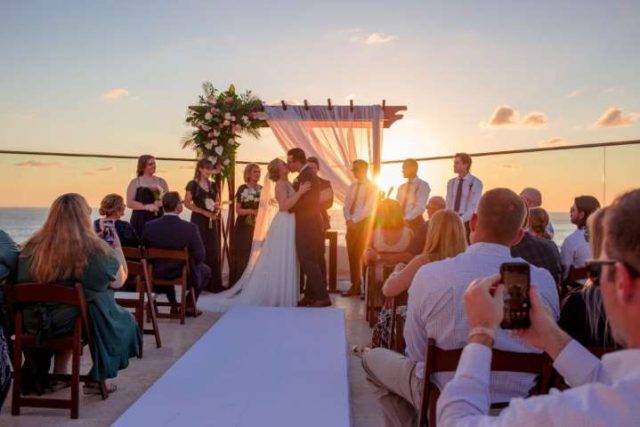 Make it unique and walk down the aisle in Los Cabos this 2022 
For couples dreaming of a destination wedding, Los Cabos is the perfect place to say "I do." The sparkling gem of the geographically diverse Baja Peninsula, Los Cabos offers a variety of unique venues and marriage customs so you can plan the perfect wedding. Of course, planning for a wedding is often the most stressful part of the process…so we're all too happy to take some of that off your plate! Below, we've assembled a helpful overview of some of the most popular ceremonies in Los Cabos so you can spend less time planning and more time soaking up that golden sun. 
Get Wed in the Old Ways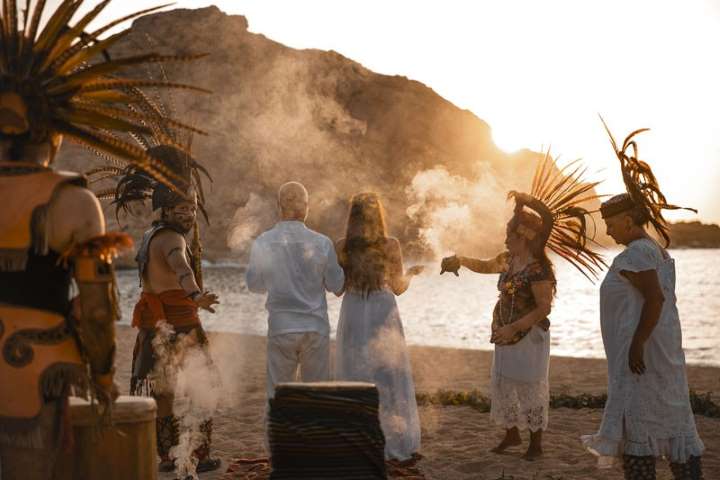 Los Cabos offers a diverse range of wedding ceremonies for couples of all faiths and backgrounds, with options for Catholic, Indian, Jewish, and Hindu services, to name only a few. For something that is uniquely reflective of the traditions of Los Cabos, the destination also invites couples to participate in a pre-Hispanic purification elopement ceremony. This deeply spiritual wedding option is both intimate and romantic, providing a modern-day tribute to the rituals of the Peninsula's indigenous population. A shaman leads the ceremony and presides over the offering of gifts to bless your unification. The festivities conclude with a traditional Mayan feast to celebrate with friends and family.
With so much Mayan tradition in Mexico, many visitors choose to honor that legacy with a ceremony that channels the beauty of their ceremonial traditions. If you'd like to do as the Mayans do, opt for an intimate unification ceremony right on one of Los Cabos' sunny beaches. Get your lifelong commitment off on the right foot with purifying smoke, Temazcal baths, and an escort of ritual dancers.
Underwater Weddings: Not Just For Mermaids Anymore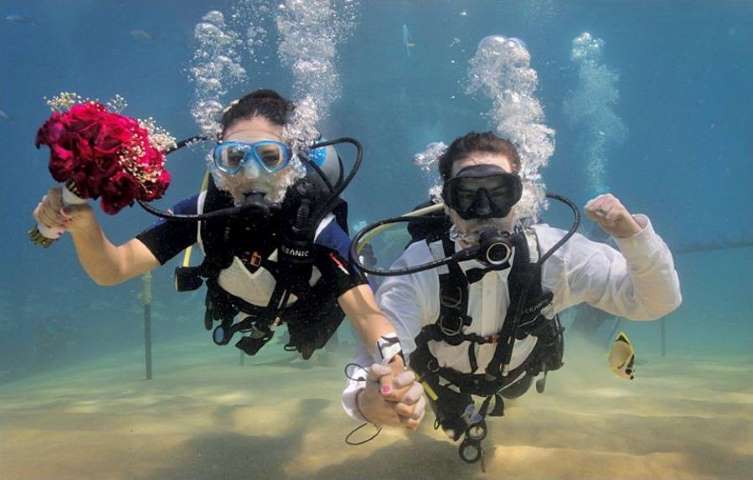 An underwater wedding is both a sacred rite and an exciting tick off the bucket list for aquatically adventurous couples. Recite your wedding vows on the pristine waters of the Sea of Cortez, sealing your union with a kiss beneath the sunset. The best part? There's no need to worry about rain on your wedding day. The Bahia Hotel in partnership with Nautilus Dive Tech offers an undersea ceremony like no other. Go deep with a package that includes a rehearsal dive, an underwater photographer, and special diver-friendly wedding outfits including a waterproof bouquet, bowtie, veil and lace garter. Why settle for a regular old ceremony on land when you have a wedding beneath the waves?
Los Cabos is the perfect romantic destination for your wedding in Mexico. With a broad offering of unique and adventurous ceremonies, Los Cabos is sure to have a wedding that's right for your special day.