Shinta Mani Hotels have two incredible locations in Cambodia that are perfect for exclusive use for families or friends traveling together, celebrities, reunions or wellness retreats.  There are four options depending on the number of guests, all with a private check in area plus exclusive-use dining and facilities.   Both locations are seeped in ancient culture and rich history with the UNESCO World Heritage temples in Siem Reap and the tropical jungle in the South Cardamom National Forest, just 1.5 hours from Phnom Penh.    Cambodia has modern International airports in Siem Reap, Phnom Penh and Sihanoukville with an efficient e-visa service making immigration on arrival seamless.
Adventure and Temples in Siem Reap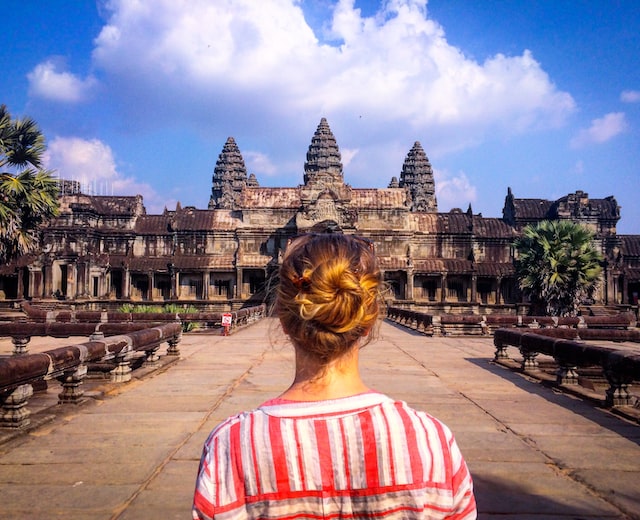 One of the most popular attractions in Siem Reap is the UNESCO World Heritage Temples of Angkor Wat showcasing a by-gone era of architectural masterpieces including Angkor Wat and other important temples which are magical at sunrise or sunset. There so much to do in this adventurous city including cycling and quad bike tours, visiting the floating village on Tonle Sap Lake (the largest permanent freshwater lake in Southeast Asia), sunset cruises, the APOPO Visitor Center, a global non-profit organization that trains African giant pouched rats (fondly known as HeroRATS) to save lives by detecting landmines, and the unique acrobatic Phare Acrobatic Circus which is a must for visitors to Siem Reap. Uniquely Cambodian this performance is a highlight of Siem Reap nightlife and one of the country's most innovative social enterprise models, featuring theatre, live music and breath-taking circus arts that tell local stories of recent history, folklore and modern society.
Back at Shinta Mani, guests can learn to cook delicious Khmer cuisine after visiting local markets to get the freshest local ingredients before creating incredible dishes that they can recreate to impress your colleagues, family and friends back home. The Shinta Mani Spa by Khmer Tonics offers a sanctuary of serenity with an extensive menu of therapeutic treatments based on traditional and modern healing rituals, using 100 percent natural locally sourced Khmer Tonics products.
Exclusive use options in Siem Reap are as follows. Each option includes a private check in area, as well as exclusive-use dining and facilities. The Bayon Wing and Bensley Collection Pool Villas can be combined to accommodate a larger group 76 rooms.
Angkor Wing – 39 stylish rooms with modern facilities and beautiful Khmer inspired interiors designed by Bill Bensley.  A sparkling 20-meter pool is nestled amongst lush tropical foliage and a modern gym is available for those wanting to keep up their fitness regimes.  The Angkor Wing is also home to the Khmer restaurant – Kroya by Chef Chanrith.
Bayon Wing – 66 rooms, including 2 Junior Suites and 2 Executive Suites in a courtyard setting overlooking the striking monochromatic 20-meter swimming pool in a beautiful tropical landscape. The all-day dining Baitong restaurant serves international cuisine and Khmer street food.
Bensley Collection Pool Villas – 10 exquisite villas each feature 156 sqm of space, including separate bedroom and bathroom pavilions and a 9-meter private pool surrounded by lush gardens, as well as a rooftop sky lounge which is perfect for outdoor dining, relaxing or sleeping under the stars.

Transformational Experiences at all-inclusive Shinta Mani WILD
Life will never be the same once you have experienced Shinta Mani WILD – starting with the adrenaline filled 400m zip line entry over the forest canopy, a river and waterfalls into the appropriately Landing Zone Bar – you will be forever transformed.   
Shinta Mani Wild is a jungle retreat and conservation project. Created to protect the forest and wildlife, this 865 acre (350 hectare) property is roughly the size of Central Park in New York, and is home to just 15 exquisite tents perched over 1.5 km of river, waterfalls and jungle. This unique property in the jungles of the South Cardamom National Park in Cambodia is ideal for exclusive use retreats with total privacy and an all-inclusive offering, just 1.5 hours by road from Phnom Penh or Sihanoukville airports.
Creative luxury adventures include exploring the untrammelled waterways of South East Asia's last wild estuarine ecosystem aboard a custom Bensley-designed expedition boat, swimming and kayaking; trekking, mountain biking or joining armed Wildlife Alliance rangers on anti-poaching patrols; or try our Cambodian take on tenkara: a meditative form of Japanese catch and release fly fishing.
Wellness Retreat
Shifting gears to bring you a raw and immersive wild wellness stay like no other, the 'Wellness at WILD' three-night stay enhances the original WILD experience and is tailored to suit your wellness needs. Choose one of three carefully designed programs – ReWILD (for fitness enthusiasts including activities such as trail running, mountain biking and fit-yoga classes), Reconnect (for health-minded travelers who enjoy a balanced wellness lifestyle) and Restore (for those needing some time out to rest and recover from stress).
One of the highlights of your wellness stay is yoga at sunrise with our Wellness Director, Dr Solveig Gevers, atop the 7-storey far east zip-line tower which looks out over the forest canopy.  Witness the jungle's transition from night to day in this epic location with a  guided walk to the zip line tower followed by yoga at sunrise and an adrenaline filled 400m zip line ride to Headquarters to enjoy a hearty and healthy breakfast. 

Ever changing menus are inspired by sustainably foraged wild edible plants, as the camp's Chef guides through the forest to discover – and taste – Cambodia's natural larder. The Khmer Tonics Spa provides chemical-free treatments including a river-stone foot massage while soaking in a waterfall pool.
'On the rocks' takes on a whole new meaning via the camp's picnics, all thoughtfully prepared by highly skilled Bensley Adventure Butlers, which can be enjoyed beside the camp's cascading waterfall, atop a mountain, or wherever guests please. The pièce de résistance is the camp's WW2 Land Rover which has been given the Bensley treatment to transform it into a mobile cocktail bar.