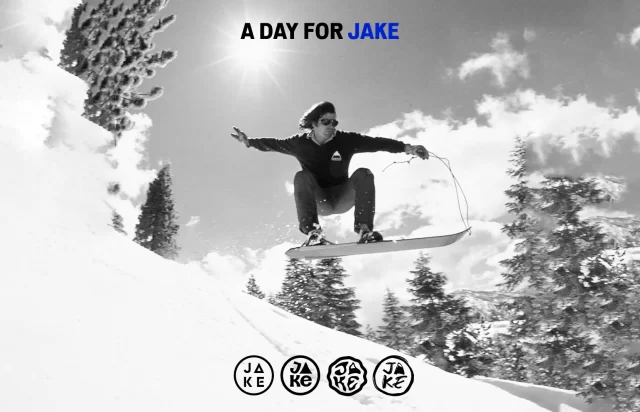 On March 11, Burton is celebrating their annual Day For Jake. All around the world people will come together like it's pre-pandemic and do what Jake loved best: snowboarding with family and friends and having as much fun as possible. 
A Day For Jake will look a little different around the world, and that's okay – what unites all celebrations is riding in honor of Jake's legacy and sharing with friends using the hashtag #RideOnJake.
While you can ride for Jake pretty much anywhere in the world, Burton is organizing larger gatherings around the globe to celebrate Jake's life.
AMERICAS
Alpine Valley, Wisconsin
Big Sky, Montana – Details
Big Snow, New Jersey
Blue Mountain, Ontario
Bolton Valley, Vermont
Boreal/Woodward Tahoe, California
Boyne Mountain, Michigan
Bristol Mountain, New York
Bromont, Montreal – Details
Copper, Colorado – Details
Eldora, Colorado
Jackson Hole, Wyoming
Killington, Vermont
Mammoth, California – Details
Mountain Creek, New Jersey
Mt. Bachelor, Oregon
Seven Springs, Pennsylvania
Stowe, Vermont – Details
Sugarbush, Vermont – Details
Sunshine Village, Alberta
Whitewater, British Columbia
Woodward Park City, Utah
EUROPE
JAPAN
Niseko Grand Hirafu (Hokkaido), Japan
Minakami Backcountry (Gunma), Japan
Spring Valley (Miyagi), Japan
Seki Onsen Ski Area (Niigata), Japan
SKI JAM KATSUYAMA (Fukui), Japan
Resonare Tomamu (Hokkaido), Japan
CHINA
Aoshan Resort (Shanxi), China
Beidahu Resort (Jilin), China
Lake Songhua (Jilin), China
Sunac Dome (Chendgu), China
Taiwoo Resort (Chongli), China