If you're curious about what it's like wandering around one of the most luxurious shopping centers with spectacular architecture, you must visit Abu Dhabi, the capital city of UAE. With a remarkable mixture between high-tech architecture and historical buildings, what hypnotizes us the most are museums showcasing the city's rich heritage, with the Louvre Abu Dhabi on top.
With all these wonderful things to see and experience, anyone might be excited to visit the place. However, its unique culture might show differently in customs and human socialization compared to the Western one, so tourists can do a little research before traveling to Abu Dhabi.
Here's our brief guide on visiting this fantastic city.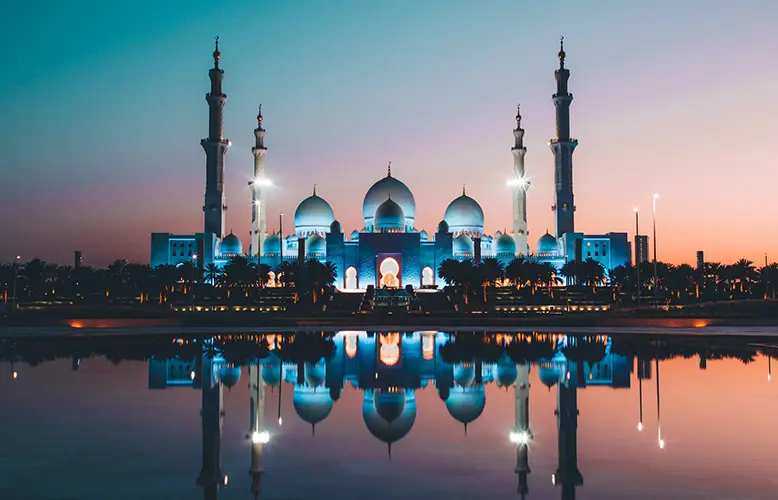 Get familiarized with the travel plan
Regardless of the place you're coming from, it would be best to have a thorough plan for your trip to make the most out of it. Consider airports, accommodation, currency and weather conditions way long before your departure.
Many international airlines operate at Abu Dhabi International Airport (AUH) or Dubai International Airport (DXB). Depending on which you choose, it might take more or less than two hours by car to reach the city center. If you're doing a company trip, flying business class with Etihad will allow you to request a chauffeur at the arrival, as well as enjoy five-star rated dining during your trip.
Regarding your accommodation, there are plenty of locations to choose from, so you can either stay in the middle of the city or the middle of the desert. There are no rooms without an exceptional view, so prepare to be overwhelmed by the number of amazing locations. Know that the local currency in Abu Dhabi is Dirham, but if you prefer card payments, numerous international bank cards are accepted here, from Visa to Apple Pay.
Finally, prepare for the weather. Summers are incredibly hot, so make a decision according to your heat tolerance, but it's best to enjoy your stay without feeling uncomfortable due to the humidity all the time. The best period for traveling here is during winter when the temperatures are perfect for a pleasant walk in the city center. If you want to see as many cultural festivals as possible, choose your stay during the spring.
Get accustomed to traditional habits
While everyone has a different style and personality, sometimes it's better to blend in with the population so as not to attract too much attention and win people's trust. That's why the number one issue we're going to discuss is clothing. While you won't be treated poorly as a tourist if you dress in a certain way, it's advisable to wear decent outfits composed of long and loose-fitting clothes. This is especially mandatory when entering mosques, and it applies to women who need skirts longer than their knees and men who should cover their tattoos and wear long pants.
Secondly, sometimes it might be best to refrain from taking photos. This means avoiding photographing people randomly ―ask for their permission first. Plus, pictures of specific government buildings shouldn't also be taken, such as the Sheikh's palace or police stations.
Finally, if you're traveling during Ramadan, which is a holy month, it would be best to have your meals inside the hotel or at some of the restaurants open during this period. Ramadan is calculated from the Muslim calendar, so there's no fixed date for it each year. Muslims have some food restrictions and might choose not to eat meat or other foods, but there might be some restaurants that offer all kinds of meals for foreigners.
Here's what you should visit
Abu Dhabi is an incredible city for tourists, as it offers numerous locations for delicious meals, impressive museums and unique entertainment spots. However, you can truly say you've been to Abu Dhabi if you went to:
Sheikh Zayed Grand Mosque will take you through the history of Islamic arts and architecture. While it is available for visits, it's usually used for daily prayers, so check the schedule before getting there;
The Ferrari World is necessary to see if you're a lover of cars. The Ferrari-themed Park has plenty of activities for you and your family to do there, from Formula One racing to Junior GT tracks;
The Emirates Palace is one of the most lavish hotels in the world, and its architecture and color scheme are based on the shades of the Arabian desert. You can shop at the luxurious hotel, as well as relax at the spa and have a nice cup of coffee with gold flakes on top;
The Heritage Village is the place to learn everything about the Abu Dhabi culture. It has a genuine copy of the Bedouin village and numerous displays of Emirati metalwork and showcases of the pearl diving trade;
Ultimately, what to eat?
It's absolutely necessary to try the local dishes of Abu Dhabi. Be sure that you'll also find foods from all over the world, and your needs will be fulfilled if you have special requirements, but if it's best to experience the local tasty cuisine.
For example, the national dish in the UAE is called Khuzi and is usually served on special occasions. It's made of roasted lamb with spicy rice on top, and many nuts, raisins and vegetables included. But expect to have it served with generous amounts of spices.
There's also a special dish that is mostly cooked during Ramadan. Al Harees is made of wheat and chicken or lamb. The thick consistency will be most delicious with cinnamon and other spices. This dish takes a few hours to be cooked thoroughly, which is what makes it so good.
So, when's your next trip to Abu Dhabi?
If you liked what you read, then prepare for your next trip to Abu Dhabi. Remember to choose a less-hot time of the year and be mindful of people's customs and traditions to show them respect. Otherwise, be sure that you'll have lots of fun in the capital city.