Often regarded as the "signature" beach of St. Martin, Orient Bay's beauty has been dreamily (and aptly) compared to the sandy strands in the south of France. Yet, the ivory sands and azure waves tell only half the story, for much of the appeal of Orient Bay is in its incredible offering of both casual and upscale beach cuisine. For the curious visitor to St. Martin ready to discover the fantastic flavors of Orient Bay, we've spotlighted some of the best restaurants to get your itinerary started. Just remember: footwear is always optional!
Coco Beach
Flavourful Fare with Awesome Atmosphere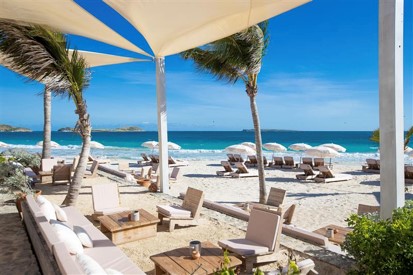 No culinary tour of Orient Bay could pass over Coco Beach, a perennial favourite for breakfast and lunch among locals and visitors alike, and winner in the "Beach Star" category during the recent "Festival de la Gastronomie" of St. Martin. It isn't hard to see why: Coco Beach lives up to its name by being literally on the beach, with charmingly rustic wooden seating arranged across the powdery white sands. Chef Hubert Tabouriech infuses trademark French flare into Coco Beach's robust menus, channeling his heritage through dishes like duck raviole (complete with foie gras) and a French bread sandwich, served tapas style with tuna tataki. Lovers of classic Caribbean dining will appreciate the seafood menu: locally caught lobster, Creole-style king prawns, and grilled triggerfish are just a few of the gastronomic delights awaiting diners. It's clear that the Coco Beach team cares deeply about creating the perfect dining experience, both in taste and aesthetic, and let's be honest: the fact that you can jump in the blue waters of Orient Bay before or after your meal is more than just a nifty little bonus!
Kontiki
Marvelous-Mahi Mahi in Classic Tiki Trappings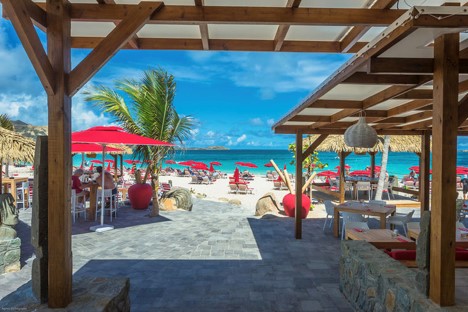 The recently revamped Kontiki has been earning rave reviews…and each accolade is richly deserved! You'll be able to spot the restaurant a mile away: a sea of red umbrellas and sun chairs make it easy to pick out against the azure waters of the Bay. This is a Caribbean beach bar through and through: cocktails and plates are ordered and dispatched from the straw-and-wood hut just past the eye-catching recreations of the Easter Island Statues. Kontiki serves up incredible cocktails (try the frozen mojito!), but the real story here are the seafood platters: dizzying in their variety and mouthwatering in their presentation and taste. Generous portions of ceviche, tuna tartar, lobster, and their famous mahi-mahi leave a lasting impression with diners, and Kontiki makes sure to titillate more than the taste buds: the restaurant hosts live entertainment every Sunday.
KKO
Peruvian Palate Pleasers with Rustic Flair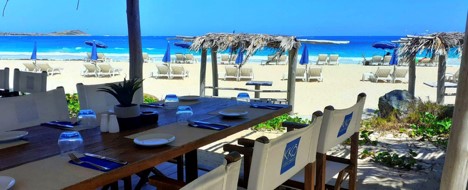 KKO makes a bold claim, asserting itself as the #1 Beach Bar on Orient Bay, but they sure do back those lofty aspirations up. This sprawling restaurant on the sands encompasses a large, open air dining cabana, an accompanying assortment of smaller cabanas, and a driftwood bar complete with thatched hammocks. With lots of vegetation, wooden accents, and a ban on plastic materials, KKO follows through on its mission to blend into the natural landscape of Orient Bay. Beyond the musical entertainment and tropical drinks, what sets KKO apart is the character of its cuisine, blending Nikkei (Peruvian) flavours with Caribbean touches to realize something truly novel and undeniably tasty. KKO's rich menu even includes a bit of French influence, evident in dishes such as the duck platter and braised lamb shank. The tapas platter is ideal for sharing with family from the comfort of your loungers, offering a flavour for every palate with squid, cod fritters, spring rolls, and chicken tempura. KKO takes an impressive array of global culinary influences and blends them into something beautiful right in the sandy heart of Orient Bay, earning it a spot (or two!) on any St. Martin itinerary.
Le String
A True Taste of the French Caribbean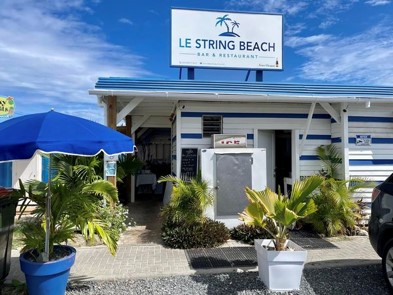 Hidden within a cute but otherwise unassuming white beach shack is a beloved eatery famous for taking French food to the next level. Smiling patrons fill the many beach loungers in the restaurant's vicinity, eagerly awaiting the delivery of their next drink or plate from the extremely attentive wait staff. A diverse management team of both Creole and French origins has turned Le String into one of the destination's foremost authorities on culinary fusion. On one robust menu, you'll find regional favourites like chicken curry, garlic shrimp rice, and red snapper filet mixed with faithful French imports like escargot and flank steak. Owner Severine Robic has gone to great lengths to ensure the atmosphere and vibe matches the quality of the food: reviews raving about the friendly, lively service and relaxed decor are almost as common as those praising the food!