Earlier this year Pinterest Business released a Travel Report for 2021 highlighting some of the key trends they have seen in the last 12 months. With over a year of pent-up travel demand, the world can't wait to get out again, and it is clear that when people feel ready to travel again, they'll make it a priority. On Pinterest, travel engagement is at an all-time high, with searches relating to travel increasing over 60% in the last year. It is not just former avid pinners, road warriors and explorers causing this increase, as the platform's overall travel audience has increased by over 40%.
Pinterest has identified eight travel personas that are growing in importance: Bucket Listers, Culture Chasers, Digital Nomads, Foodie Travelers, Memory Makers, Outdoor Junkies, Rural Tourists and Weekend Travelers. Gone are copycat itineraries and trips by obligation, as today's travellers are looking for more meaningful experiences that cater to personal passions, that help them build connections. With mountains, glaciers, fiords, vineyards, beaches, rainforests and more, New Zealand has everything to offer each of these post-pandemic travellers.
Shared below are a few Pinterest travel statistics outlined in the Travel Report for 2021, as well as highlights of some of New Zealand's most 'Pin-worthy' places to add to the top of any bucket list.
150% increase in searches related to National Parks vs. 2019
New Zealand is home to 13 national parks, which showcase more than 30,000 square kilometres of diverse, natural scenery ready to explore by foot, boat, car or air.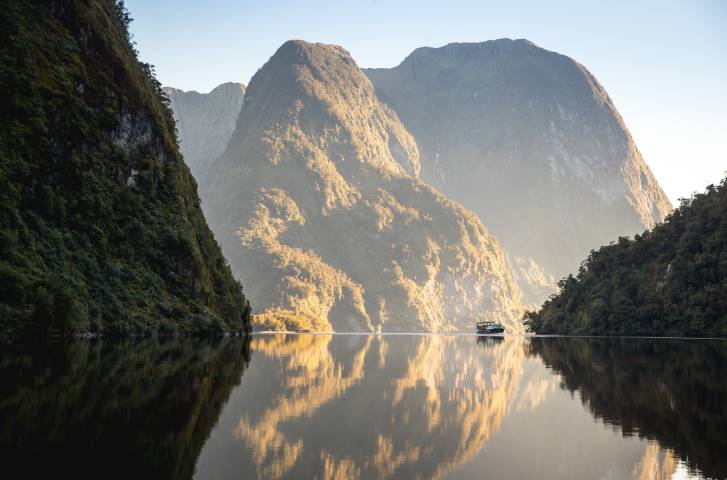 One of the most dramatic and beautiful parts of New Zealand; the power of Fiordland's scenery never fails to enthral travellers. This remarkable natural environment features stunning fiords, spectacular waterfalls and snow-capped peaks. Ancient rainforest clings impossibly to the mountains; waterfalls tumble hundreds of meters into massive fiords; shimmering lakes and granite peaks look the same today as they did a thousand years ago.
Aoraki Mount Cook National Park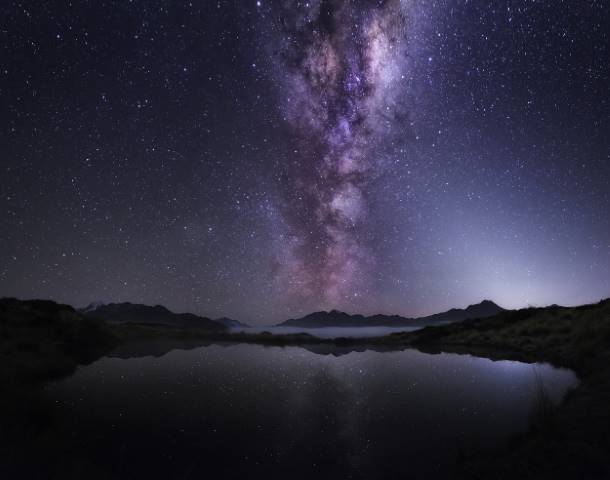 Aoraki Mount Cook National Park is home of the highest mountains and the longest glaciers in New Zealand. It is alpine in the purest sense – with sky-scraping peaks, glaciers and permanent snow fields, all set under a star-studded sky. Keen stargazers are able to see amazing constellations that can only be seen in the southern hemisphere, including the Southern Cross, the Magellanic Clouds and the Milky Way.
According to Ngāi Tahu legend, Aoraki and his three brothers were the sons of Rakinui, the Sky Father. While on a sea voyage, their canoe overturned on a reef. When the brothers climbed on top of their canoe, the freezing south wind turned them to stone. The canoe became the South Island (Te Waka o Aoraki); Aoraki and his brothers became the peaks of the Southern Alps.
30% increase in searches related to hiking vs. 2019
Walking and hiking throughout New Zealand is the best way to see beautiful landscapes and explore vast wilderness areas. With thousands of kilometres of tracks, there are walking and hiking options to suit all levels of fitness and experience. Welcome to a walker's paradise, where a network of trails wind past rugged coastlines, through farmland, river valleys and towering forest, to dramatic mountain ranges.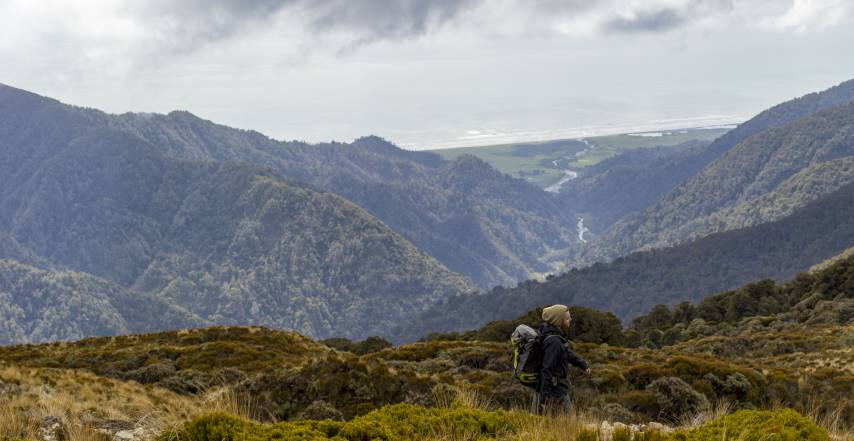 The 10th Great Walk of New Zealand, the Paparoa Track, opened in December 2019. Great Walks are the country's premiere, multi-day, hiking trails that cover the best scenery in the country, ranging from coastlines with beaches to dense rain forests and alpine terrain. The Paparoa Track crosses the Paparoa Range and provides breath-taking views, passing through varied landscapes, from subtropical rain forest to alpine tops, to the dramatic limestone gorge.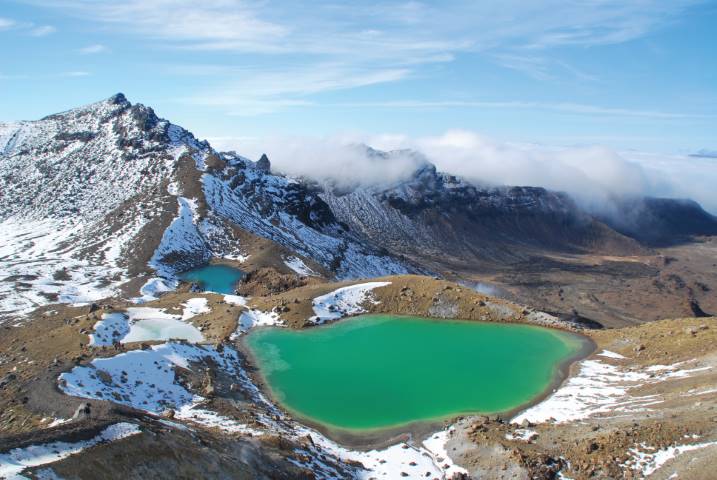 Lava flows, an active crater, steam vents, emerald-coloured lakes and magnificent views combine to make this an unforgettable walking journey.
Often described as New Zealand's greatest day walk, the Tongariro Alpine Crossing is a challenging journey across a remarkable volcanic landscape.
1.6x increase in searches related to nomad trailers and campers vs. 2019
The open road, ultimate freedom and one of the easiest ways to travel New Zealand, taking in some of the greatest scenic views in the world along the way. Renting a camper van is a popular travel method in New Zealand, with incredible camping locations and DOC (Department of Conservation) sites across the country. Take a trip down the West Coast of the South Island, stopping to look at the Pancake Rocks and Franz Josef Glacier. Or, drive from Christchurch to Queenstown via scenic wonders such as Lake Tekapo and Lake Pukaki.
Northland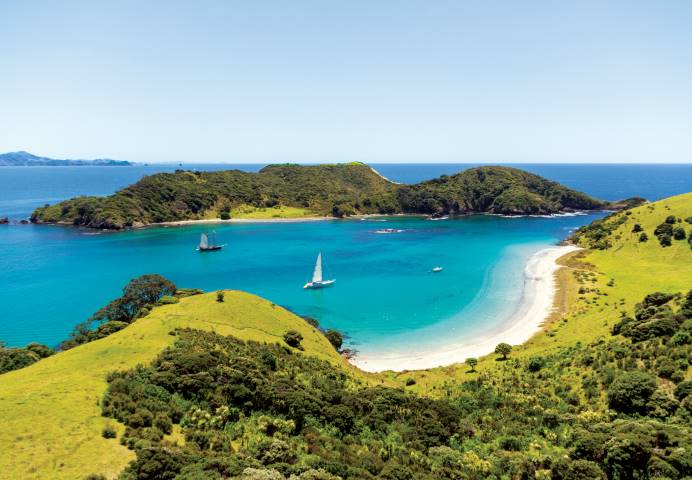 From Auckland to the Bay of Islands, this North Island road trip lets you explore the country's warmest region.
Discover picturesque beaches and marine adventures of every description, or visit locations of cultural significance such as the Waitangi Treaty Grounds.
Southland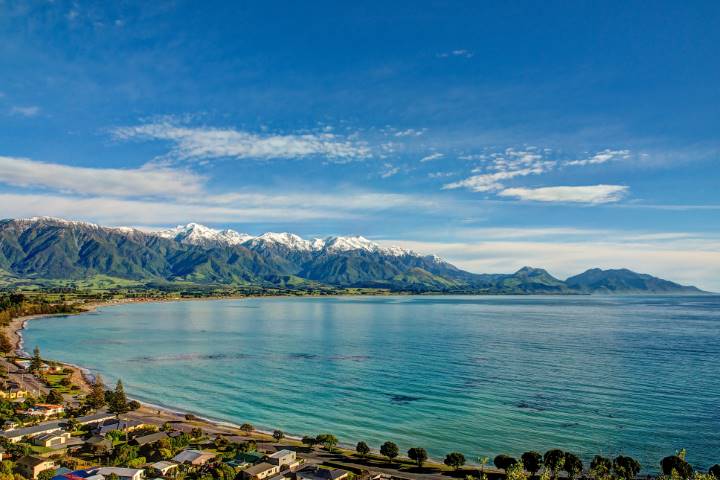 Soak up the sights, sounds and tastes of the South Island on a journey where you'll find wildlife, fresh seafood and friendly locals.
Visit picturesque Hanmer Springs, go whale-watching in Kaikoura and taste Marlborough's world-famous sauvignon blanc.